Recurring market commentary on what's happening in the crypto markets, summarized by the Crypto Broker team at Crypto Finance AG.
Good Morning!
At the moment, Bitcoin (BTC) is trading at $33.4k (-13.3% in 7 days), Ethereum (ETH) is trading at $2.43k (-14.8% in 7 days), and the spread ETH/BTC is trading at 0.073 (+1.51% in 7 days).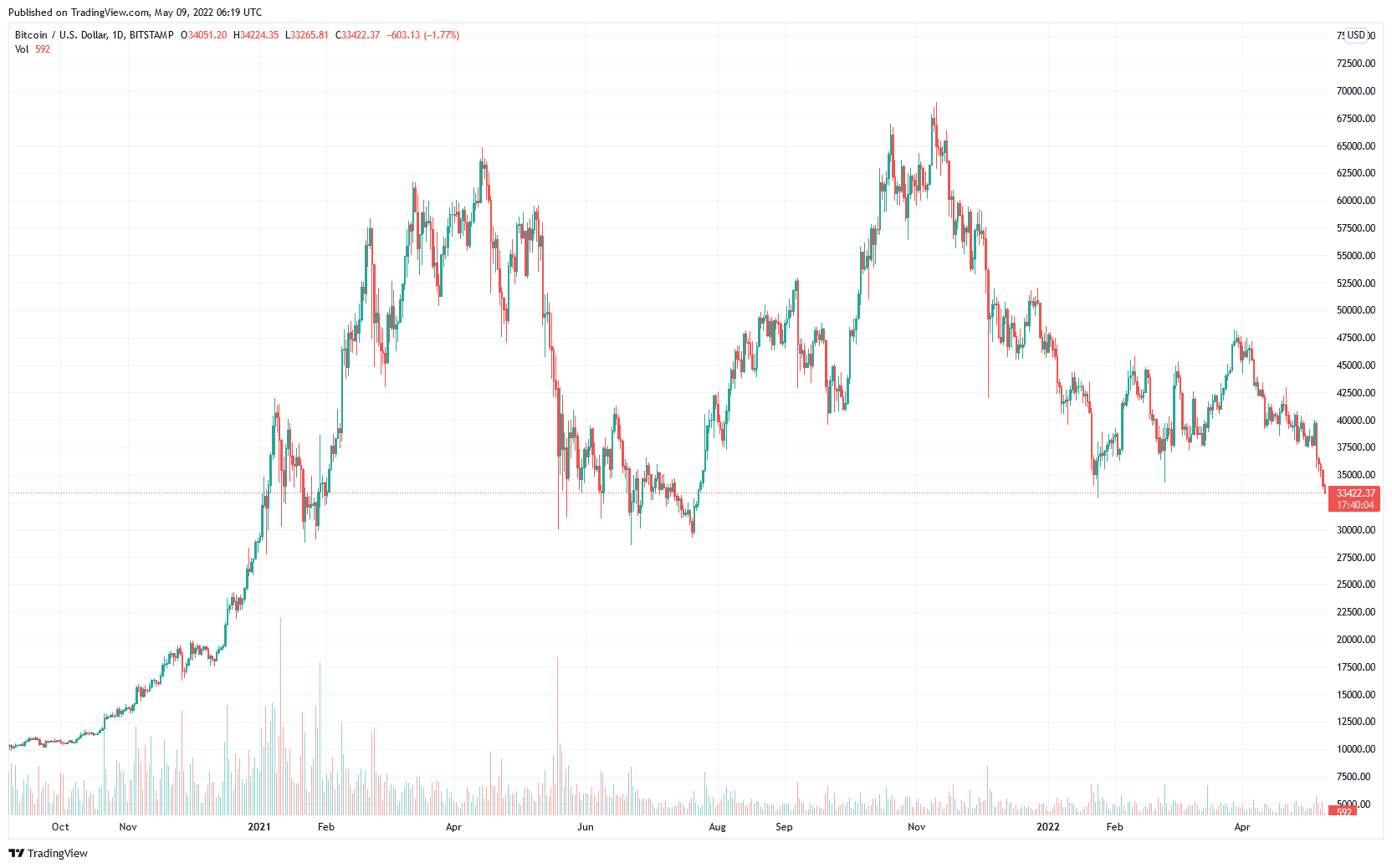 Clearing your mind helps. My personal thoughts about the current curve and L1 wars out there – LUNA & UST. During my usual weekend run I thought it is time to put some of my thoughts into a short thread. Maybe it helps other traders out there or sparks a constructive discussion of how other traders manage their risk.
Luna Foundation poses risk to Bitcoin
Over the past 3-4 weeks I started to feel unease about the constant Bitcoin buying of the LFG (Luna Foundation Guard). Not only because the market was happy to absorb the buying pressure without a massive price spike but also due to a potential systemic risk the Luna Foundation imposes to the Bitcoin price. With the LUNA price comfortably around all time highs nobody cared but now its different.
The mechanics are usually very similar when protocols start to shake (especially when a stablecoin is involved). Mostly it begins with general market price drops for consecutive days or weeks till the first liquidations get triggered. If liquidation-arbitrage bots and general liquidity is not deep enough (usually during weekends) the stablecoin de-pegs, which triggers more liquidations panic selling.
Risk of UST de-pegging
My emerging markets background is helping me to keep my risk in check and be rather proactive in unwinding or reallocating positions which seem risky. First, if you are exposed to a stablecoin (like UST farming or lending) in a protocol make sure you have it distributed on various platforms but NOT blockchains. Bridge risk is the worst to have when there is turmoil. My first reaction is always to switch the stablecoin at risk of de-pegging (in this case UST) to the most secure one which in my opinion is USDC. The yield difference does not play a big role when a de-pegging looms around the corner. Capital preservation is key.
You can compare what is happening right now in the Terra-Luna protocol what we have seen in 1997/98 when Malaysia imposed capital controls because they were not able to hold the peg during the Asian financial crisis. It is not a full scale crisis yet in the Terra-Luna ecosystem but for me too risky to stay in there. I have swapped my LUNA bag a few weeks ago into NEAR and a few days ago I swapped the last part of my UST into USDC. By the way, my USDC is placed on various exchanges ready to be deployed to scoop up tokens I have on my buying list.
In general I think the price pressure is not over yet and as mentioned at the beginning the systemic risk of the LFG to the Bitcoin price worries me. To have some dry powder is not the worst idea…just in case.
Happy Trading!
---
Copyright © 2021 | Crypto Broker AG | All rights reserved.
All intellectual property, proprietary and other rights and interests in this publication and the subject matter hereof are owned by Crypto Broker AG including, without limitation, all registered design, copyright, trademark and service mark rights.

Disclaimer
This publication provided by Crypto Broker AG, a corporate entity registered under Swiss law, is published for information purposes only. This publication shall not constitute any investment  advice respectively does not constitute an offer, solicitation or recommendation to acquire or dispose of any investment or to engage in any other transaction. This publication is not intended for solicitation purposes but only for use as general information. All descriptions, examples and calculations contained in this publication are for illustrative purposes only. While reasonable care has been taken in the preparation of this publication to provide details that are accurate and not misleading at the time of publication, Crypto Broker AG (a) does not make any representations or warranties regarding the information contained herein, whether express or implied, including without limitation any implied warranty of merchantability or fitness for a particular purpose or any warranty with respect to the accuracy, correctness, quality, completeness or timeliness of such information, and (b) shall not be responsible or liable for any third party's use of any information contained herein under any circumstances, including, without limitation, in connection with actual trading or otherwise or for any errors or omissions contained in this publication.

Risk disclosure
Investments in virtual currencies are high-risk investments with the risk of total loss of the investment and you should not invest in virtual currencies unless you understand and can bear the risks involved with such investments. No information provided in this publication shall constitute investment advice. Crypto Broker AG excludes its liability for any losses arising from the use of, or reliance on, information provided in this publication.