Recurring market commentary on what's happening in the crypto markets, summarized by the Crypto Broker team at Crypto Finance AG.
Good morning!
Cryptocurrencies are currently consolidating from recent highs. Bitcoin (BTC) is trading at $23.1k (-2.95% in 7 days), Ethereum (ETH) is trading at $1.65k (-3.98% in 7 days), and the ETH/BTC spread is trading at 0.07163 (-0.93% in 7 days). Nasdaq (NDX) futures are currently trading 3.6% higher vs. last Friday's close.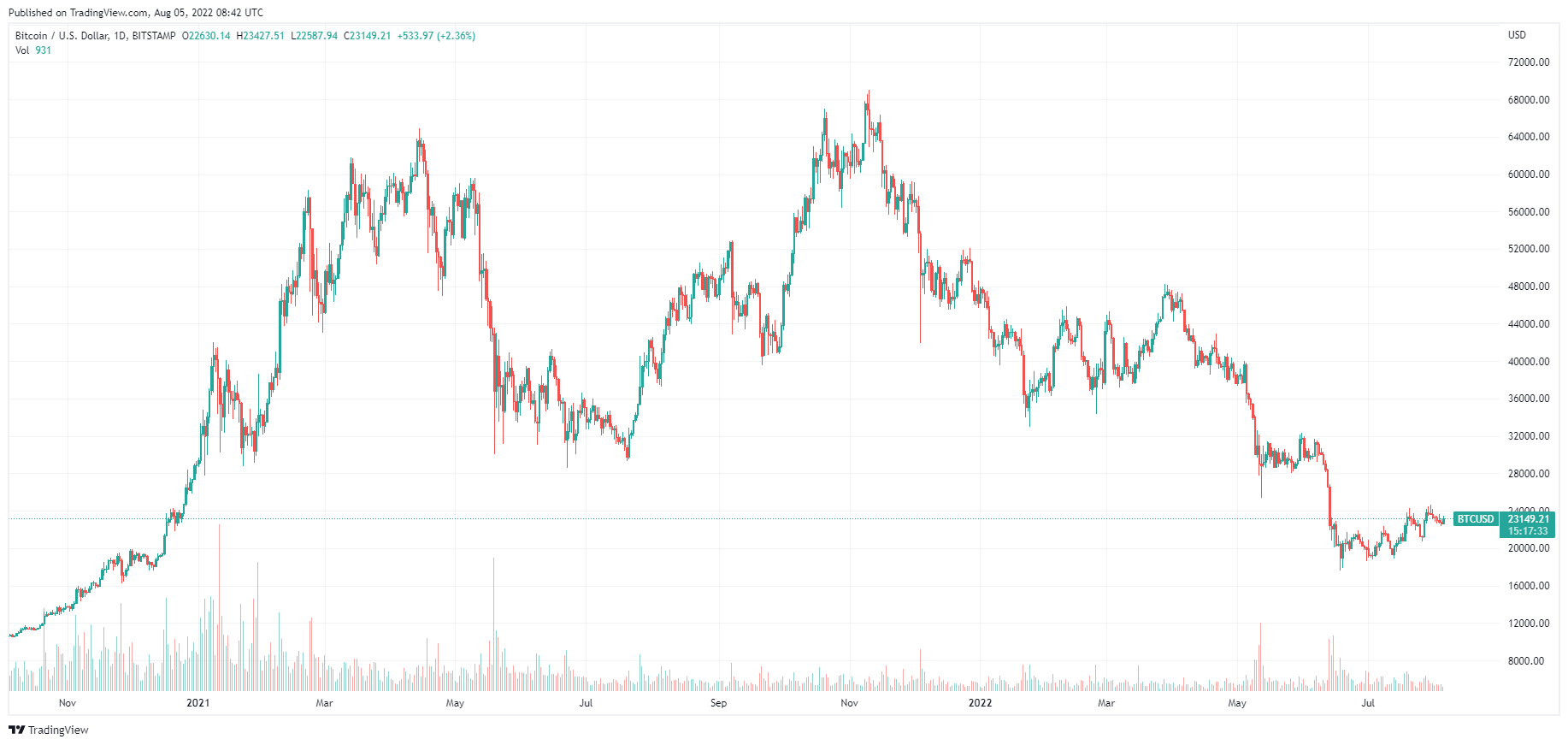 Geopolitical tensions
The war in the Ukraine has been going on for almost half a year now, and new geopolitical tensions arose this week as well. Nancy Pelosi, US house speaker, arrived in Taiwan late Tuesday night and provoked harsh reactions from China, who is currently firing missiles around Taiwan as part of unprecedented military drills. The implications of an actual attempt to invade Taiwan would be widespread: given Taiwan's dominant position in the global chip industry, the US would likely stand by Taiwan (in one way or another) to defend against a Chinese attack.
This would cause the world to be divided (yet again) into two main blocks: Europe and the US on one side and China and Russia on the other. Looking at a very long timeline, this seems to be the path the world is currently on. Having said that however, it seems likely that China will first wait until its military is stronger and its economy is more self-sufficient to better withstand western sanctions.
More hacks hit the crypto industry
On Monday, the blockchain bridge Nomad was hacked, and nearly USD 200m of funds were drained. The hack was possible due to a misconfiguration in the main smart contract, and the attack was so simple that many copied the original hacker's code and participated in the hack. After the USD +300m hack of the Wormhole bridge and the USD +600m attack on the Ronin blockchain earlier this year, it remains a puzzle why so much money is put at risk without performing proper due diligence. Especially when it is obvious that blockchain bridges are an attractive target.
In addition to this, another hack happened to Solana hot wallets, e.g. Phantom and Slope. It has been reported that more than 8k users are affected, and that a single digit million dollar amount was stolen. Solana, previously the darling among Layer 1 blockchains, is trading -6.9% lower over the week and almost -84% since its all-time high.
In other news, Blackrock and Coinbase announced a partnership that will allow institutional investors of Blackrock's Aladdin platform to invest in bitcoin. Coinbase shares closed 10% higher yesterday after jumping almost 40% intraday. The market is also awaiting the US Nonfarm payrolls later on today. Any large deviation from expectations of currently 250k might change market expectations of future inflation as well as Fed rate hikes.
Happy Trading!
---
Copyright © 2021 | Crypto Broker AG | All rights reserved.
All intellectual property, proprietary and other rights and interests in this publication and the subject matter hereof are owned by Crypto Broker AG including, without limitation, all registered design, copyright, trademark and service mark rights.

Disclaimer
This publication provided by Crypto Broker AG, a corporate entity registered under Swiss law, is published for information purposes only. This publication shall not constitute any investment  advice respectively does not constitute an offer, solicitation or recommendation to acquire or dispose of any investment or to engage in any other transaction. This publication is not intended for solicitation purposes but only for use as general information. All descriptions, examples and calculations contained in this publication are for illustrative purposes only. While reasonable care has been taken in the preparation of this publication to provide details that are accurate and not misleading at the time of publication, Crypto Broker AG (a) does not make any representations or warranties regarding the information contained herein, whether express or implied, including without limitation any implied warranty of merchantability or fitness for a particular purpose or any warranty with respect to the accuracy, correctness, quality, completeness or timeliness of such information, and (b) shall not be responsible or liable for any third party's use of any information contained herein under any circumstances, including, without limitation, in connection with actual trading or otherwise or for any errors or omissions contained in this publication.

Risk disclosure
Investments in virtual currencies are high-risk investments with the risk of total loss of the investment and you should not invest in virtual currencies unless you understand and can bear the risks involved with such investments. No information provided in this publication shall constitute investment advice. Crypto Broker AG excludes its liability for any losses arising from the use of, or reliance on, information provided in this publication.