Recurring market commentary on what's happening in the crypto markets, summarized by the Crypto Broker team at Crypto Finance AG.
Good Morning!
Let this sink in: A TradFi bond (tokenised) refinancing transaction conducted through a DeFi protocol.
When I went through the "MIP6 application for OFH tokens" I was amazed that this kind of transaction is compliant with current laws and regulations. Having said that, I see a few weak points (risks) that are not being addressed.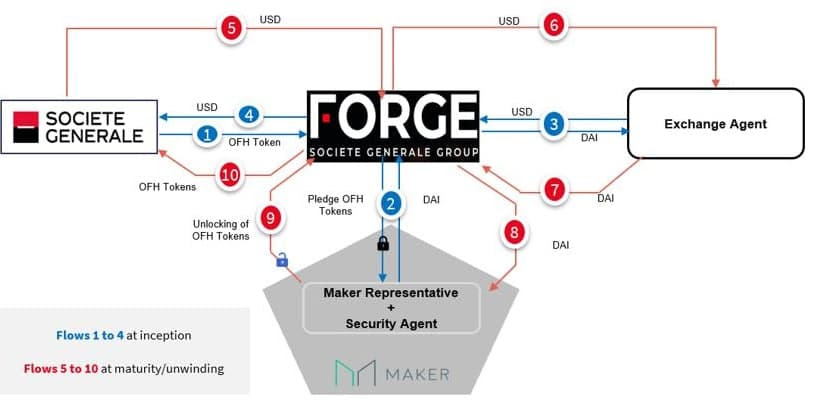 Vulnerabilities of a tokenized refinancing transaction of TradFi bond
There is no oracle solution for obtaining the "live" price of the OFH tokens.
The workaround is a daily collateral test that is being done by a "collateral agent" (there is no clear definition as to who that is). In the future, I envision CCPs (central clearing parties for tokenised assets: e.g. a digital Clearstream).
The DAI/USD peg might break (what happens then?).
Liquidation process & market liquidity. I know that this will come over time, but currently, the MKR holders (community) is bearing the risk.
Again, I am stunned by the fact that this construct is compliant with current rules and regulations. But for sure it shows the massive potential if this "bridge" (concept) is strong enough to hold for the large capital market flow that is waiting to enter the blockchain/DeFi sector.
I hope all of you on the compliance and legal front will comment on this topic, but I'd also love to hear from DeFi professionals as to how some of the risks I pointed out can be mitigated.
---
Copyright © 2021 | Crypto Broker AG | All rights reserved.
All intellectual property, proprietary and other rights and interests in this publication and the subject matter hereof are owned by Crypto Broker AG including, without limitation, all registered design, copyright, trademark and service mark rights.

Disclaimer
This publication provided by Crypto Broker AG, a corporate entity registered under Swiss law, is published for information purposes only. This publication shall not constitute any investment  advice respectively does not constitute an offer, solicitation or recommendation to acquire or dispose of any investment or to engage in any other transaction. This publication is not intended for solicitation purposes but only for use as general information. All descriptions, examples and calculations contained in this publication are for illustrative purposes only. While reasonable care has been taken in the preparation of this publication to provide details that are accurate and not misleading at the time of publication, Crypto Broker AG (a) does not make any representations or warranties regarding the information contained herein, whether express or implied, including without limitation any implied warranty of merchantability or fitness for a particular purpose or any warranty with respect to the accuracy, correctness, quality, completeness or timeliness of such information, and (b) shall not be responsible or liable for any third party's use of any information contained herein under any circumstances, including, without limitation, in connection with actual trading or otherwise or for any errors or omissions contained in this publication.

Risk disclosure
Investments in virtual currencies are high-risk investments with the risk of total loss of the investment and you should not invest in virtual currencies unless you understand and can bear the risks involved with such investments. No information provided in this publication shall constitute investment advice. Crypto Broker AG excludes its liability for any losses arising from the use of, or reliance on, information provided in this publication.