Recurring market commentary on what's happening in the crypto markets, summarized by the Crypto Broker team at Crypto Finance AG.
Market commentary
Good Morning!
Traditional global markets continue to be concerned about an economic slowdown following another outbreak of the Delta COVID variant. Despite this, the major global indices are trading at all-time highs. During the Jackson Hole Symposium, the US Federal Reserve announced that inflation might persist longer than expected. Additionally, they were not specific about reducing their monthly bond purchases.
Several cryptocurrencies – especially the alternatives to Ethereum – are also trading at all-time highs, e.g. Cardano (ADA), Solana (SOL), and Cosmos (ATOM) to name a few.
Solana SOL (daily)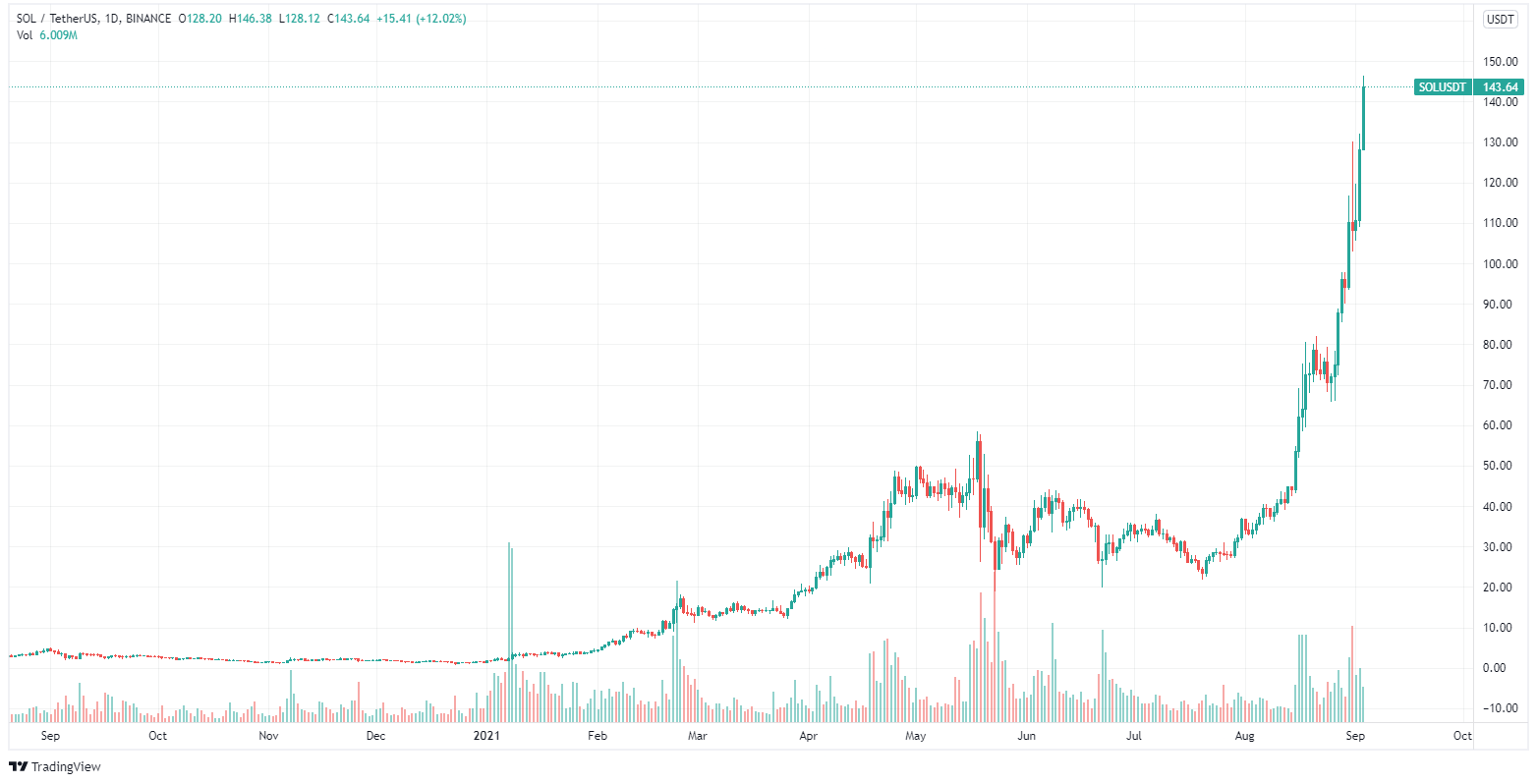 Ethereum (ETH) has shown resilience throughout the entire week, and has started outperforming the market, e.g. ETH outperformed BTC by several percentage points.
Ethereum ETH (daily)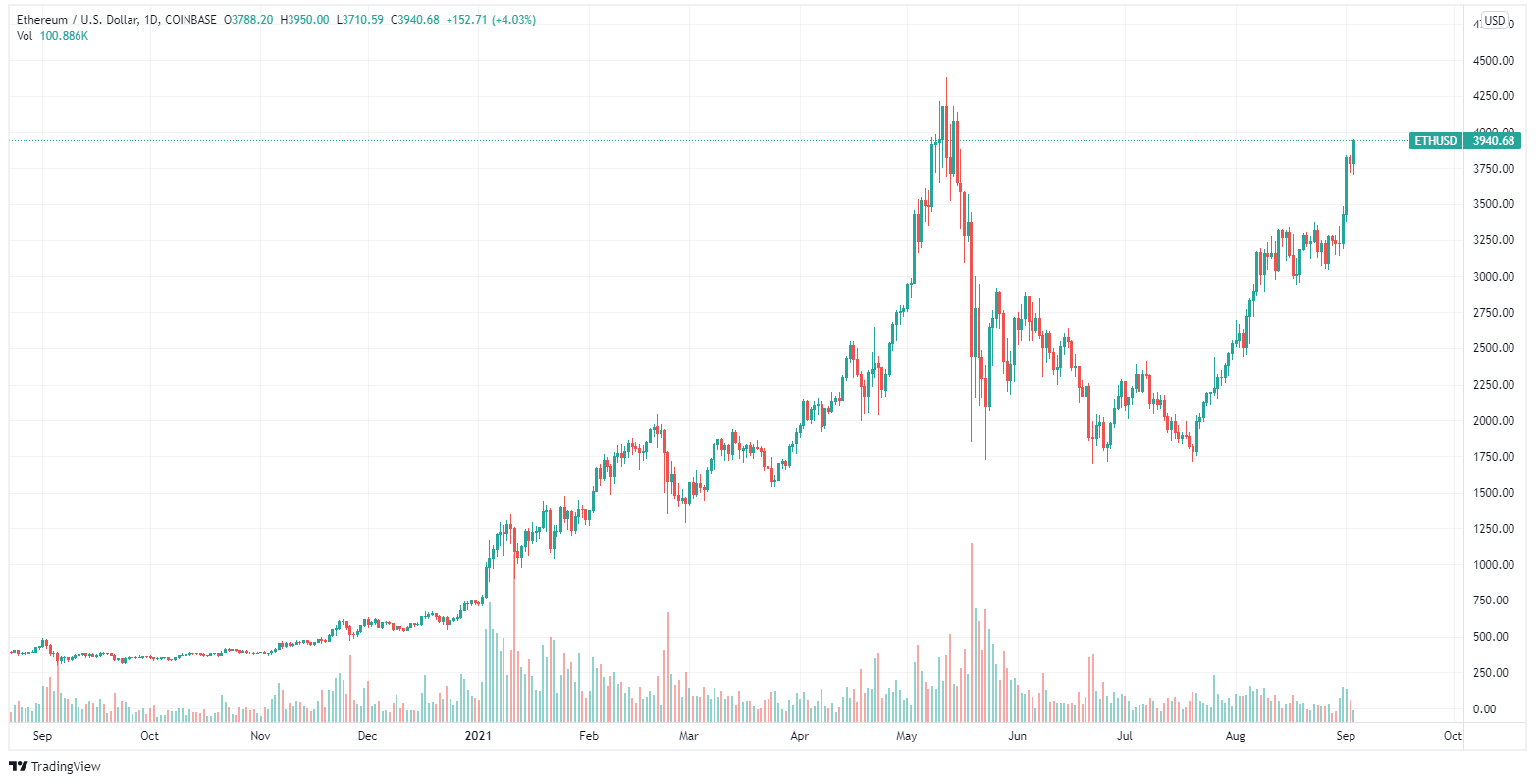 Most important here is the fact that it broke through the important resistance level of 0.069 against BTC, and is currently finally trading at roughly 0.077.
Ethereum / Bitcoin ETHBTC (daily)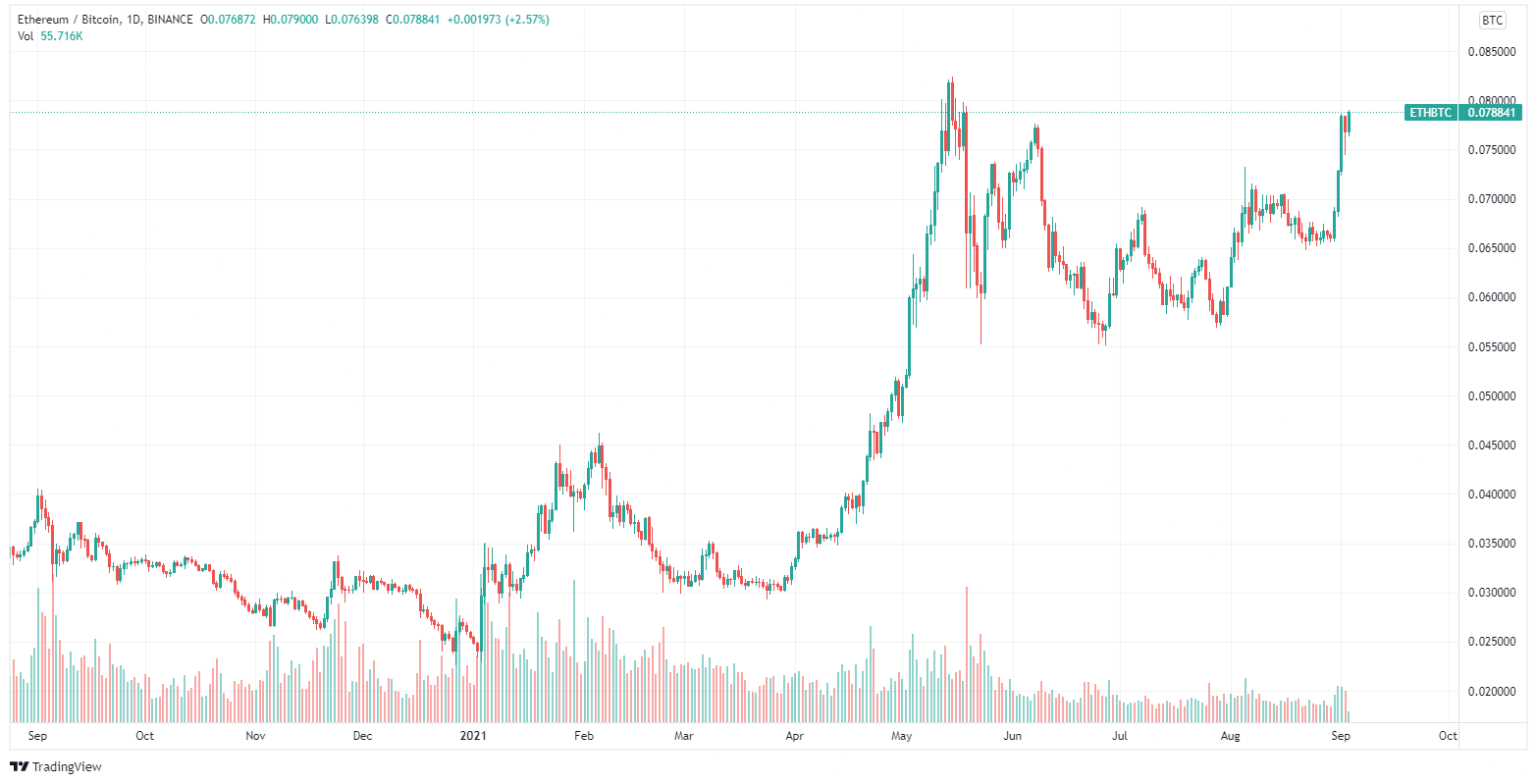 The factors responsible for this huge move are definitively the tremendous amount of options that were traded during the past few days, and also the general underperformance of ETH against all major Top Ten currencies.
Bitcoin (BTC) has again reached the $50,000 area, and has for the most part been trading in a $2'000 range over the past few days. BTC has not been dominating lately, but has rather been finding itself in a healthy consolidation. The bull-run in many altcoins is supported by the strength of BTC.
Bitcoin BTC (daily)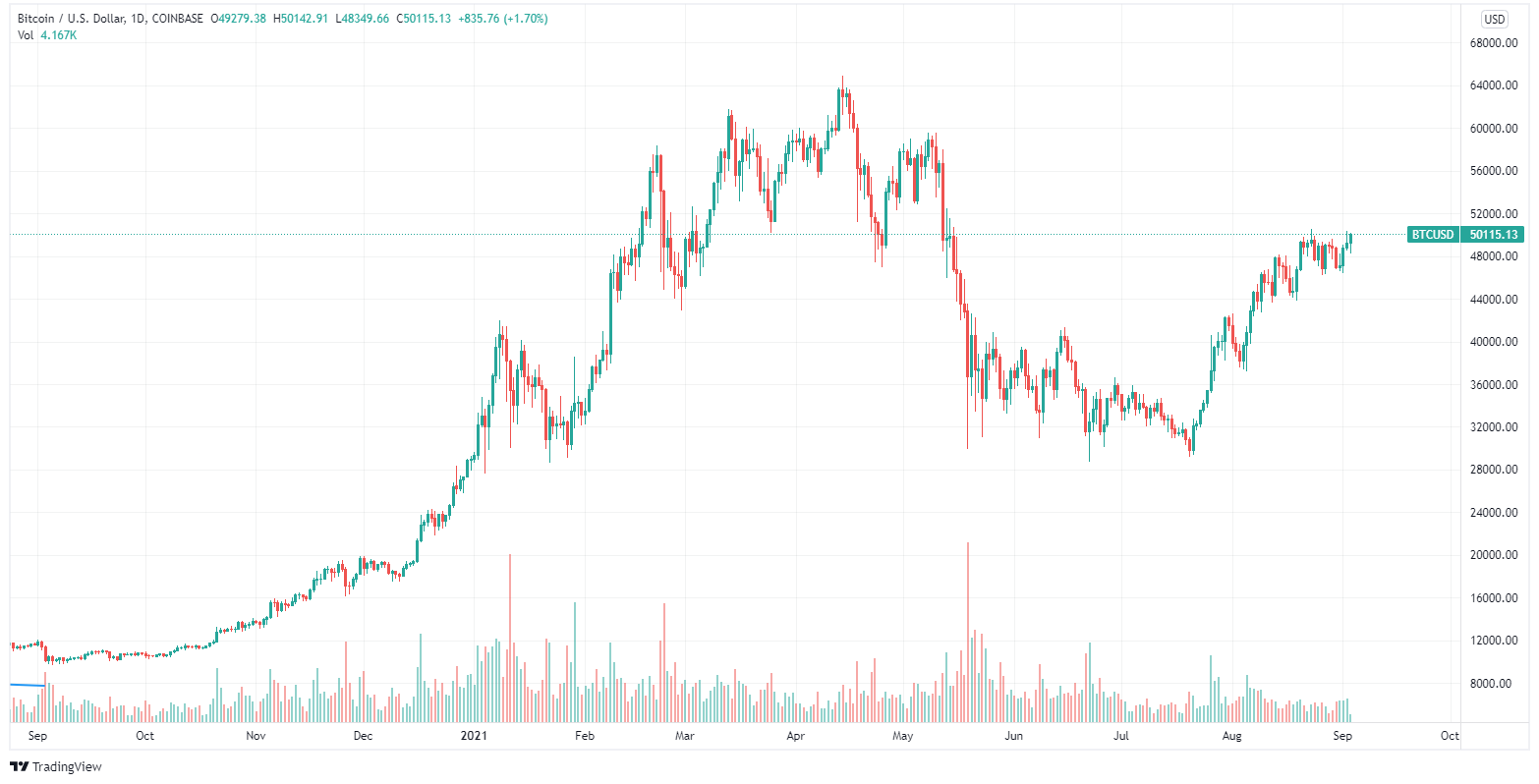 The NFT (nonfungible token) ecosystem continues to not be fully understood by the majority, but has been reaching new highs practically on a daily basis. Crypto Punks and Solana Apes are definitively a new dimension of investment.
There is an interesting podcast by Ripple's CTO David Schwartz that really impressed me back in April 2021 before the hype in this space started to pick up. He compares fungible and nonfungible tokens with each other, and raises the question of whether NFTs are just a trend or not. According to him, it is too early to determine whether nonfungible tokens are just a fad, but does state that NFTs do have the potential to shift the way we exchange ownership and rights of specific pieces of information. Additionally, he sees a real possibility for long-term benefits if there is an entire ecosystem involving five key layers:
Infrastructure (storing NFTs)
Minting (process of easily creating NFTs)
Publishing and Storage
Custody (wallet, browser, and viewer that enables people to show their NFTs to others)
Marketplace and Swap (acquiring and purchasing NFTs in a secondary market)
Happy Trading!
---
Copyright © 2021 | Crypto Broker AG | All rights reserved.
All intellectual property, proprietary and other rights and interests in this publication and the subject matter hereof are owned by Crypto Broker AG including, without limitation, all registered design, copyright, trademark and service mark rights.
Disclaimer
This publication provided by Crypto Broker AG, a corporate entity registered under Swiss law, is published for information purposes only. This publication shall not constitute any investment  advice respectively does not constitute an offer, solicitation or recommendation to acquire or dispose of any investment or to engage in any other transaction. This publication is not intended for solicitation purposes but only for use as general information. All descriptions, examples and calculations contained in this publication are for illustrative purposes only. While reasonable care has been taken in the preparation of this publication to provide details that are accurate and not misleading at the time of publication, Crypto Broker AG (a) does not make any representations or warranties regarding the information contained herein, whether express or implied, including without limitation any implied warranty of merchantability or fitness for a particular purpose or any warranty with respect to the accuracy, correctness, quality, completeness or timeliness of such information, and (b) shall not be responsible or liable for any third party's use of any information contained herein under any circumstances, including, without limitation, in connection with actual trading or otherwise or for any errors or omissions contained in this publication.
Risk disclosure
Investments in virtual currencies are high-risk investments with the risk of total loss of the investment and you should not invest in virtual currencies unless you understand and can bear the risks involved with such investments. No information provided in this publication shall constitute investment advice. Crypto Broker AG excludes its liability for any losses arising from the use of, or reliance on, information provided in this publication.