An overview of what is happening in the crypto markets, summarised daily by Crypto Finance AG Senior Trader Patrick Heusser in the market commentary.
Market commentary
Good Morning!
First, let's begin with some general market updates. After that, we'll move on to Grayscale (GBTC).
The overall market seems to still be supported pretty well. Bitcoin (BTC) registered a run between 2%-3% with open interest in futures and option contracts rising steadily. Liquidations in the past 24 hours increased to almost $200m. There is still a short-term resistance at the 9,800 level.
The top performer
Yesterday's top performer was Ethereum (ETH) with a bull run of 5.5%. Over the last few days, ETH has been very well supported with bids, and the flow indicates a potential upmove in the next couple of days. Trading volume and open interest has increased consistently. The next target is $290. Considering the ETHBTC spread, we see a first target of 0.03060.
The fact that the US regulator has allowed banks to offer crypto custody services has definitively served to support the market. However, the Monetary Authority of Singapore (MAS) is extending its oversight by including cryptocurrency activities outside of its jurisdiction.
The Grayscale Hype
And now to Grayscale. The entire Grayscale (GBTC) hype has sort of faded. Maybe it is because the premium that fiat investors must pay to buy a share has dropped to its lowest point since the inception of the product.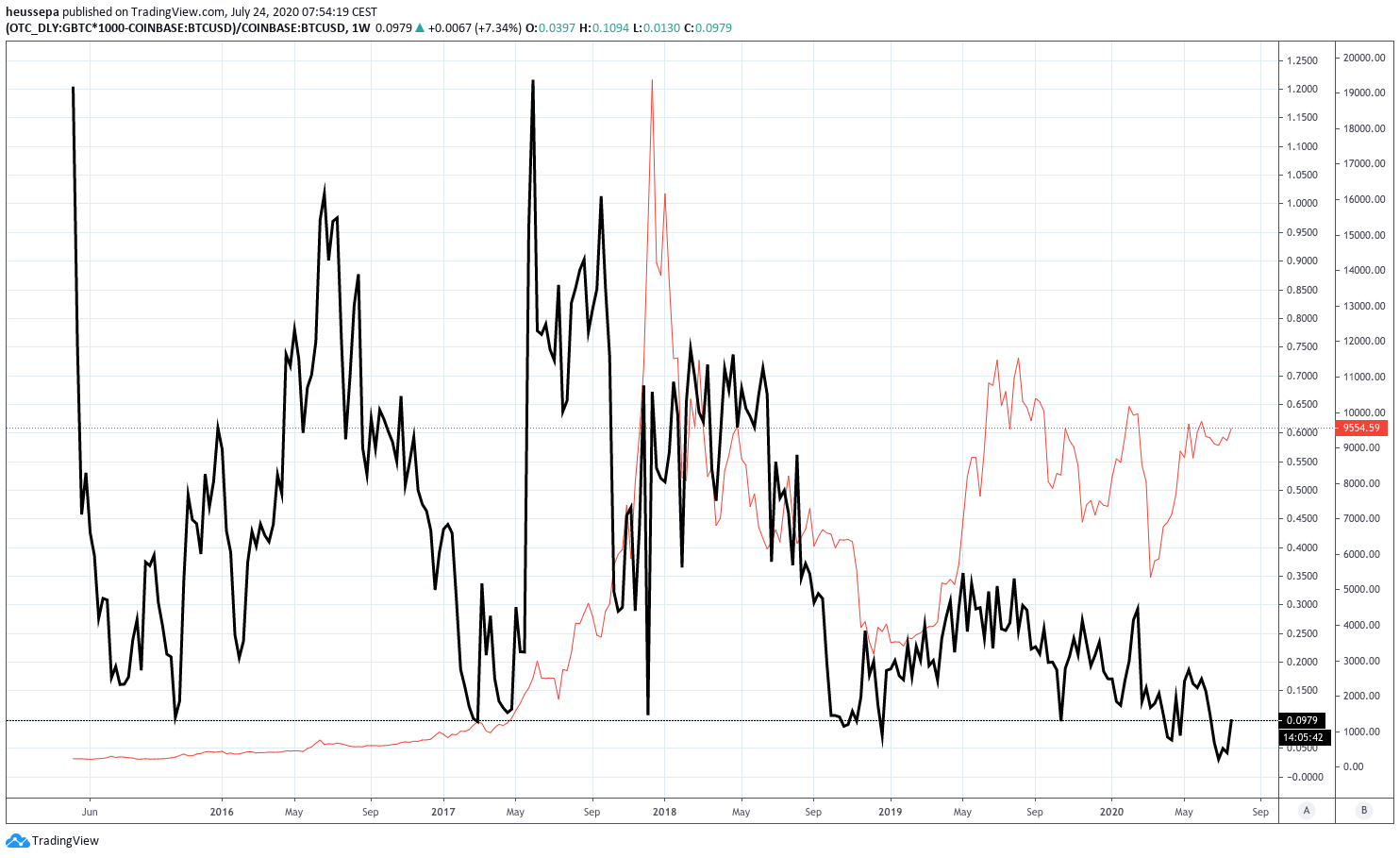 The premium low was 2.5% at the end of June. It has recovered since then, moving up to nearly 10%. The topside was right at launch and then again in May 2017 (with approx. a 120% premium). Does this give any indication of immediate price action for BTC$? Not really. But it is a good "hype" indicator as to how strong the retail sector (regular moms and pops) feel about investing their money in bitcoin.
The dynamics of the premium is driven by the greed of the retail investor, the risk appetite of some crypto hedge funds, and the mechanics of the lock-up period. The normal retail investor has fiat to buy the shares and is forced to pay whatever premium is quoted. Imagine you bought some GBTC in December 2018 at a premium of roughly 60% and BTC$ at around 17k. You would be one unhappy investor for quite some time to come.
Those who profit from this premium are crypto hedge funds. If you pay your GBTC share in kind (meaning in BTC), you do not have to pay that premium. If the premium persists throughout the lock-up period, you can sell your GBTC shares into fiat and pick up that premium on top of it.
There is also an ETH (ETHE) fund to invest in, and news just came out that Grayscale is also launching LTC and EOS.
See here: FINRA Approves Names For Grayscale's Bitcoin Cash And Litecoin Trusts.
Market commentary