An overview of what is happening in the crypto markets, summarised daily by Crypto Finance AG Senior Trader Patrick Heusser in the market commentary.
Market commentary
Good Morning!
Short Bitcoin (BTC) option positions have been quite favourable over the last few weeks. Implied volatility has continuously decreased, especially in the front months due to the narrow trading range. Since the beginning of this month, BTC has been trading within a 4% bandwidth. Daily liquidations have been between $50 m and $100 m on average. Futures are steadily trading with a premium - September + 1.2% and December + 1.9%.
Open interest remains rather high in out of the money options. According to the the very steep implied volatility term structure that is traded, market moves can be expected in the near future. The same patterns are valid for Ethereum (ETH). For BTC, we see a short-term support at 8,800 and resistance at 9,800. A stronger and more important support is at 8,500; resistance is at 10,500.
The DeFi hype
What currently sells in both the crypto and traditional markets are stories. This is why we saw the DeFi space hype. It is actually astonishing how this space gained in value over the last few weeks. The total value locked into DeFi is currently $2.5 bn, which is an increase of over 30% since the beginning of July.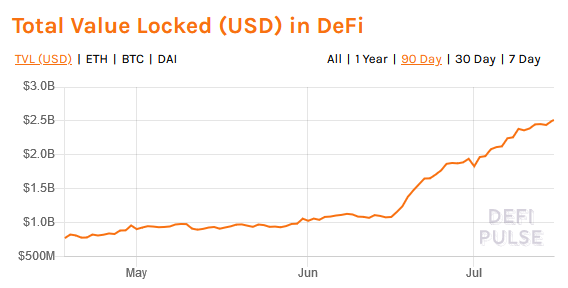 The most dominant names are Compound, Maker, and Synthetix. These make up approx. 73% of the locked value. The lucrative stories in the traditional markets can be be found in the Tech, Robotics, and Healthcare sectors.
Another interesting topic, which we have mentioned many times in our market commentaries, is "stablecoins". This sector has seen immense gains since the beginning of the year and makes up an overall outstanding value of roughly $10 bn.
I wish you all a successful trading day!
Market commentary