An overview of what is happening in the crypto markets, summarised daily by Crypto Finance AG Senior Trader Patrick Heusser in the market commentary.
Market commentary
Good morning!
The last four weeks have been the quietest for BTC in a long time. Realised 10 day & 1mth volatility came down hard from close to 100% to the low twenties (see Chart 1). Implied 1mth vol dropped below 50 briefly (see Chart 2). While this is also the lowest level for over a year, there is still a huge gap between implied and realised, meaning short-term option buyers are constantly draining money.
Difficult situation for options traders
This is a tricky situation for option traders. Do you want to be short options (selling gamma, receiving theta) on the lowest level for more than a year? That's like picking up pennies in front of a steam roller. Or do you buy options because they are cheap? You will still lose money consistently until the next big move.
In such situations, traders usually look for other underlyings to trade: I guess that's one of the reasons for the DeFi-hype we are currently witnessing. Or you can stay away completely until we have a new trend. The whole setup looks perfect to me for a really big move in BTC as soon as we break out of the current range. We will have a closer look at this in tomorrow's TA-Tuesday Report, also in terms of where the respective price levels are. Stay tuned!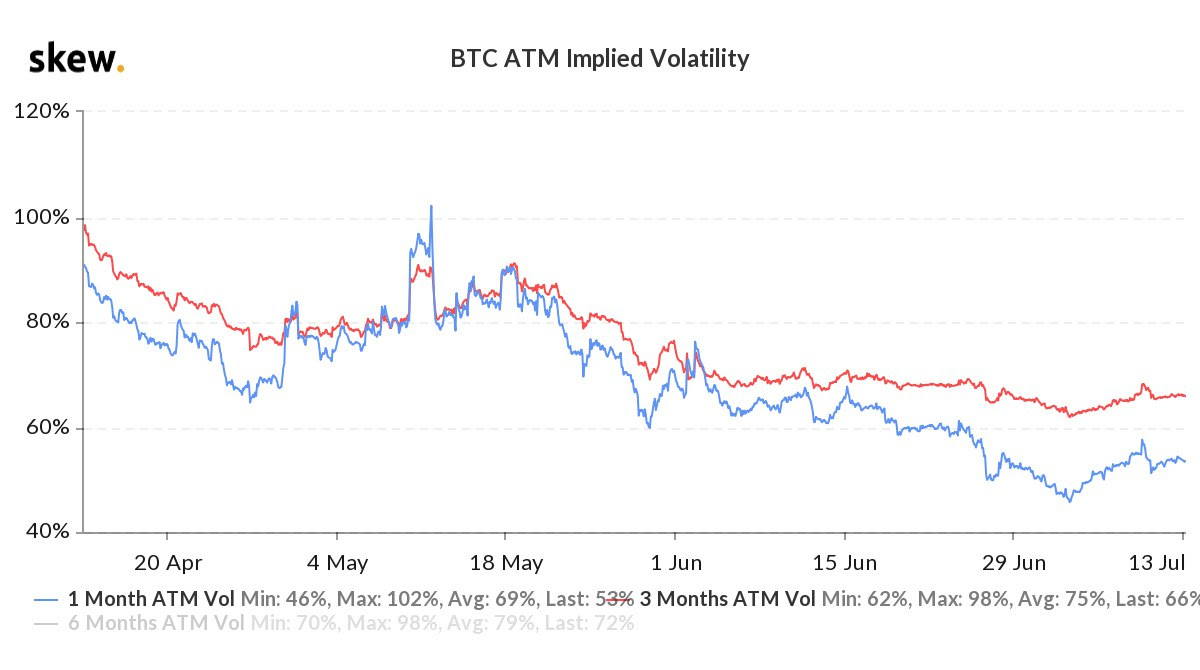 Marktkommentar The last four weeks have been the quietest for BTC in a long time. Realised 10 day & 1mth volatility came down hard from close to 100% to the low twenties (see Chart 1). Implied 1mth vol dropped below 50 briefly (see Chart 2).We will have a closer look at this in tomorrow's TA-Tuesday Report
Market commentary