An overview of what is happening in the crypto markets, summarised daily by Crypto Finance AG Senior Trader Patrick Heusser in the market commentary.
Market commentary
The general market took a quick breather, and after a couple of turbulent days is trading in a narrow range. Some indicators eased a bit but obviously only for a short while as the derivatives products are still overstretched. Open interest and the futures premium remain stable and high across the board. Most known coins traded within a 2% range with some exceptions. ADA ended. ADA and VET, both constituents of the MID Index, performed with + 6%. Theta and LRC, both constituents of the Shit Index, performed positively with around 5%. Yesterday, some of the payment coins performed negatively with 2%, except for XRP, which has been having a solid bull run over the last few days. Overall, the three FTX indices (ALT, MID, and SHIT) performed quite neutral versus BTC.
We see there being a slight chance retesting the 10,500 support level again, but still remain bullish with a first target at around 12,500. A short-term consolidation around the current levels will definitively support the next bull run.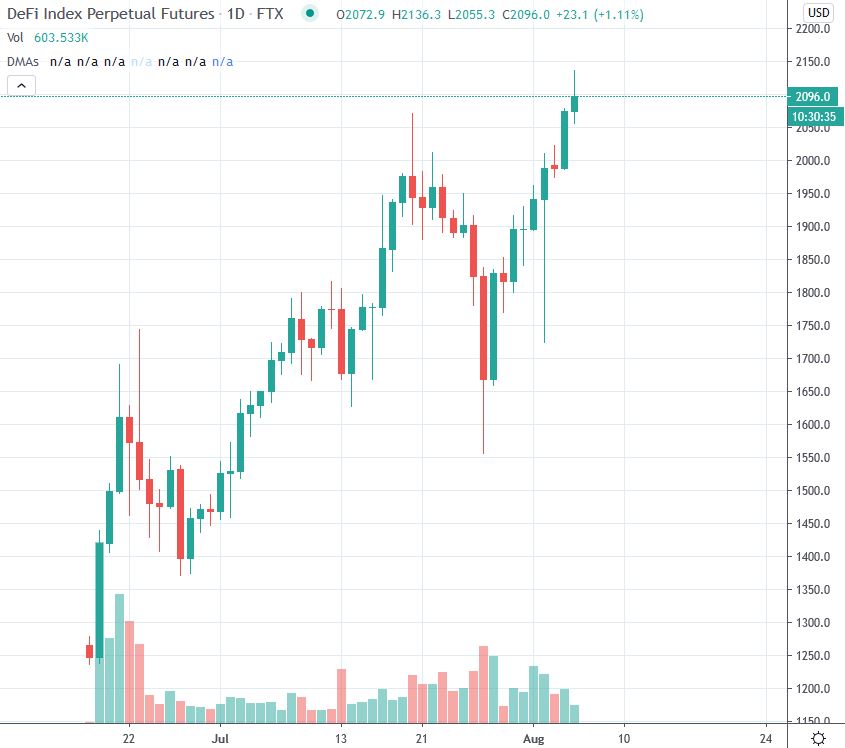 FTX DeFi Index / Chart Tradingview.com
The DeFi Index recovered very well after some market corrections and consolidations, which started at the beginning of August, and is trading at all time high levels. Higher volatility in the DeFi space is expected to continue, but its potential remains hot.