Recurring market commentary on what's happening in the crypto markets, summarized by the Crypto Broker team at Crypto Finance AG.
Good Morning!
Bitcoin (BTC) and Ethereum (ETH) grinded upwards slowly this week, before breaking down on Wednesday when the US Justice Department announced that they would be holding a press conference regarding a "major, international cryptocurrency enforcement action."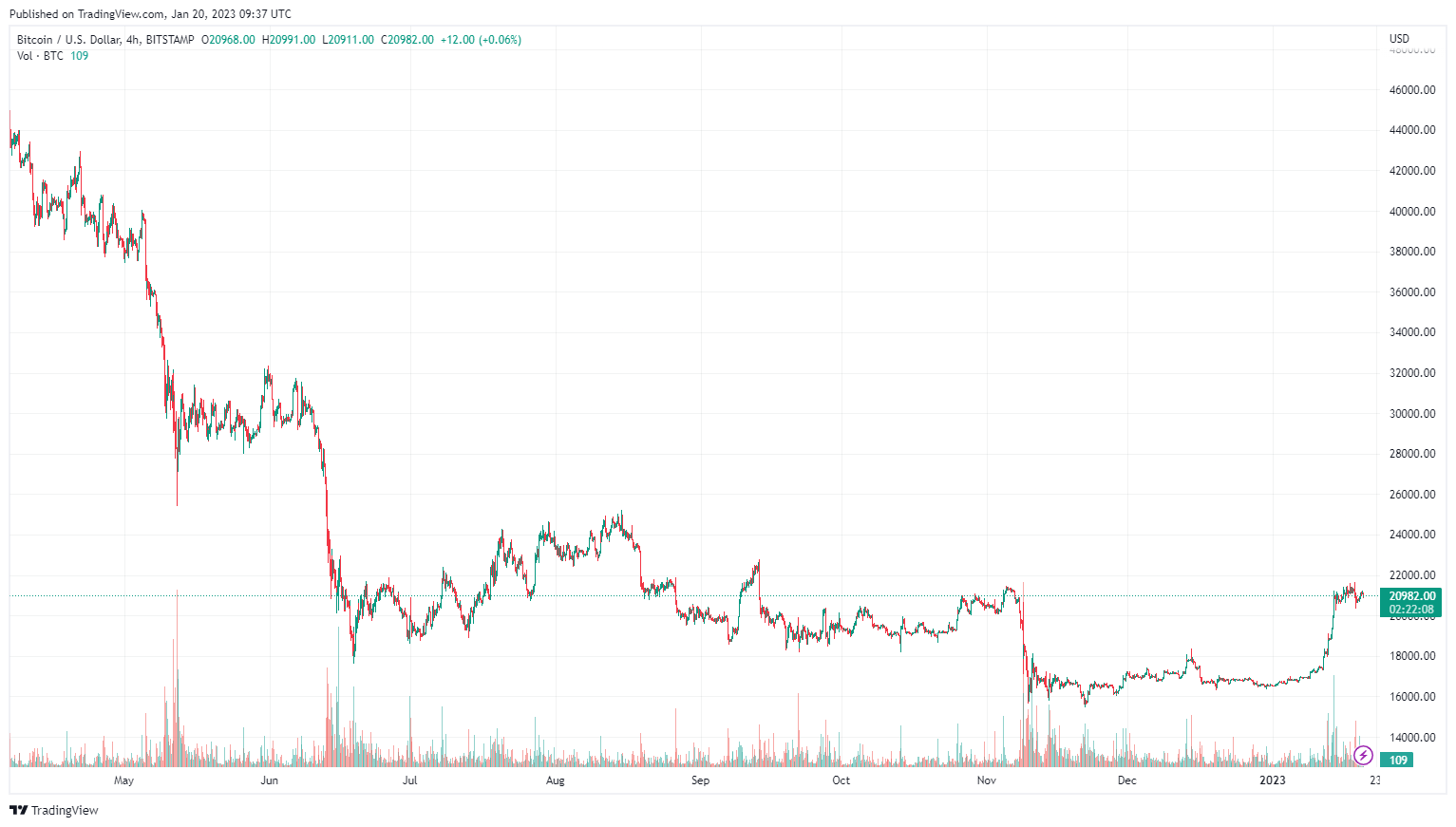 Mysterious Bitzlato announcement
This announcement caused mass fear to spread across the market, with the disruption of large exchanges on top of everybody's mind. BTC was down 5.5% after the announcement, reaching a weekly low of $20.4k. ETH dropped to $1.5k. Before the press conference started, the DOJ released a notice on their website. Founder and majority owner of Russian exchange Bitzlato has been charged with unlicensed money transmitting. The exchange has processed more than $700 million dollars worth of illicit funds, including ransomware proceeds.
Bitzlato had at peak $6m worth of assets, and $11k when the charge hit. For the market, this ended up being much of a "non-event". However, I think with this "small" bust by the National Crypto Enforcement Team (NCET), which was founded in 2021, shows the world that investigations are being carried out on entities in the market, and that there is more to come.
Inflation continues slowing down
US economic data was released on Wednesday and Thursday, and reaffirms the drop in inflation from December and a strong labour market.
PPI lower than forecast and previously
Retail sales (consumer spending) lower than forecast and previously
Initial jobless claims were less than forecast and previously
Altcoins continued to show their potency. The top gainers this week were Frax Share (FXS), Decentraland (MANA), and Aptos (APT). Frax Share is likely gaining traction from the increase in the amount of frxETH. The DeFi platform boasts a variety of functions, including its own stablecoin, swap and lend market, as well as an ETH liquid staking derivative. The amount of frxETH has increased by 46% in the last 30 days to 53k. In comparison, RocketPool gained 8% more staked ETH in the last 30 days, for a total of 358k.
DCG suspended dividends, and Genesis reportedly filed for Chapter 11 bankruptcy protection late Thursday night. The company listed over 100,000 creditors, owing over $3.5bn to the top 50 creditors. This comes after the SEC announced on Jan. 12th that it had charged Genesis and Gemini with offering unregistered securities. This story will be crucial in determining the future of the Grayscale trusts and any additional contagion effects within the market.
Happy Trading!
---
Copyright © 2021 | Crypto Broker AG | All rights reserved.
All intellectual property, proprietary and other rights and interests in this publication and the subject matter hereof are owned by Crypto Broker AG including, without limitation, all registered design, copyright, trademark and service mark rights.

Disclaimer
This publication provided by Crypto Broker AG, a corporate entity registered under Swiss law, is published for information purposes only. This publication shall not constitute any investment  advice respectively does not constitute an offer, solicitation or recommendation to acquire or dispose of any investment or to engage in any other transaction. This publication is not intended for solicitation purposes but only for use as general information. All descriptions, examples and calculations contained in this publication are for illustrative purposes only. While reasonable care has been taken in the preparation of this publication to provide details that are accurate and not misleading at the time of publication, Crypto Broker AG (a) does not make any representations or warranties regarding the information contained herein, whether express or implied, including without limitation any implied warranty of merchantability or fitness for a particular purpose or any warranty with respect to the accuracy, correctness, quality, completeness or timeliness of such information, and (b) shall not be responsible or liable for any third party's use of any information contained herein under any circumstances, including, without limitation, in connection with actual trading or otherwise or for any errors or omissions contained in this publication.

Risk disclosure
Investments in virtual currencies are high-risk investments with the risk of total loss of the investment and you should not invest in virtual currencies unless you understand and can bear the risks involved with such investments. No information provided in this publication shall constitute investment advice. Crypto Broker AG excludes its liability for any losses arising from the use of, or reliance on, information provided in this publication.