A summarizing review of what has been happening at the crypto markets of the past week. A look at trending sectors, liquidity, volatility, spreads and more. The weekly report in cooperation with market data provider Kaiko.
This week in the cryptomarkets:
Bitcoin now exceeds 100% YTD returns as the asset holds steady above $15k, its highest level since January 2018.
The launch of Ethereum 2.0's deposit contract propelled many of the DeFi tokens built on the blockchain to positive week-on-week returns for the first time since September.
FTX's election betting markets experienced wild volatility, with the exchange's TRUMP future climbing from .29 to .83 over the course of three hours, before plummeting as results rolled in.
Bitcoin-dollar volume reached a 6-month daily high this week.
The quantity of bids on BTC-USD order books dropped sharply as Bitcoin crossed $14k and again at $15k.
TRUMP/BIDEN contracts surge on FTX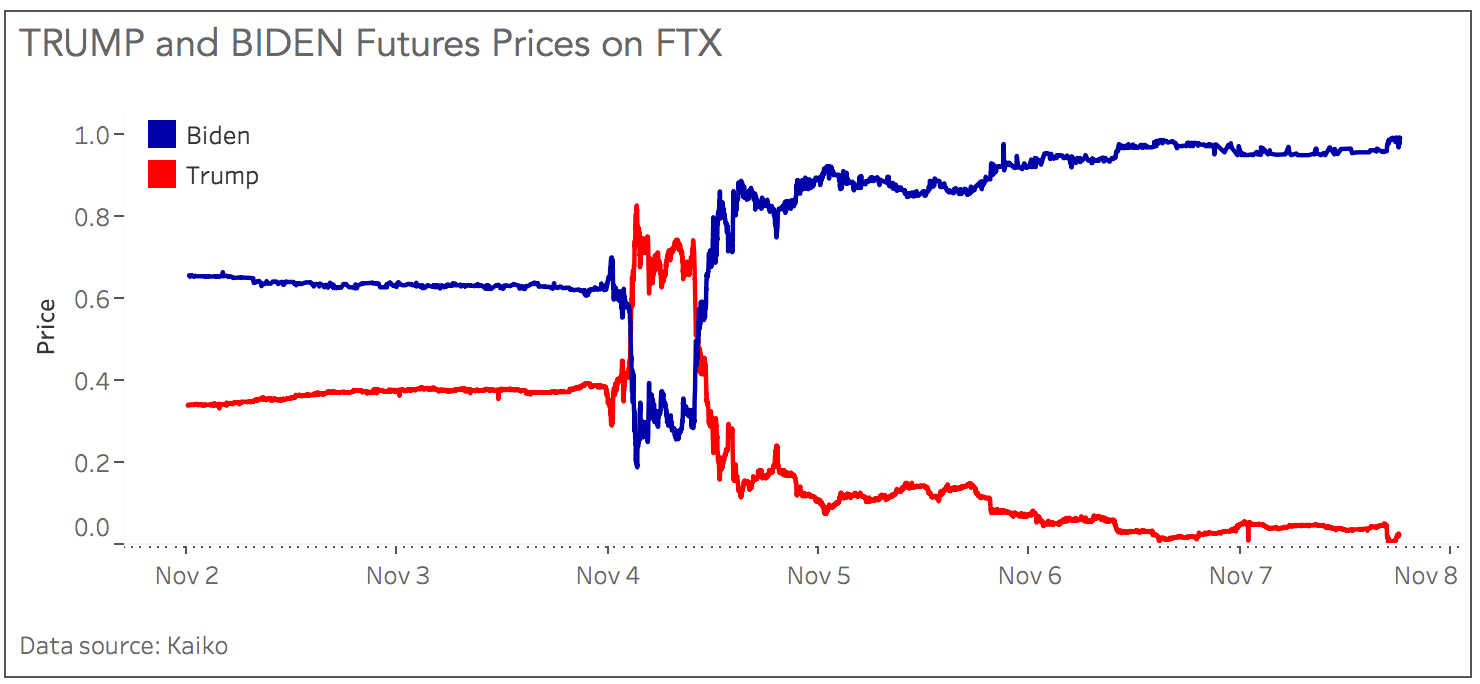 Election betting markets took off on election night (and the days that followed), with FTX enjoying a surge in trading volume as traders took their chances predicting election results. The price of each futures contract reflects the predicted percentage chance each candidate has of winning, which grew increasingly volatile as election night progressed. At one point, traders gave Trump a more than 80% chance of winning, before plummeting with news of mail-in ballot tallies. Ultimately, TRUMP markets possessed more than double the traded volume as BIDEN markets.
Bitcoin-dollar volume reaches 6-month high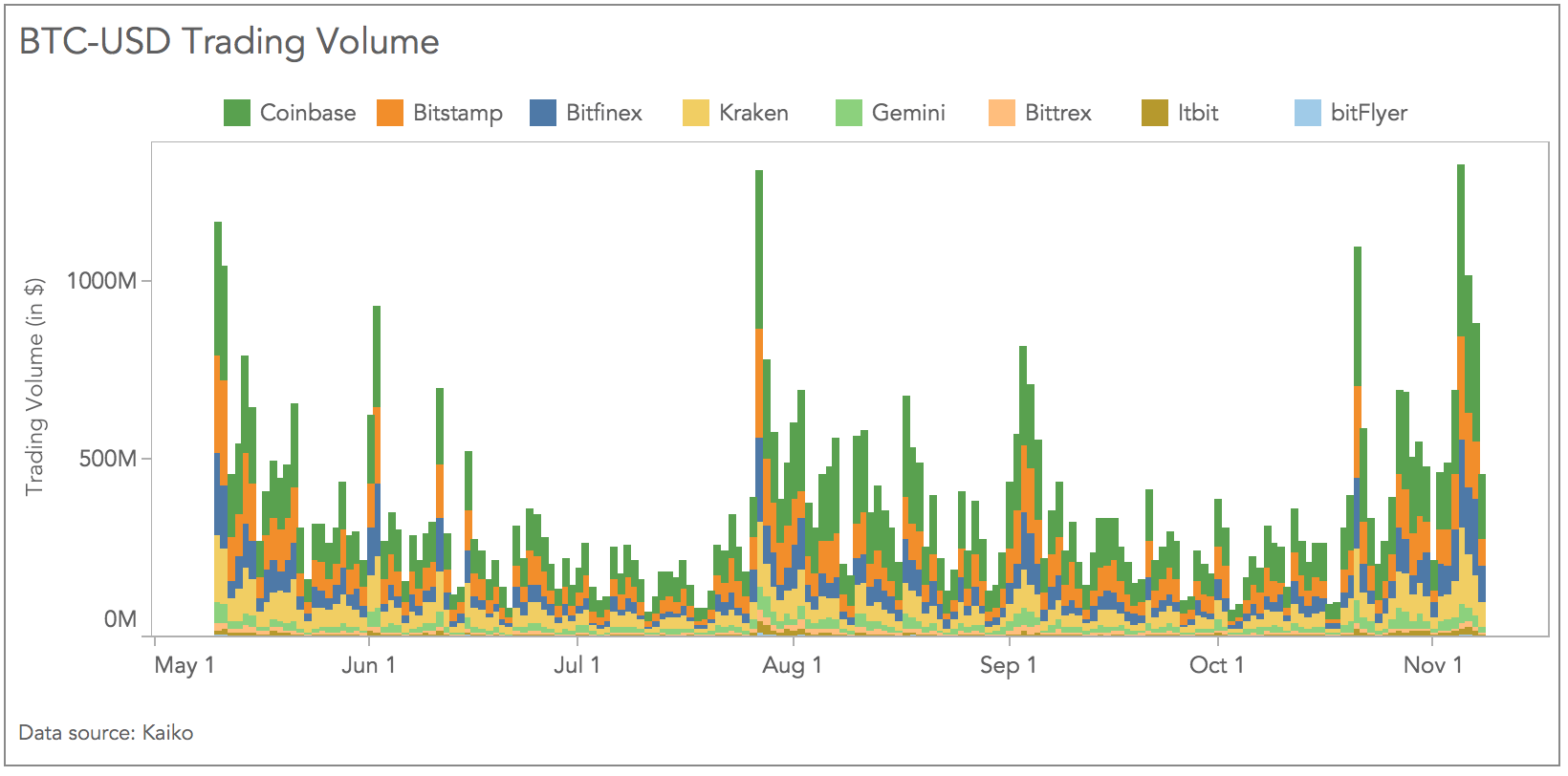 Excitement over Bitcoin's current bull run is objectively more subdued compared with 2017's manic run for the crypto-asset. Yet, Bitcoin trading volumes have soared since mid-October as momentum for the asset builds in response to positive institutional news and macroeconomic uncertainty. Volume peaked on November 5th as Bitcoin tore through resistance at $14k and $15k, topping $1.2 billion across 8 exchanges.
Bid depth falls as BTC crosses key price levels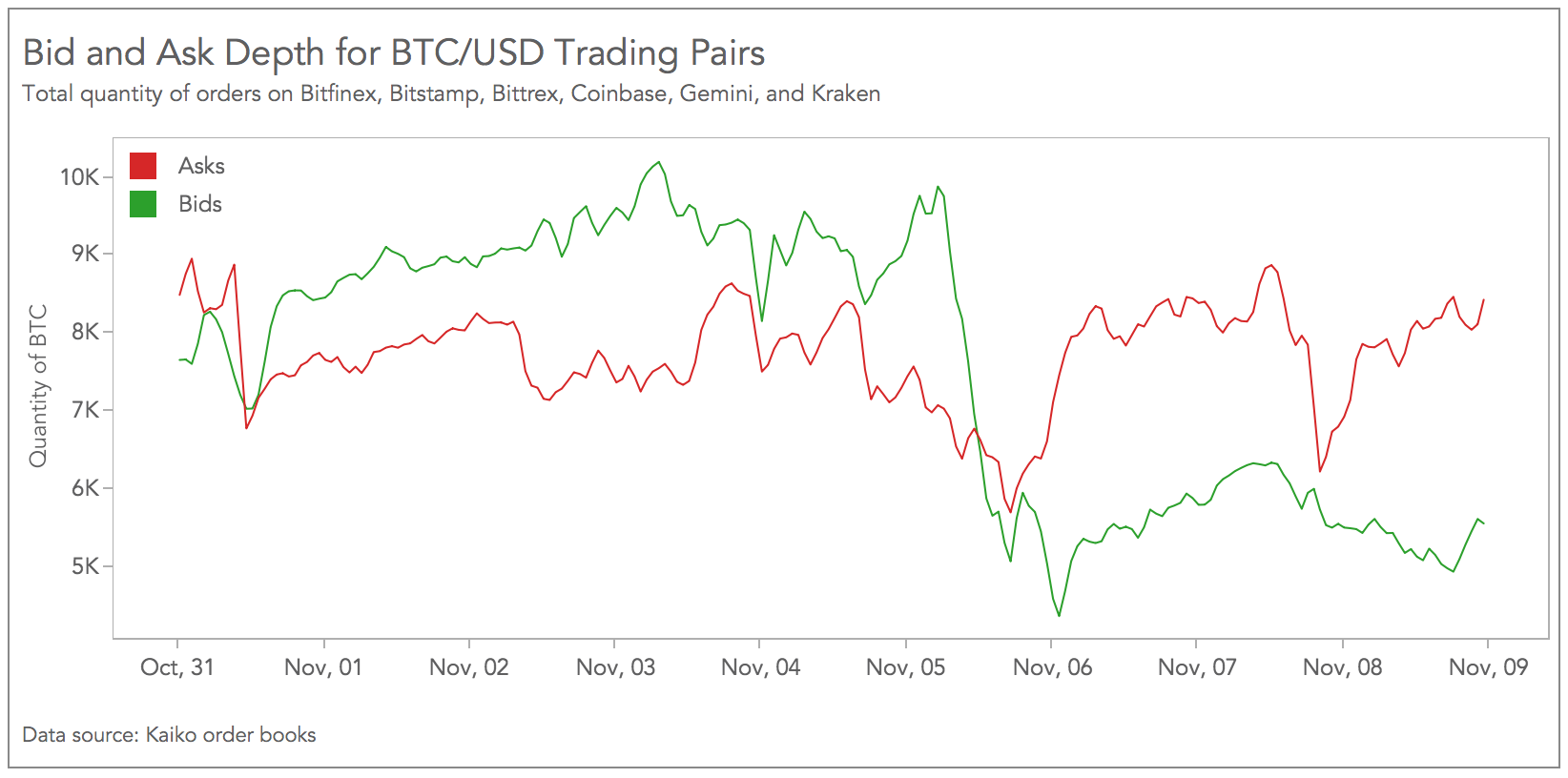 Market depth fell sharply on the bid side of order books on 6 exchanges from November 5-7. For the most part, ask depth did not stray far from its average. Bid depth fell as Bitcoin tore through the $14k price level, and fell again less than a day later as the the $15k price level was breached. Market makers often group orders around key price levels. Once these levels are breached, order books undergo a realignment.