A summarizing review of what has been happening at the crypto markets of the past week. A look at trending sectors, liquidity, volatility, spreads and more. The weekly report in cooperation with market data provider Kaiko.
The last 7 days in cryptocurrency markets:
Price Movements: ETH volatility outpaces Bitcoin ahead of the Merge as ETHPOW value falls.
Market Liquidity: Average trade size on DEXs continue to fall as ETH gas fees hit multi-year lows.
Derivatives: BTC open interest is driving price action while CME launches Euro crypto futures.
Macro Trends: Inflation potentially peaks as energy prices decline and Coinbase stock rebounds after BlackRock news.
Markets rally amid regulatory crackdown

Crypto markets were beneficiaries of a lower than expected inflation reading last week as a risk-on rally ensued. However, beyond the positive price action were concerning regulatory developments regarding crypto mixing services as the US Treasury blacklisted Tornado Cash, a widely used crypto mixer that has both legitimate and illegal use cases in crypto. Aave, Uniswap, and Balancer were some of the largest DeFi protocols to ban users of Tornado Cash following the sanctions, while the developer of the service was arrested in the Netherlands last week. Meanwhile, the MakerDAO founder called on DAI to drop its dollar peg amid the Tornado Cash drama, and Ethereum (ETH) completed its final test run ahead of the Merge in September as the Goerli testnet successfully transitioned to proof of stake (PoS).
ETHPOW price falls as adoption fails to manifest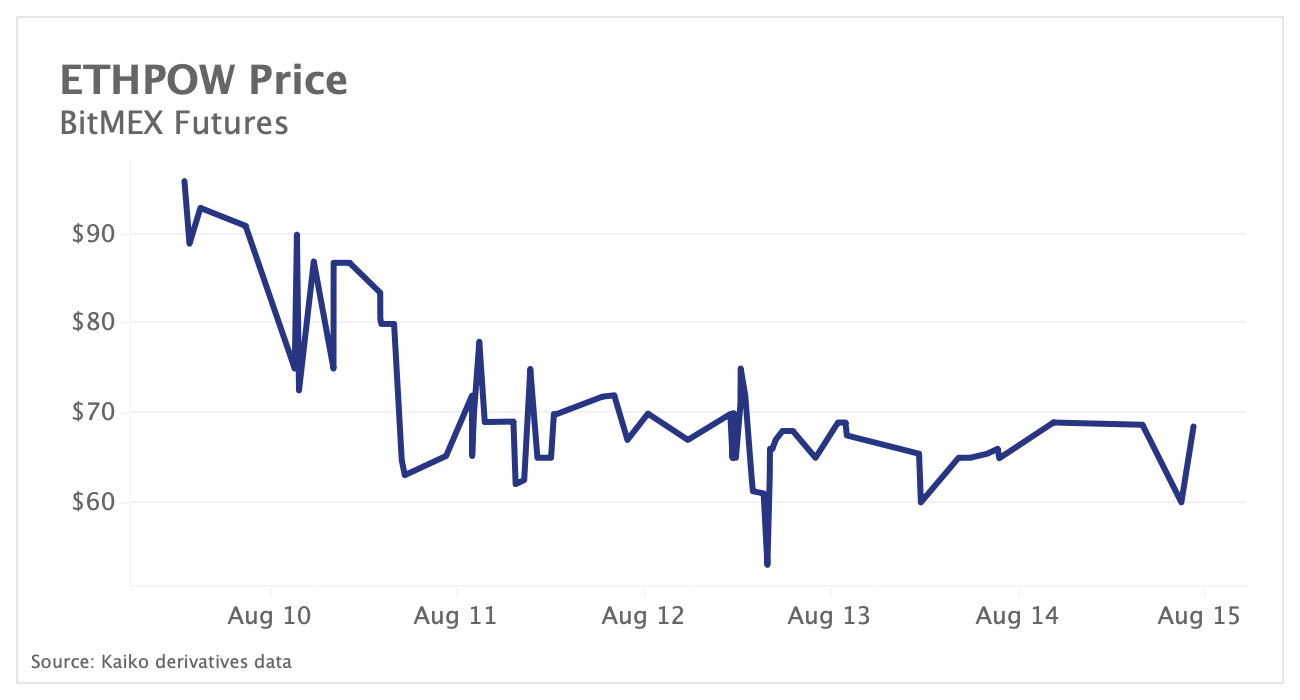 BitMEX announced on August 8 that it would be offering a futures contract for ETHPOW, or ETH Proof of Work (PoW), which it states is a "highly speculative contract (ETHPOW doesn't exist yet and might never exist)." In that time, volume has been relatively muted, and as of this writing open interest stands at just over $350mn. Since its inception ETHPOW is down 28%, while ETH is up over 11% during the same period. Given that this token does not yet exist, all price action should be taken with a rather large grain of salt. BitMEX's research team stated that "as long as the [ETHPOW] chain survives, it looks likely that there could be positive narratives around the coin and leading centralised exchanges are likely to list it… we predict that ETH vs ETHPoW will be a popular trading pair post split." If this is the case, BitMEX has put itself in a good position to capitalize on volumes.
Rush to centralized exchanges as Tornado Cash is sanctioned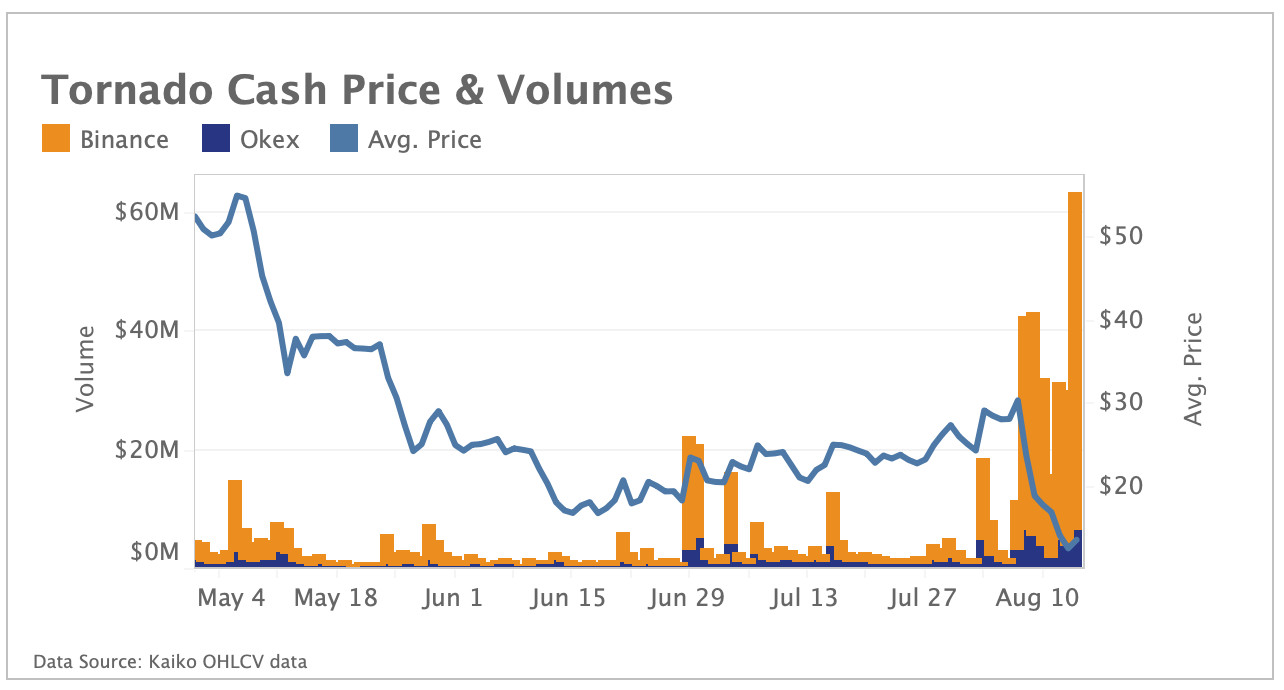 Crypto privacy was in the crosshairs of the authorities last week as crypto mixing service Tornado Cash was blacklisted by the US Treasury, while the developer of the service was arrested in the Netherlands. Crypto mixers like Tornado Cash are used to obfuscate the origin of funds on-chain. Tornado Cash has allegedly been used by the North Korean hackers Lazarus Group and the US Treasury used this case to back the move.
However, crypto mixing services have plenty of legitimate use cases, such as not wanting to reveal the address of a personal wallet; public figures often use mixers so their own wallets aren't revealed. A report last week showed that 10% of funds received by Tornado Cash were stolen funds, with another 18% coming from sanctioned entities. That leaves over 70% of funds coming from legitimate sources, and holders of funds that have interacted with Tornado Cash are now left wondering if their funds will be blacklisted by platforms going forward. This concern can be seen in the volumes of Tornado Cash's token TORN as holders rushed to centralized exchanges after the sanctions. In what seems a pivotal moment for decentralized finance (DeFi), a handful of platforms such as Aave, Uniswap and dydx have banned users associated with Tornado Cash.
Bitcoin/Ethereum volatility diverges to widest in over a year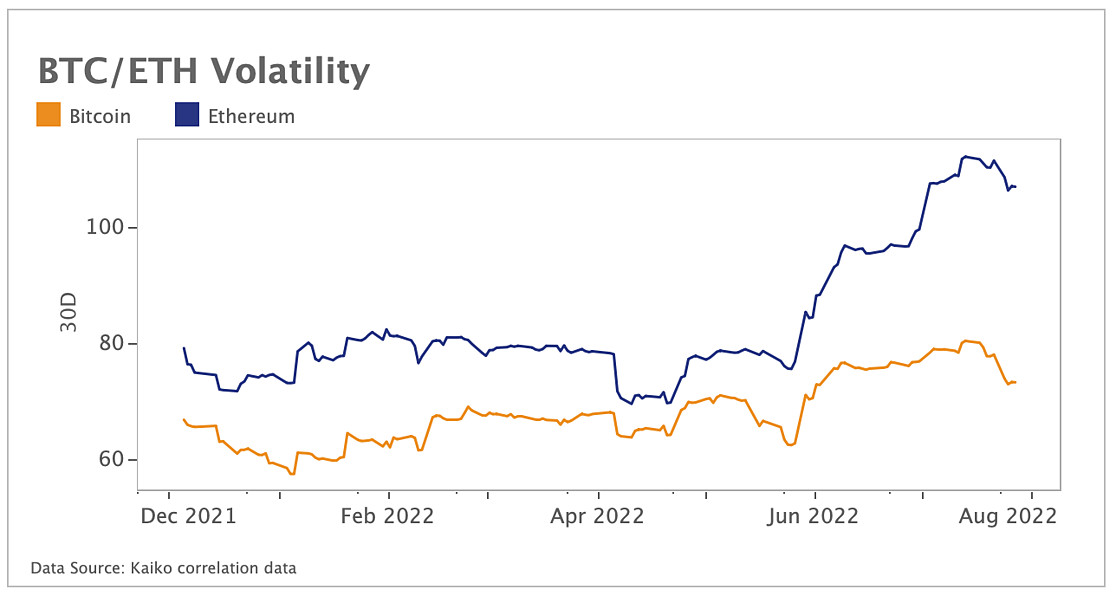 The spread between Bitcoin (BTC) and ether's 30 day volatility has diverged to the widest level in over a year as the Ethereum network experiences its own idiosyncratic event in the Merge next month. Bullish sentiment for ETH ahead of the Merge has raised the ETH/BTC to 0.078, a level that hasn't been reached since January 7th this year. The two assets usually move in the same direction and at a similar pace, but their volatility spread has been diverging since May. ETH's volatility has increased as investors seem to be pricing in a higher chance that the Merge will be successful after the final test run, the Goerli test network, successfully switched to proof of stake.
Trade sizes on DEXs plummet as Ethereum transaction fees hit multi-year lows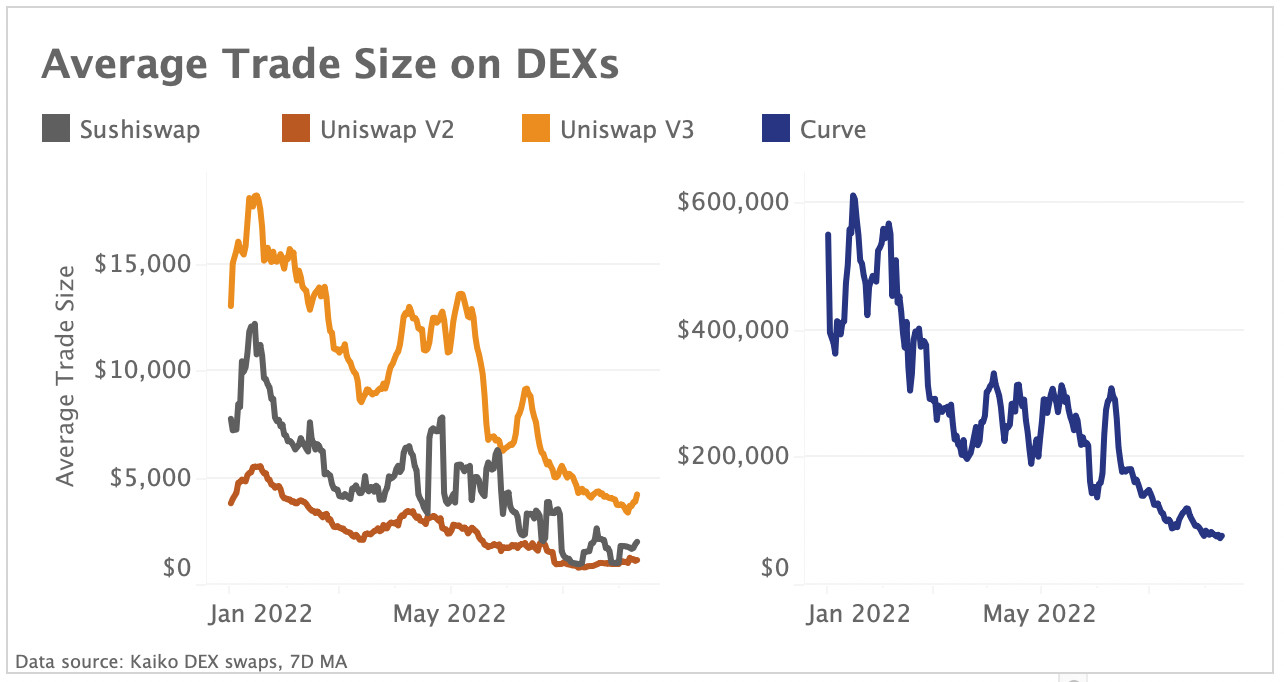 Ethereum transaction fees — long one of the biggest roadblocks to the growth of DeFi protocols and other Ethereum-based applications — have hit multi-year lows. DEXs in particular had been negatively impacted by high fees, which made protocol usage prohibitively expensive for many retail users and contributed to a surge in the average trade size.
Since the start of 2022, average trade sizes have plummeted on every protocol. On Uniswap V3, trade sizes dropped from $15k to under $5k, with a similar trend observed on both Uniswap V2 and Sushiswap. Curve V1 is a DEX optimized for stablecoin swaps that has historically attracted whales due to its extremely low slippage. Average trade sizes are enormous relative to any other exchange, at the start of the year averaging $600k. This has since dropped to under $100k.
Interestingly, the fall in average trade sizes is not strongly correlated with a fall in daily volume. In fact, on Curve, average daily volumes are nearly the same as in January, and on Uniswap V3, daily volumes are only slightly down (while trade sizes are down over 60%). Ethereum transaction fees are likely not the only cause for the dramatic drop in trade sizes, but they could be an explanatory factor.
CME launches euro crypto futures as BitMEX continues to innovate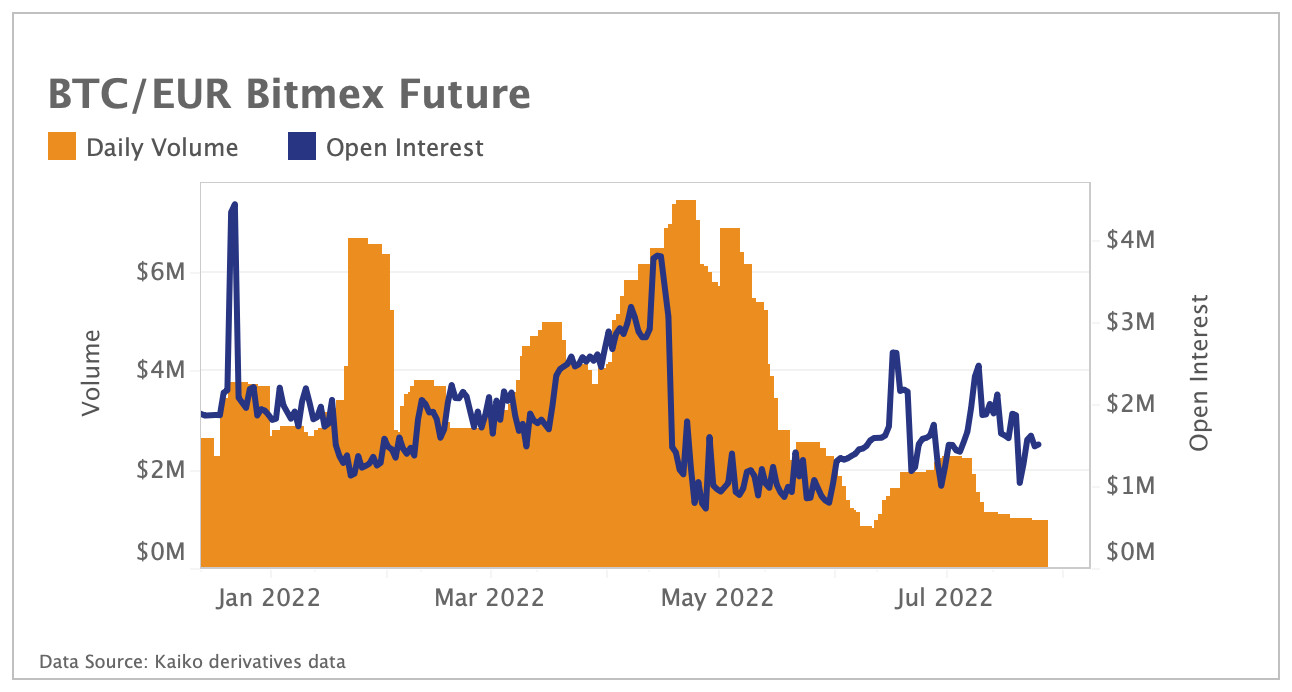 The largest trade derivatives marketplace, the CME, last week announced its plan to launch Bitcoin and Ether Euro denominated futures at the end of this month. According to the CME, year-to-date the EMEA region represents 28% of total BTC and ETH futures contracts traded, up more than 5% versus 2021. However, this product exists already thanks to BitMEX, which was the first to launch euro denominated futures. Daily volumes for the contract on BitMEX are at their lowest levels this year. BitMEX was the first to create the now widely used perpetual swaps and have continued to innovate in the crypto futures space, this week announcing the launch of crypto's first-ever perpetual foreign exchange swap contracts. These FX swaps allow investors to trade the product 24/7, even when the traditional FX market is closed and could be another widely used product in the derivatives market.
Inflation cools off as energy prices decline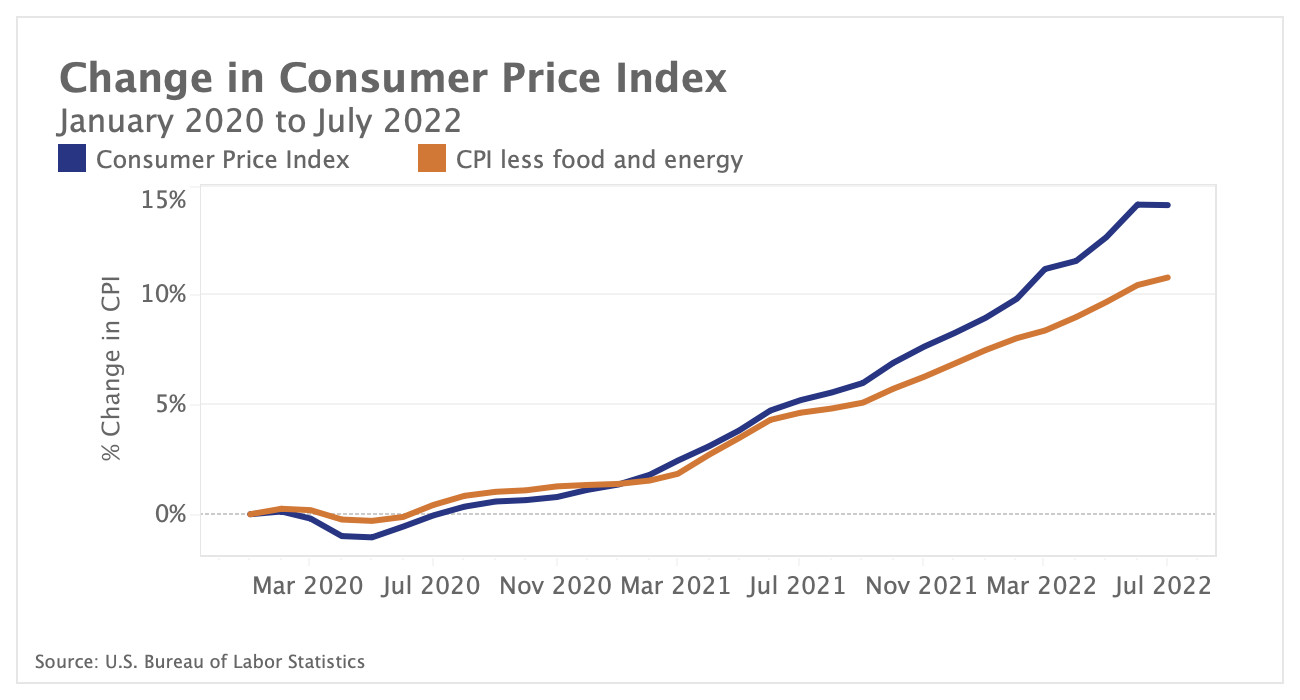 Last week's CPI reading came in flat from the previous month as energy prices declined 4.6%. Since January 2020, the CPI has increased nearly 15%, while the CPI less food and energy has increased nearly 11%. In recent months, energy prices have been a large factor in hot inflation readings. The week before, the U.S. economy added over 500,000 jobs, surpassing expectations. These two readings have contributed to a mixed economic picture, with some indications that the U.S. is in a recession despite a 3.5% unemployment rate. In the past week, the probability of a 75bps Fed rate hike in September has decreased from 68% to 45%, according to CME's FedWatch. Crypto investors will continue to closely monitor the Fed's posture in the hopes that more favorable environment for risk assets will return.
Coinbase rebounds on BlackRock news before earnings miss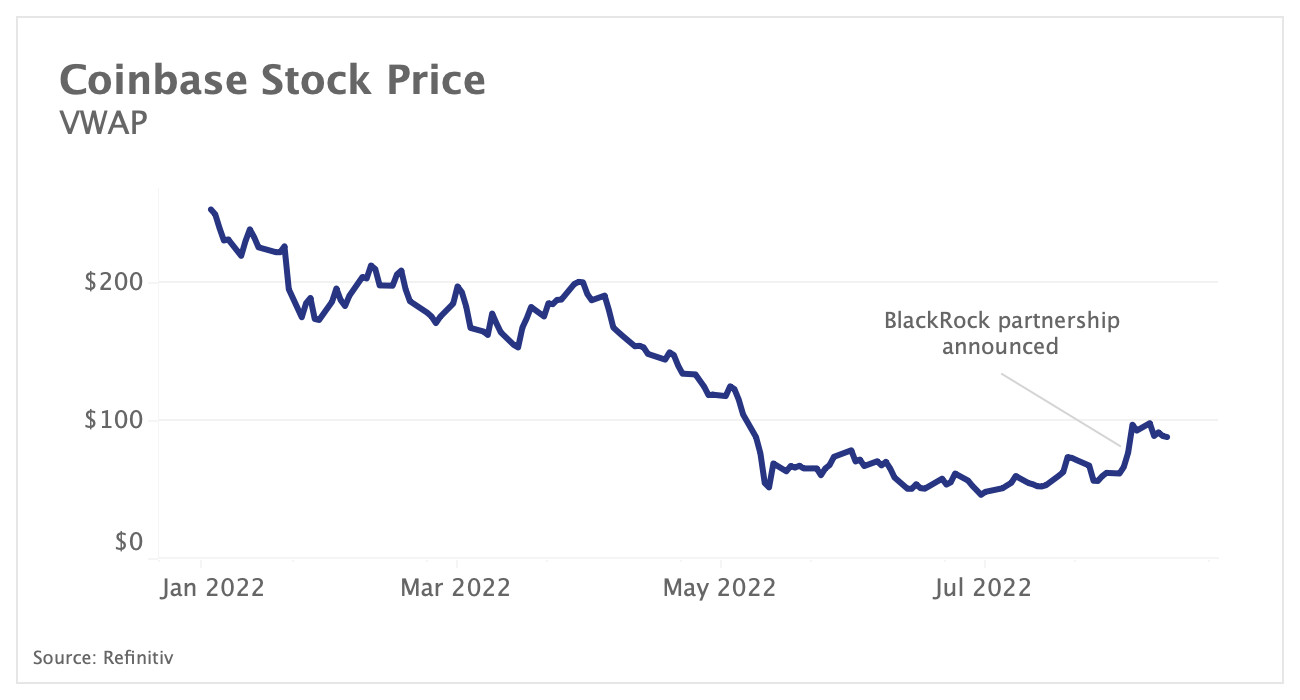 Coinbase stock jumped from $63 to over $90 two weeks ago on news that the exchange would be partnering with BlackRock, the world's largest asset manager, to enable bitcoin trading and custody for institutional clients. However, last week Coinbase's earnings dampened the excitement, as the company registered a net loss of $1.09bn and revenue of just over $800mn. In the previous quarter Coinbase lost $429mn and had $1.17bn in revenue. Monthly transacting users also declined from the previous quarter, from 9.2mn to 9mn and total trading volume fell from $309bn to $217bn. Crypto exchanges continue to make most of their money from trading fees, and the crypto bear market coupled with competition from FTX and Binance (as well as their U.S. affiliates), will continue to challenge Coinbase.