A monthly review of what's happening in the crypto markets enriched with institutional research on the most important topics in the industry in cooperation with the Swiss digital asset specialist, 21Shares AG.
The overall crypto market tumbled by almost 5% over the past month to rest at $933.7B. Bitcoin and Ethereum declined by 3% and 14% over the past month. This month's winners were Solana and Uniswap, which jumped by 6% and 5% respectively. Optimism performed better than its peers within the major L2s in terms of total value locked (TVL). The figure below shows the performance of the top crypto assets within the major categories, month over month.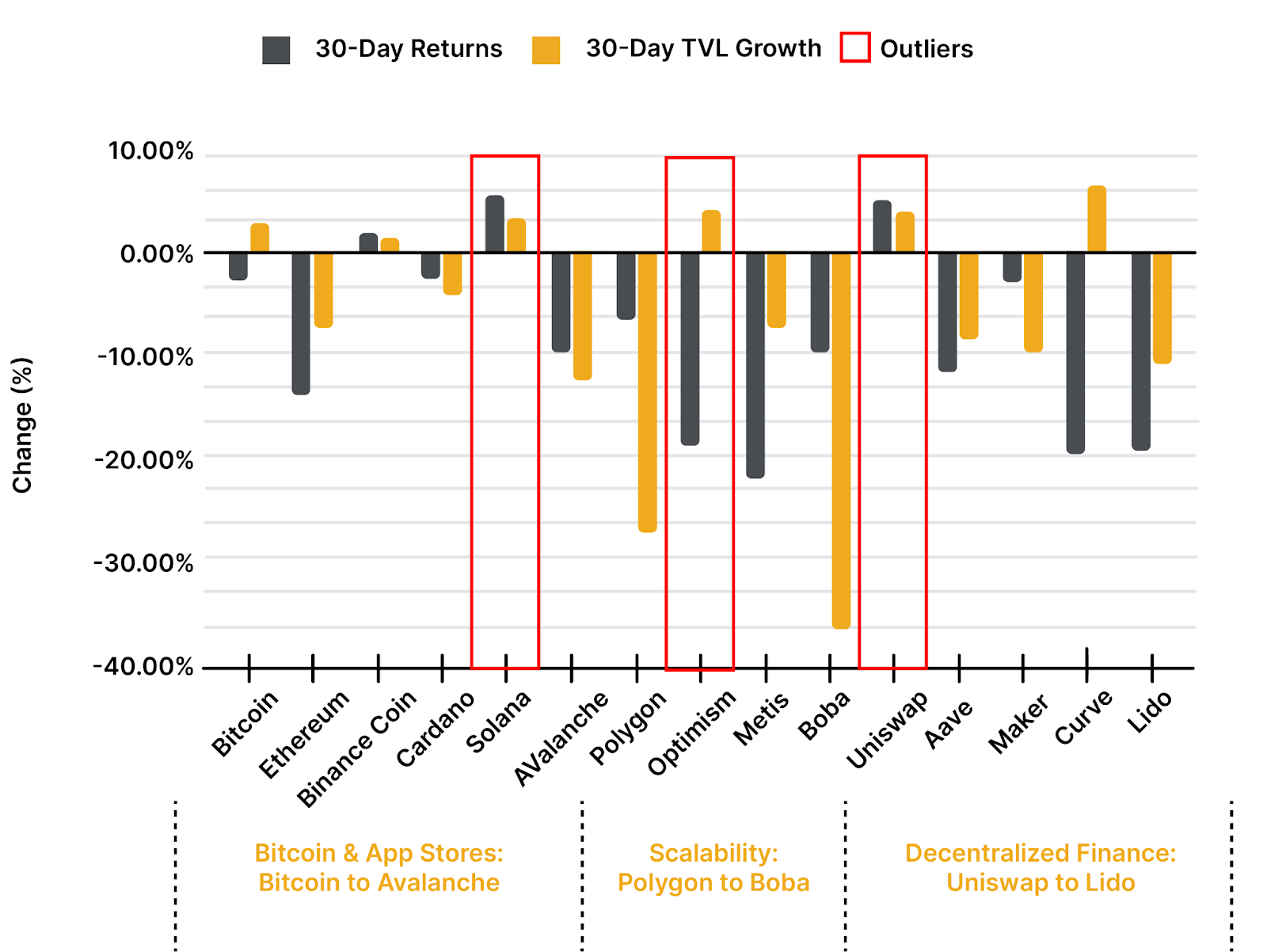 Regulatory situation heating up
The White House published a report on crypto mining that recommends disclosing energy consumption and environmental standards to be set by inter-federal agencies such as the Environmental Protection Agency and the Department of Energy. The report could have been more comprehensive if it had mentioned the improvements in mining chips that could boost energy efficiency and reduce consumption, noise, and water waste.
In the meantime, Iran has been licensing crypto miners within its jurisdiction under a new regulatory framework that allows licensed miners to use their mined crypto to pay for imports. The framework also prioritizes supplying the crypto mining industry with renewable energy. Due to sanctions coupled with political reluctance about crypto mining, Iran accounts for only 0.12% of the global hash rate according to Cambridge Center for Alternative Finance. However, it is worth noting that Iran is the world's third-largest producer of natural gas, on which most of its energy supply is generated, covering its consumption needs in addition to a surplus that could potentially power a more significant hash rate.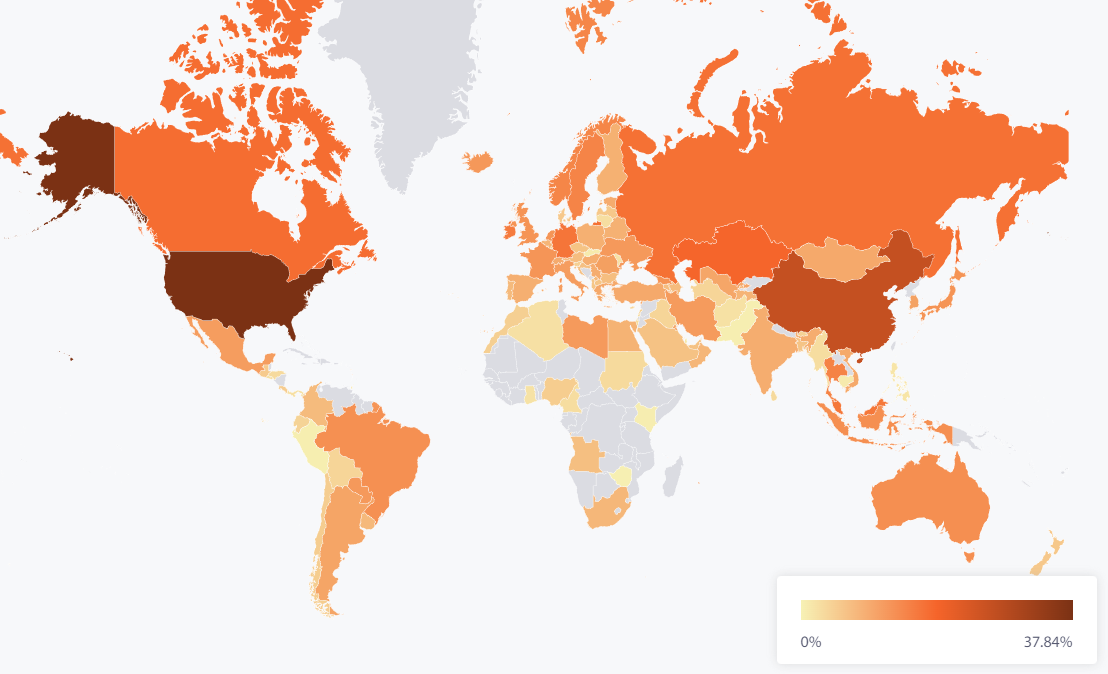 US law enforcement agencies will collaborate with global security apparatuses, namely the financial intelligence agency Egmont Group, to combat financial crime within the crypto industry. Ten days after this announcement came as part of the first-ever framework for developing digital assets, Interpol issued a Red Notice for Terraform Labs' co-founder Do Kwon. Moreover, a new White House draft bill proposed to put a ban on algorithmic stablecoins for two years. Given the de-pegging of UST last May, it comes as no surprise that algorithmic stablecoins aren't being upheld like their dollar-pegged counterparts. However, imposing an outright ban on emerging technologies like algorithmic stablecoins can impede the progress of this vertical and future improvements.
No significant traction for proof-of-work Ethereum forks
Ethereum's most significant upgrade to date on switching to a proof-of-stake consensus mechanism has finally materialized on September 15 without experiencing any malfunctions. The excitement around the network's new monetary policy is perceptible as we saw Binance offer 6% APY for ETH staking on the retail side, while crypto-friendly Swiss-based SEBA bank launched its staking service for its institutional clients. Ethermine, the world's largest Ethereum mining pool, unveiled it would offer ETH staking pools after the Merge, paying an annual 4.4% to its participants.
This move by the mining giant paints a major pivot and reiterates the notion that ETHPOW is more likely a speculative play. This belief is backed by the continued refusal of several established service providers to extend support towards the newly contentious bifurcated chains. On the other hand, Antpool will cease support for ETH accounts and exclusively focus on other POW-powered networks following the Merge. The firm, holding the 10th largest pool in terms of hash rate, expressed that ETH 2.0 carries a heightened risk of censorship due to the "centralized vertical of validators" who might be forced to comply with regulators if the Tornado Cash saga reoccurs.
Metaverse and NFT developments
Ronin Network's mother company SkyMavis partnered with Google Cloud to become an Axie Infinity Ronin sidechain validator. After losing $625M on Ronin Bridge to an exploit back in March, this partnership is expected to strengthen security and safeguard the assets under management by monitoring validator uptimes. It's not only Ronin that Google Cloud is helping, Binance is also partnering with the cloud computing giant for Web 3 mentorship and startups support.
OpenSea launched OpenRarity, a new NFT protocol that will bring about standard mathematical algorithms that evenly assign rarity attributes regardless of the project size and popularity. This is good news for the industry that has been criticized for the hype over overpriced JPEGs; OpenRarity will aim to prioritize rarity over hyped up attributes. Another innovation in the NFT space are NFT Emotes, which will be making a special appearance at Metaverse Music Festival on Decentraland in November. NFT Emotes are animated graphics that repeat the movements of their creators, which made their first-ever Metaverse Fashion Week back in March. This time, things will be a little different as Decentraland called on creators to experiment with NFT Emotes, design dance moves or anything that comes to mind and sell them on Decentraland's marketplace as NFTs.