An overview of what is happening in the crypto markets, summarised daily by Crypto Finance AG Senior Trader Patrick Heusser in the market commentary.
Market commentary
Good Morning!
What goes up must come down…
I was watching the sell wall on our screen at around 19.5k yesterday afternoon. Our take was that we need another catalyst to get enough power to break through. This did not come to pass and we were rejected yet again at 19.5k.
The bid side was always thin due to the fact that the market was pushing higher on the back of so-called "market buys" (these are orders that just hit the offer and are not visible in order book heat maps).
Also, it came as no surprise that we saw this dip in Asia. It was the timezone with the least buying interest. Europe and the US were the drivers.
The shake out was good in order to clean out some of the overleveraged. Perpetual funding is back to more normal levels, and the term basis came back a bit (see images below).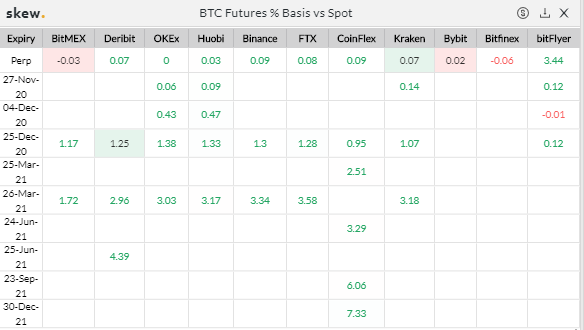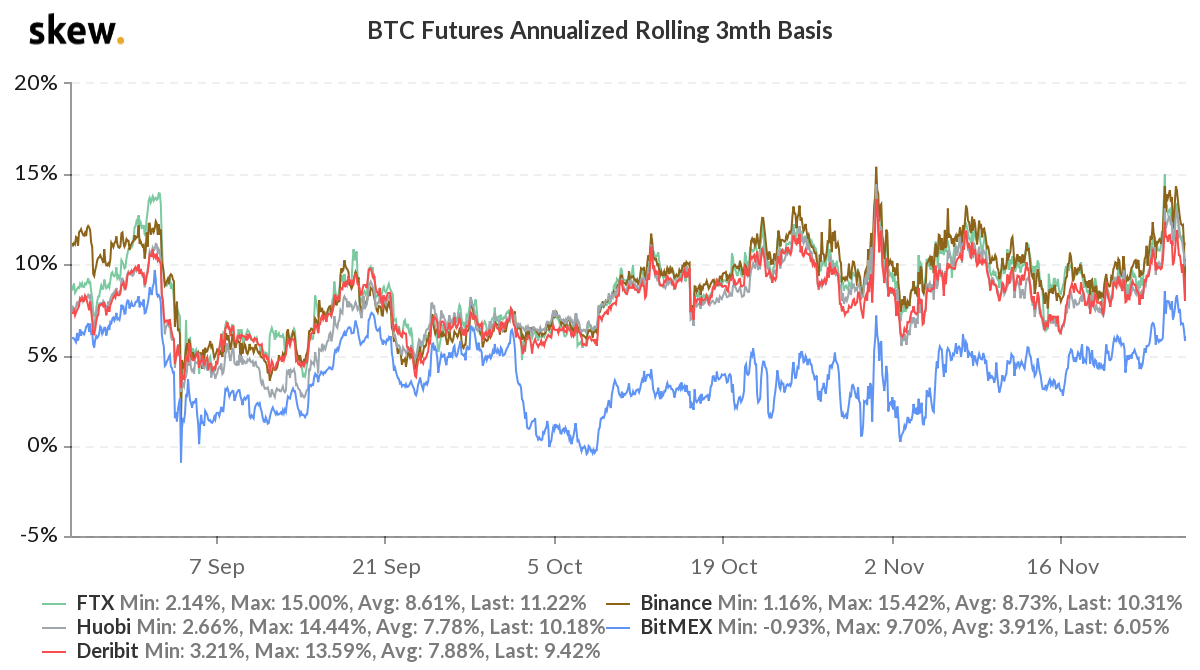 The liquidation amounts were brutal. We saw in Bitcoin (BTC) alone over $565 mio getting liquidated. Most of the volume and leverage seemed to have been on Binance. Ethereum (ETH) followed closely with $216 mio, which is (in relation to the average) a very high ratio. The total liquidation across all currencies was over $1 billion (see image below).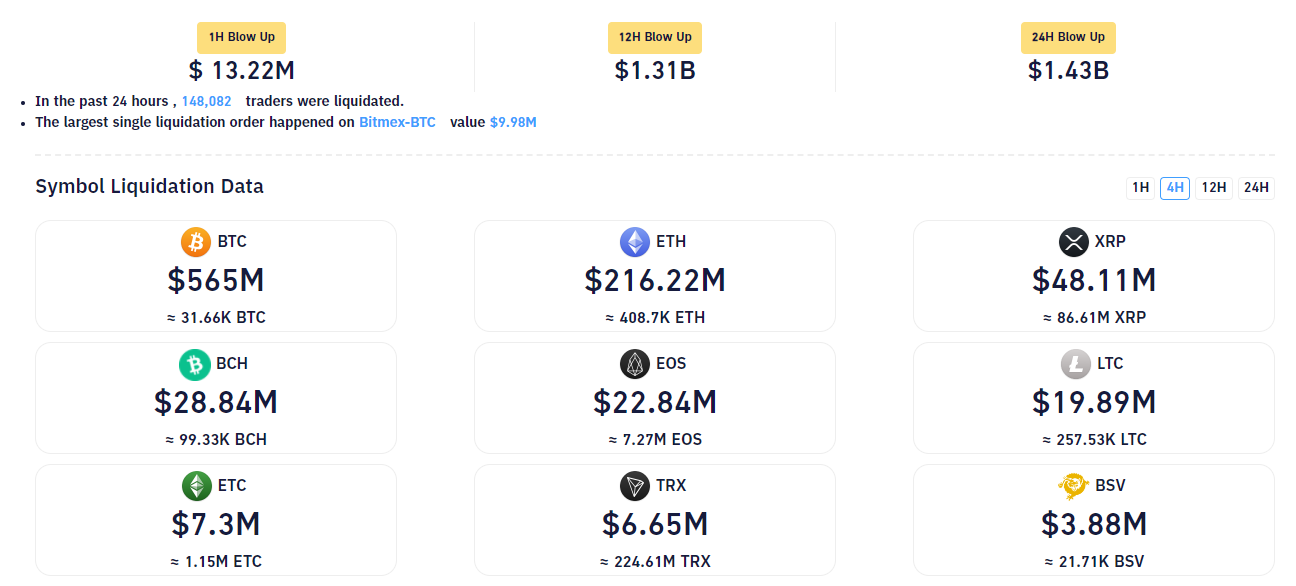 In terms of spot volume, we have seen the biggest 1h volume on this dip over the last 30 days. Also, the month of November is so far the highest volume month for 2020 (see image below).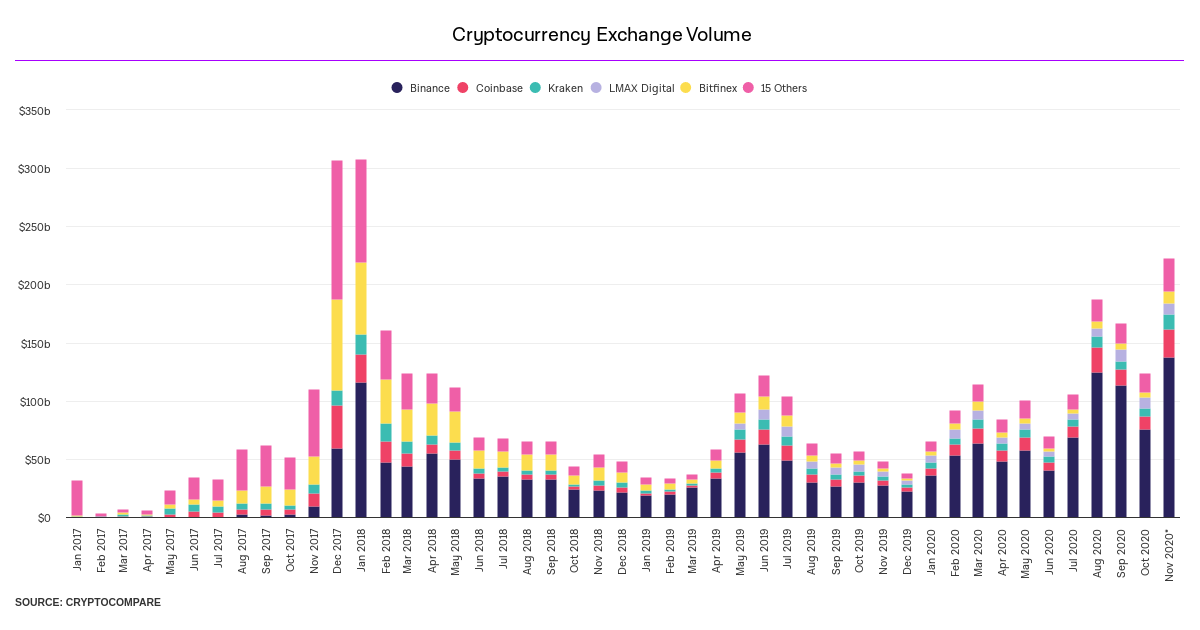 Where do we go from here?
On the daily BTC$ chart we see no big change. The big range we mentioned previously is still intact: $17k-$19.5k. I am expecting to see some choppy sessions within this range.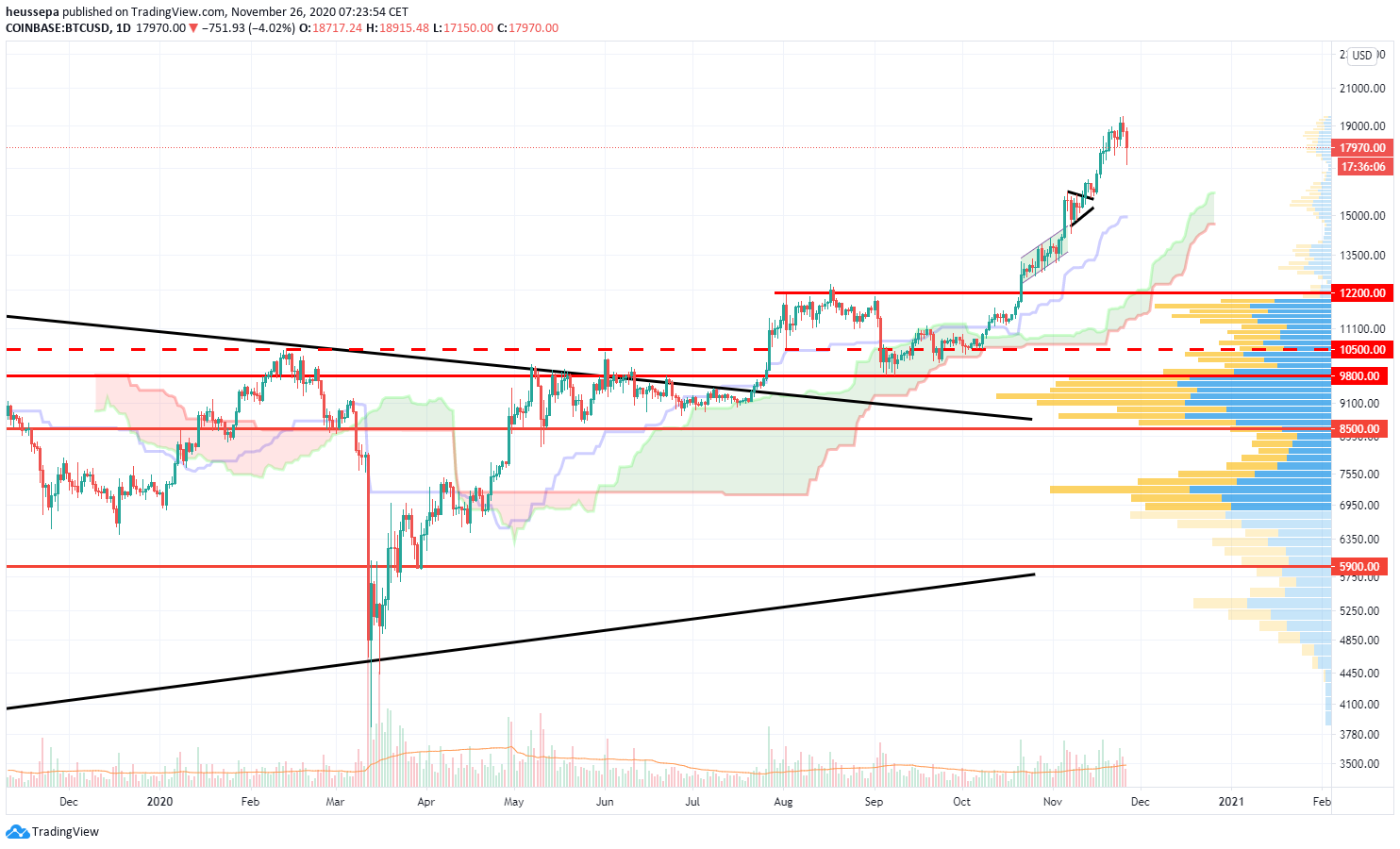 Copyright © 2020 | Crypto Broker AG | All rights reserved.
All intellectual property, proprietary and other rights and interests in this publication and the subject matter hereof are owned by Crypto Broker AG including, without limitation, all registered design, copyright, trademark and service mark rights.
Disclaimer
This publication provided by Crypto Broker AG, a corporate entity registered under Swiss law, is published for information purposes only. This publication shall not constitute any investment  advice respectively does not constitute an offer, solicitation or recommendation to acquire or dispose of any investment or to engage in any other transaction. This publication is not intended for solicitation purposes but only for use as general information. All descriptions, examples and calculations contained in this publication are for illustrative purposes only. While reasonable care has been taken in the preparation of this publication to provide details that are accurate and not misleading at the time of publication, Crypto Broker AG (a) does not make any representations or warranties regarding the information contained herein, whether express or implied, including without limitation any implied warranty of merchantability or fitness for a particular purpose or any warranty with respect to the accuracy, correctness, quality, completeness or timeliness of such information, and (b) shall not be responsible or liable for any third party's use of any information contained herein under any circumstances, including, without limitation, in connection with actual trading or otherwise or for any errors or omissions contained in this publication.
Risk disclosure
Investments in virtual currencies are high-risk investments with the risk of total loss of the investment and you should not invest in virtual currencies unless you understand and can bear the risks involved with such investments. No information provided in this publication shall constitute investment advice. Crypto Broker AG excludes its liability for any losses arising from the use of, or reliance on, information provided in this publication.