An overview of what is happening in the crypto markets, summarised daily by Crypto Finance AG Senior Trader Patrick Heusser in the market commentary.
Market commentary
Good Morning!
There is the risk of me sounding like a broken record. But in my view the amount of development going on in the crypto world and the traditional financial sector are the building blocks for a seismic shift/change in how we will invest and trade assets (traditional and crypto ones).
We have Ari Paul from Blocktower Capital
Some anecdotes on where the new money has come from to bid BTC from $10k-$18k. Retail inflows have been relatively muted. The crypto industry is at relatively low leverage. So where's the buying coming from? /1

— Ari Paul ⛓️ (@AriDavidPaul) November 20, 2020
and Su Zhu from 3ac (three arrow capital) who are talking about hedge fund managers and investment banks that are lining up to get a piece of the crypto (mainly bitcoin) pie.
investment bank trading desks in asia frantically building out crypto exposure products for their large clients as we speak

— Su Zhu (@zhusu) November 19, 2020
Open Interest and trading volume
All this "talk" is well reflected in the massively growing OI (open interest) and trading volume for the CME Bitcoin futures, which is the best barometer for institutional grade investors and their degree of involvement (or risk appetite).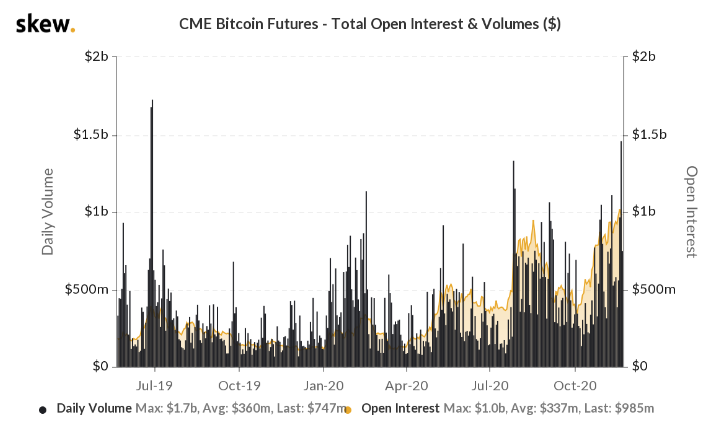 Increasing interest
Online trading platforms and online payment services, e.g. PayPal, are rushing into the crypto asset space. We see a huge amount of demand out of Germany from the so-called NEO brokers who want to add crypto assets to their normal stock and fx offerings. Additionally, we are starting to see some larger investment banks put out research reports about bitcoin. The last one was a technical analysis written by a Citibank analyst looking for a price target of over $300k for bitcoin. Plus, we are now also seeing large hedge fund managers and CIOs (e.g. Rick Rieder CIO of BlackRock) talking about bitcoin more often.
Wow. BlackRock CIO of Fixed Income Rick Rieder talking about Bitcoin replacing gold on CNBC this morning. pic.twitter.com/9KZR0muJVp

— Pomp 🌪 (@APompliano) November 20, 2020
Outlook
I think the above developments are putting increased pressure on the traditional banking sector to finally "get with the programme". In the past two to three years they were able to hide behind the fact that the regulatory framework for crypto had not been defined yet. But for once even the regulators are picking up the ball early and have implemented regulatory guidelines and frameworks (with Switzerland definitely at the forefront). However, to open the floodgates for mass adoption, we need banks to embrace crypto assets, and e.g. start supporting all the crypto service provider companies that are out there. It does look like the US has taken some first steps in that direction:
1/ 🚨 BREAKING: US Office of the Comptroller of the Currency proposes rule prohibiting large banks from discriminating against "legal but disfavored" customers like oil & gas biz, independent ATM operators and of course…

crypto companies.

— Marco Santori (@msantoriESQ) November 20, 2020
I believe that CBDCs (central bank digital currencies) are partly responsible for all of the regulatory developments. CBDCs have nothing to do with crypto assets per se, but they are needed (or stablecoins, in general) in order to take the next step from traditional asset processing (trading, settlement, and storing) to the DLT process. At some point, banks will realise that just dipping their toes into "tokenisation" will not be enough. They need to fully commit to crypto assets as a serious asset class. Only then can they profit from the full spectrum of efficiency gains and further financial developments (products, infrastructure, or even new concepts of making markets and trading assets).
One last remark, which fits in nicely with all of my comments above and is also an essential factor as to why crypto assets have not taken off like a rocket yet. The most scarce "thing" in the crypto asset trading universe (next to bitcoin itself) is balance sheet. With more banks opening up to it and more VCs investing into this space, it will ease that pain and help to open the floodgates for mass adoption.
As always, please feel free to contact me with any comments, remarks, or questions (on any topic) you might have.
Happy Monday!
Copyright © 2020 | Crypto Broker AG | All rights reserved.
All intellectual property, proprietary and other rights and interests in this publication and the subject matter hereof are owned by Crypto Broker AG including, without limitation, all registered design, copyright, trademark and service mark rights.
Disclaimer
This publication provided by Crypto Broker AG, a corporate entity registered under Swiss law, is published for information purposes only. This publication shall not constitute any investment  advice respectively does not constitute an offer, solicitation or recommendation to acquire or dispose of any investment or to engage in any other transaction. This publication is not intended for solicitation purposes but only for use as general information. All descriptions, examples and calculations contained in this publication are for illustrative purposes only. While reasonable care has been taken in the preparation of this publication to provide details that are accurate and not misleading at the time of publication, Crypto Broker AG (a) does not make any representations or warranties regarding the information contained herein, whether express or implied, including without limitation any implied warranty of merchantability or fitness for a particular purpose or any warranty with respect to the accuracy, correctness, quality, completeness or timeliness of such information, and (b) shall not be responsible or liable for any third party's use of any information contained herein under any circumstances, including, without limitation, in connection with actual trading or otherwise or for any errors or omissions contained in this publication.
Risk disclosure
Investments in virtual currencies are high-risk investments with the risk of total loss of the investment and you should not invest in virtual currencies unless you understand and can bear the risks involved with such investments. No information provided in this publication shall constitute investment advice. Crypto Broker AG excludes its liability for any losses arising from the use of, or reliance on, information provided in this publication.