An overview of what is happening in the crypto markets, summarised daily by Crypto Finance AG Senior Trader Patrick Heusser in the market commentary.
Market commentary
Good Morning!
Yesterday's trading session was divided: the morning was tame with low activity, and the afternoon saw Bitcoin (BTC) going up 400 points towards 10,950. This was after Square, an American financial services, merchant services aggregator, and mobile payment company based in San Francisco, announced that they believe in cryptocurrencies and have invested. According to news sources, they purchased $50m of BTC, roughly 1% of their total assets. More important is the fact that this could infect other companies. Especially after Micro Strategy's investment of $425m, we could start seeing increased interest in investing in bitcoin more seriously. In other news, the founders of BitMEX, Arthur Hayes and Samuel Reed, stepped down from all executive management responsibilities with immediate effect.
DeFi
The DeFi space has stabilised a bit, but is still vulnerable. We checked out the index composition of the FTX DeFi Index and compared the individual index weights between July 24th and October 8th. As expected, there have been some shifts in favour of a few coins, e.g. LEND, REN, SNX, and LRC. The rest of the composition obviously lost on weight, e.g. KNC, REP, COMP, etc. (see below).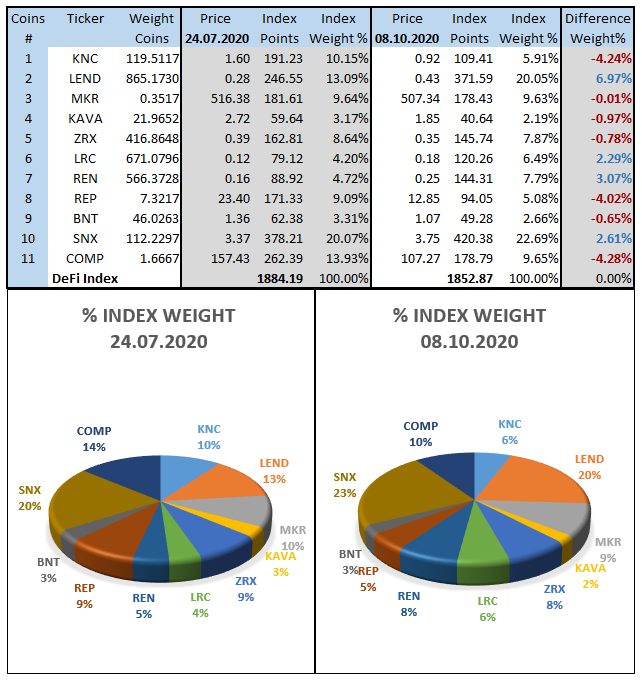 Happy trading!