An overview of the trading activities on the cryptomarkets. Studies on traded volumes, supply and demand situations, as well as periodic technical analysis of the most important crypto-currencies and indices, including the perspective of professional Traders.
Technical Analysis
Good Morning!
Today, I will stick to the Bitcoin (BTC) chart, but the analysis will be fully zoomed out. Let's start with the weekly timeframe.
Bitcoin BTC (1w)
This is the first time since April 2020 that we have crossed the base line (blue line) – now to the downside. The line turned immediately from support to resistance. In terms of the big picture, this turns me bearish as long as we are unable to break above that base line. I have been waiting to confirm this because I wanted to see a few retests of that line first to make sure that the bears were in control.
There is not much of a next support level to speak of until we reach 12'000 USD. So, for everyone who is new to crypto, make sure you have your helmet ready should you need to buckle up if shit hits the fan.
Bitcoin BTC (1d)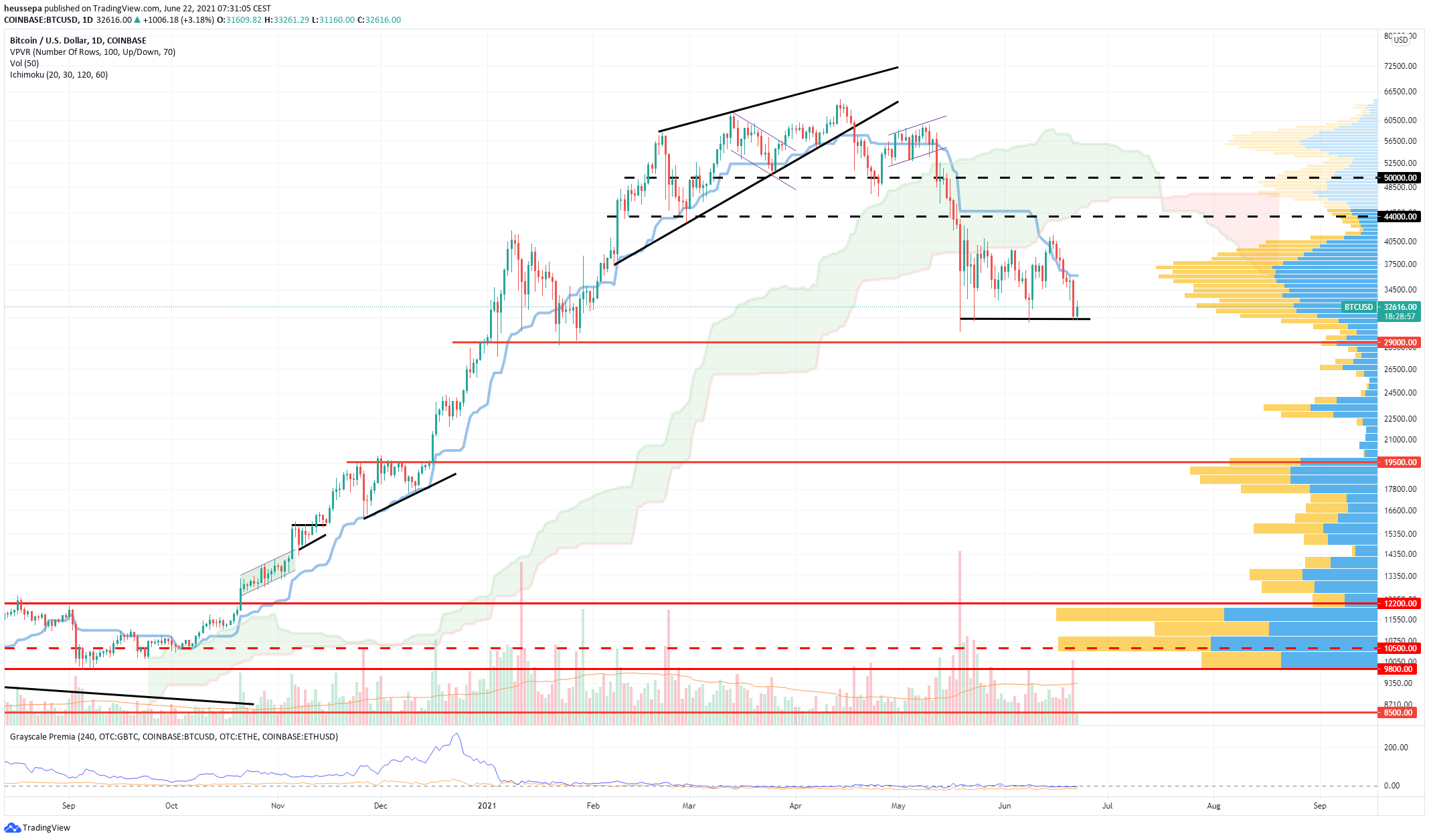 The danger zone is between 29'000-31'000 USD. This is the fourth time that we have bounced from this zone. In a bearish environment, I see multiple testings as a weakening of the support level. With the base line coming down fast, I see the very short-term range being between 31'000-38'000 USD. Keep in mind that we have a few bulls trapped somewhere around 36'000-40'000 USD (due to the fake base line breakout on June 14th.
Bitcoin BTC (4h)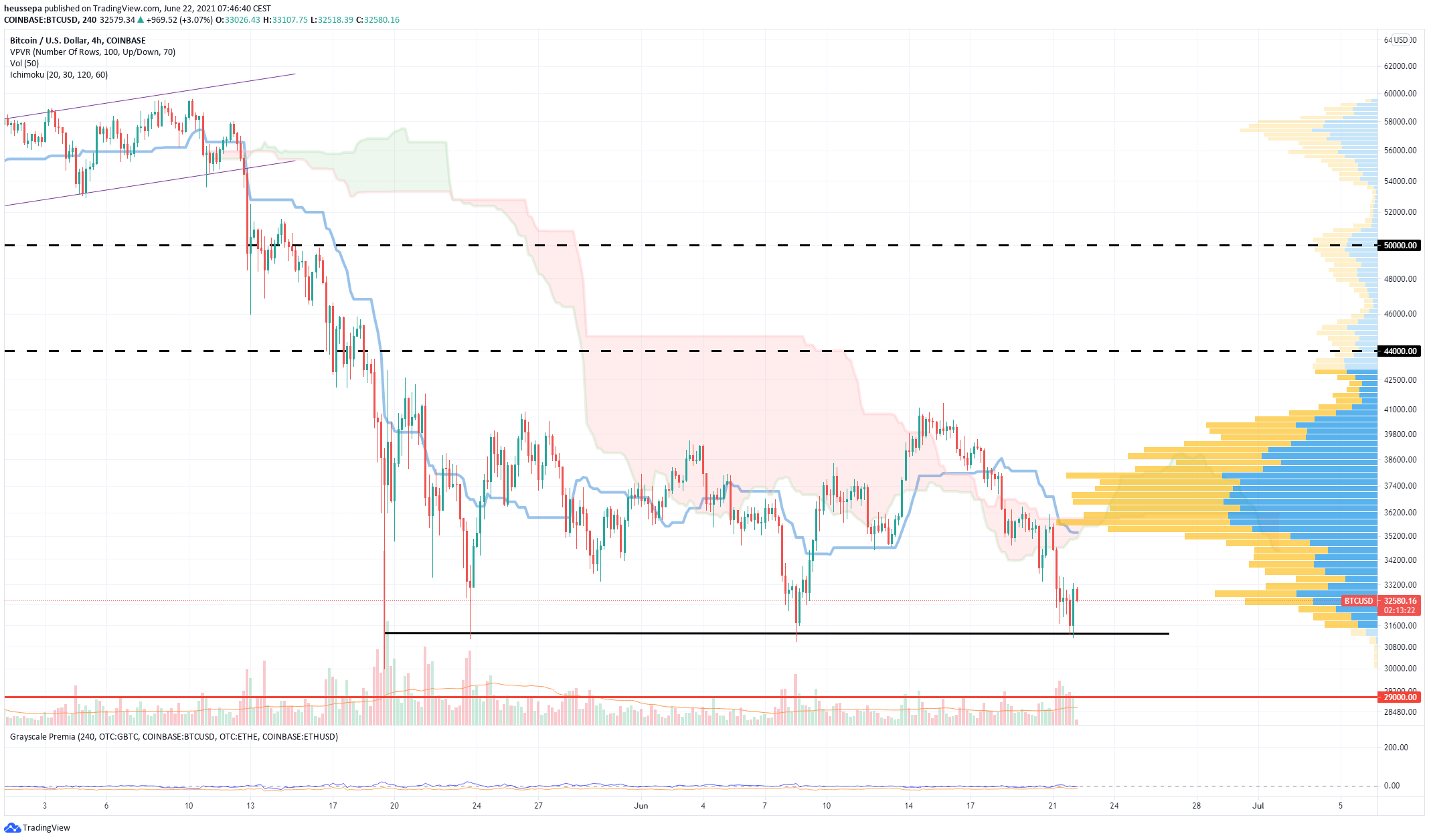 I don't have much to add here. All I can say is that here we can see a bit more clearly that with every test of the support zone we are seeing good volume being traded. However, if those bulls throw in the towel, things could get nasty. For there to be some light at the end of the tunnel, we need to see the price push above 36'500 USD, which is above the base line and above the very thin cloud.
---
Copyright © 2021 | Crypto Broker AG | All rights reserved.
All intellectual property, proprietary and other rights and interests in this publication and the subject matter hereof are owned by Crypto Broker AG including, without limitation, all registered design, copyright, trademark and service mark rights.
Disclaimer
This publication provided by Crypto Broker AG, a corporate entity registered under Swiss law, is published for information purposes only. This publication shall not constitute any investment  advice respectively does not constitute an offer, solicitation or recommendation to acquire or dispose of any investment or to engage in any other transaction. This publication is not intended for solicitation purposes but only for use as general information. All descriptions, examples and calculations contained in this publication are for illustrative purposes only. While reasonable care has been taken in the preparation of this publication to provide details that are accurate and not misleading at the time of publication, Crypto Broker AG (a) does not make any representations or warranties regarding the information contained herein, whether express or implied, including without limitation any implied warranty of merchantability or fitness for a particular purpose or any warranty with respect to the accuracy, correctness, quality, completeness or timeliness of such information, and (b) shall not be responsible or liable for any third party's use of any information contained herein under any circumstances, including, without limitation, in connection with actual trading or otherwise or for any errors or omissions contained in this publication.
Risk disclosure
Investments in virtual currencies are high-risk investments with the risk of total loss of the investment and you should not invest in virtual currencies unless you understand and can bear the risks involved with such investments. No information provided in this publication shall constitute investment advice. Crypto Broker AG excludes its liability for any losses arising from the use of, or reliance on, information provided in this publication.