An overview of the trading activities on the cryptomarkets. Studies on traded volumes, supply and demand situations, as well as periodic technical analysis of the most important crypto-currencies and indices, including the perspective of professional Traders.
Technical Analysis
Good Morning!
So… hmm… prices went down?!?
Yes, they did, and when they move, they usually move fast. Before we dive into the charts, I just want to comment that from a market structure point of view a correction was desperately needed. The derivatives market has been overheated (with funding rates at elevated levels for a long period), and the term premium on the futures curve has been in the high 20% p.a. area. The sell-off triggered a large number of liquidations (over $3 bio in three days), which were mainly overleveraged retail traders on Binance, Huobi, and OKEx. Open interest and trading volume in the bitcoin futures market is still growing (not like when we experienced the March sell-off debacle, though).
Everyone who follows my TA-Tuesday reports knows that I usually zoom out when a large move happens. Therefore, let's get going with the daily chart.
Bitcoin BTC$ (daily)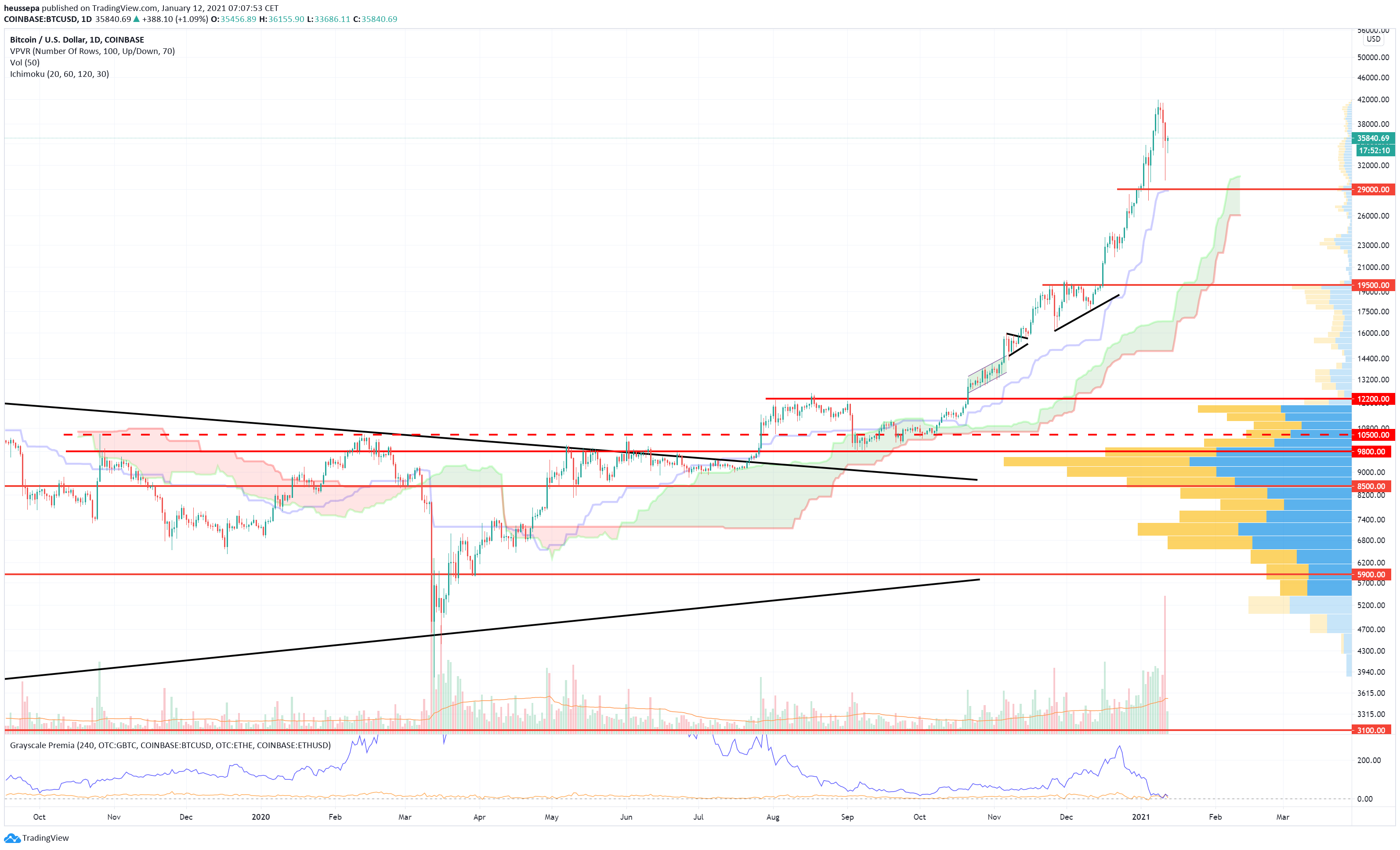 Ever since we broke through the $12.2k level, prices have not touched any of the Ichimoku cloud indicators. That is expected in a strong bull market: every dip or consolidation stop above the baseline. For long-term position holders, there is nothing to worry about.
Bitcoin BTC$ (4h)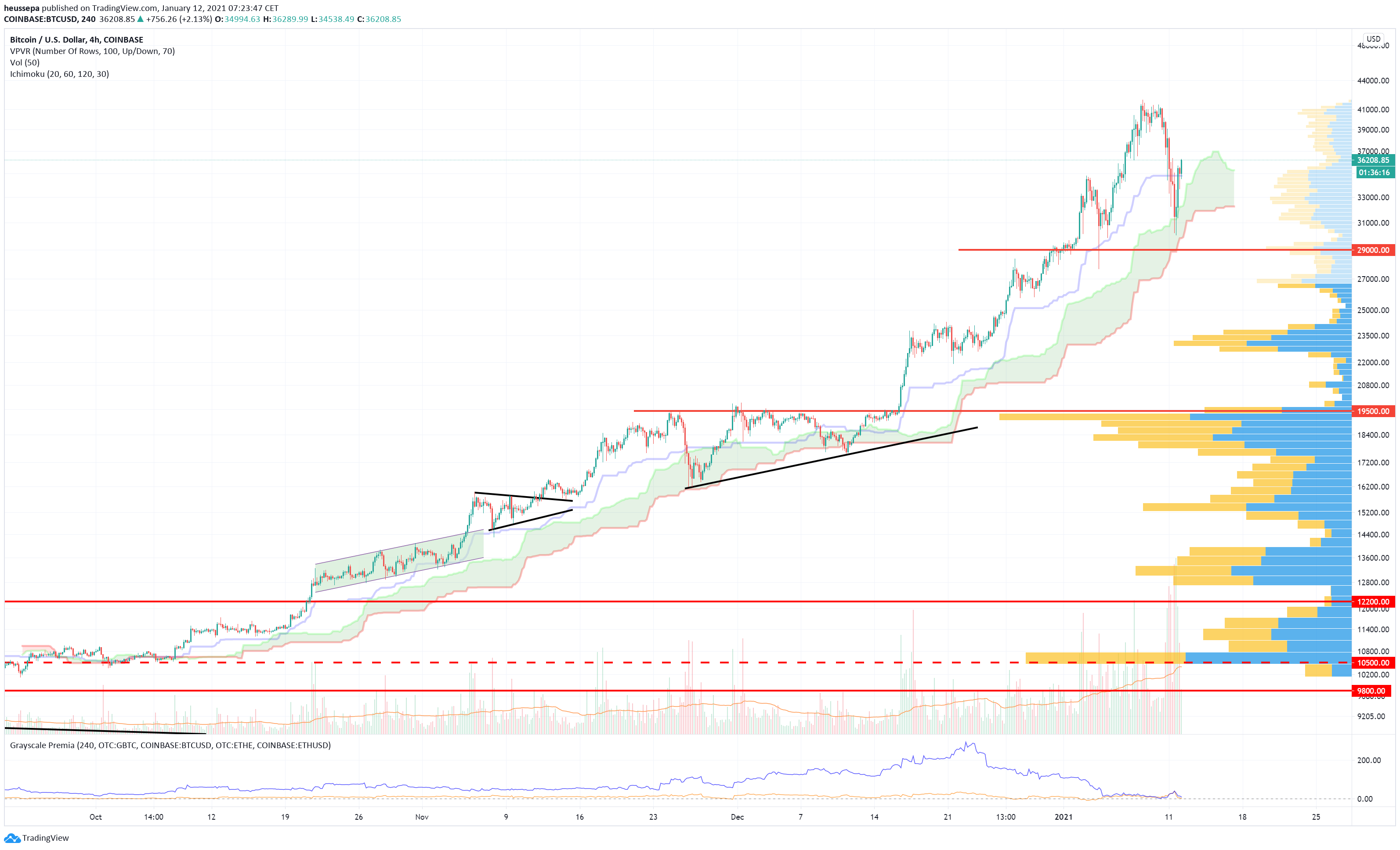 The picture of this timeframe still looks strong, but we had a few incidences where we crossed the baseline and even penetrated the cloud. Only once very briefly did we break through the lower band of the cloud (Dec 11, 2020).
Once again we encountered a correction that was deep enough to penetrate the cloud. I am expecting another penetration into the cloud when we see the sideways consolidation over the next few days. I'll keep an eye on the baseline to determine the general short-term sentiment (below: bearish / above: bullish).
Bitcoin BTC$ (1h)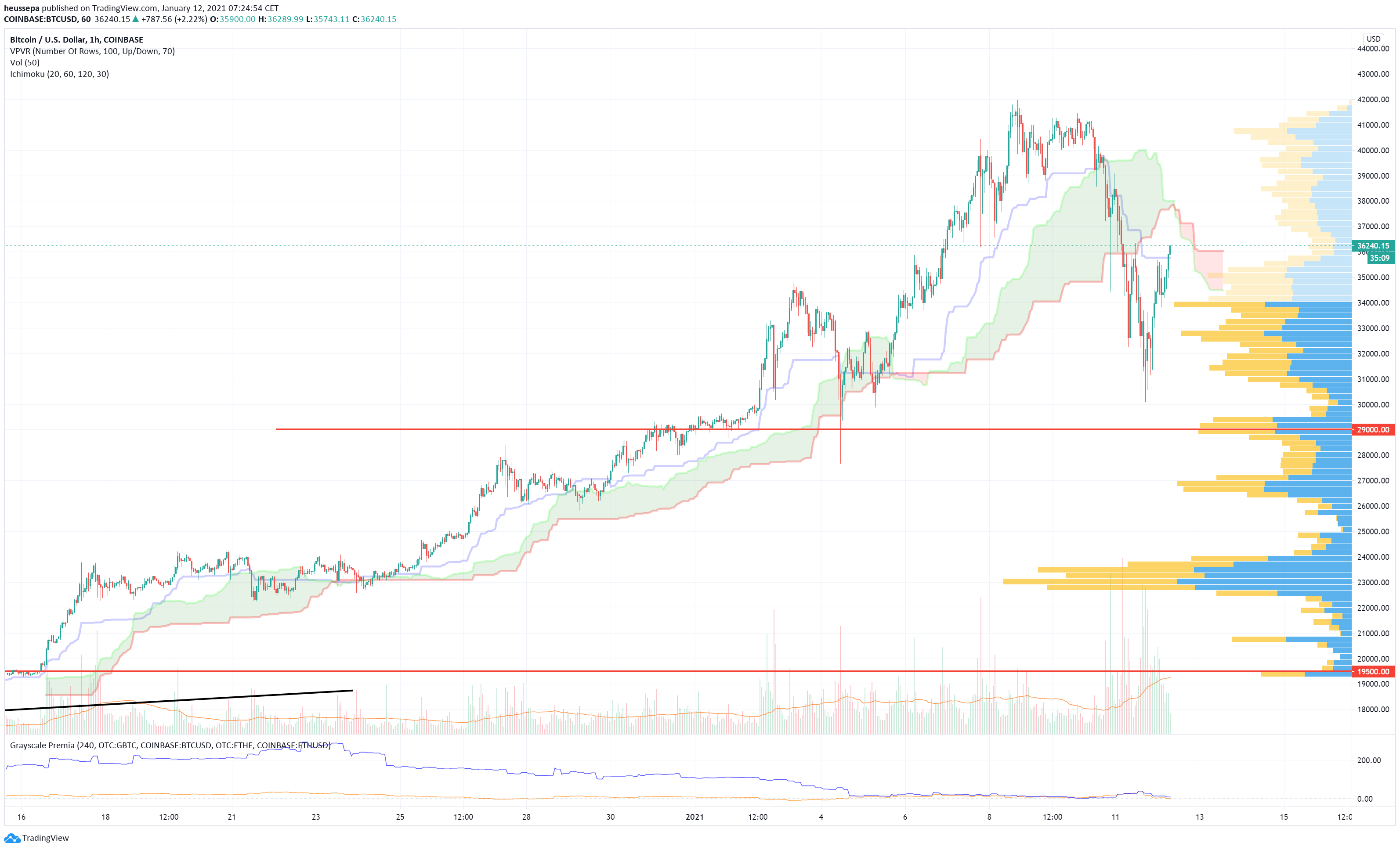 On this timeframe you can clearly see the scale of the correction. Since the $19.5k breakout, we have not seen such a sharp and deep correction. However, we have already made it back up above the baseline again.
Here are some general trading and risk management comments:
In terms of short-term positioning (1h) during this bull run, I have played the dangerous but pretty profitable game of "catch the falling knife". I am already out of those trades (because I thought we would not be able to push back up through the baseline).
There is not much to say about the medium-term outlook (4h). If anything, I feel comfortable being slightly long for medium-term positions (as long we are above the baseline and above the cloud).
In terms of the long-term, I feel very comfortable with my longs. The $29k level is important and if broken to the downside, it could trigger aggressive selling pressure. The $42k level is a very clean local top, and, therefore, I think it will trigger more buying pressure when it is taken out. But we will have to check what the market structure is then and how the prices achieved both levels ($29k and $42k).
---
Copyright © 2020 | Crypto Broker AG | All rights reserved.
All intellectual property, proprietary and other rights and interests in this publication and the subject matter hereof are owned by Crypto Broker AG including, without limitation, all registered design, copyright, trademark and service mark rights.
Disclaimer
This publication provided by Crypto Broker AG, a corporate entity registered under Swiss law, is published for information purposes only. This publication shall not constitute any investment  advice respectively does not constitute an offer, solicitation or recommendation to acquire or dispose of any investment or to engage in any other transaction. This publication is not intended for solicitation purposes but only for use as general information. All descriptions, examples and calculations contained in this publication are for illustrative purposes only. While reasonable care has been taken in the preparation of this publication to provide details that are accurate and not misleading at the time of publication, Crypto Broker AG (a) does not make any representations or warranties regarding the information contained herein, whether express or implied, including without limitation any implied warranty of merchantability or fitness for a particular purpose or any warranty with respect to the accuracy, correctness, quality, completeness or timeliness of such information, and (b) shall not be responsible or liable for any third party's use of any information contained herein under any circumstances, including, without limitation, in connection with actual trading or otherwise or for any errors or omissions contained in this publication.
Risk disclosure
Investments in virtual currencies are high-risk investments with the risk of total loss of the investment and you should not invest in virtual currencies unless you understand and can bear the risks involved with such investments. No information provided in this publication shall constitute investment advice. Crypto Broker AG excludes its liability for any losses arising from the use of, or reliance on, information provided in this publication.