A comprehensive overview of the latest developments in the (crypto) markets. Concisely summarized in a market commentary by the CVJ.CH editorial team.
Marktkommentar
Bitcoin (BTC)
After the consolidation phase between $30'000 and $40'000, Bitcoin (BTC) was able to reach a new all-time high at around $58'000. Now, a selling wave has led the price back to $45'000 – a correction of 23%.
Despite the sharp correction (which is not unusual for cryptocurrencies) the macro trend seems to be intact. A large number of Bitcoin continue to be sent into self-custody by exchanges, which has already led to a shortage on the supply side.
The amount of illiquid #Bitcoin supply in the network has grown more than the circulating supply since 2017.

Meanwhile, liquid supply continues to see a steep decrease.

Pair this with the demand from MSTR, Square, Tesla, Grayscale et al., and understand how bullish this is. pic.twitter.com/wiZsswqXKp

— Rafael Schultze-Kraft (@n3ocortex) February 25, 2021
Ethereum (ETH)
As is often the case, the selling wave also hit Ethereum (ETH). The correction stopped at the all-time high of 2017/18 (blue line), which corresponds to about -30%. Again, the structure of higher highs and higher lows remains intact for now, while tokens flow away from exchanges.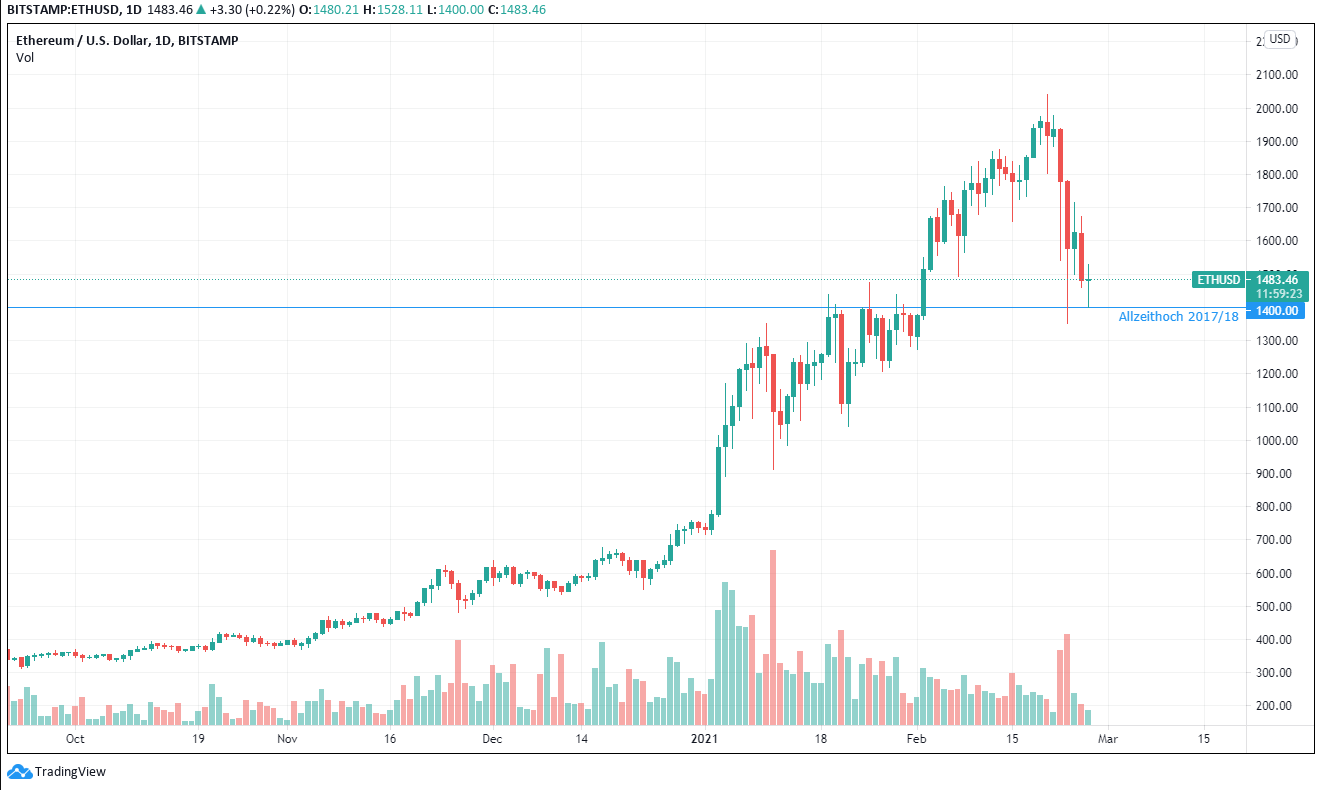 During sharp corrections, Ethereum (ETH) is often hit harder than Bitcoin (BTC), which can lead to a selling wave in altcoins. This pattern looked similar this week, with Ethereum-based tokens in the DeFi space in particular feeling heavy selling pressure.
Altcoins
After many Altcoins had a good run, almost every project suffered a price loss of up to 30% last week. Only two coins stood out with green numbers: Ethereum competitor Cardano (ADA) with +19.38% and decentralized exchange Uniswap (UNI) with +12.94%. The "losers of the week" are Bitcoin Cash (BCH) -33.30%, Binance Coin (BNB) -32.85%, Chainlink (LINK) -28.53% and Litecoin (LTC) -28.02%.
How quickly the market can recover remains to be seen. This correction also saw some over-leveraged traders get liquidated, which in itself is a healthy sign.
---
Disclaimer
All information in this publication is provided for general information purposes only. The information provided in this publication does not constitute investment advice and is not intended as such. This publication does not constitute and is not intended as an offer, recommendation or solicitation to invest in any financial instrument, including cryptocurrencies and the like. The contents contained in the publication represent the personal opinions of the respective authors and are not suitable or intended as a basis for decision-making.
Risk notice
Investing in cryptocurrencies, is fundamentally associated with risk. The total loss of the invested capital cannot be excluded. Cryptocurrencies are very volatile and can therefore be exposed to extreme price fluctuations in a short period of time.