The complete overview of the day's events on the (crypto) markets. Compactly summarized in the market commentary of the CVJ.CH editorial team.
Market Commentary
Bitcoin (BTC)
Just over a week ago, Bitcoin (BTC) reached a new all-time high at around $65,000. Shortly thereafter, a rapid correction brought the price back to the $54,000 zone (-15%). After a short consolidation phase, the next correction of similar magnitude brought the price back below the $50,000 mark.
Currently Bitcoin is trading at $48,500. This means that the total plunge has accounted for around -25%. Although the correction may seem deep, it is not particularly unusual for Bitcoin. The high upside volatility combined with a lot of leverage in the market also leads to deep price collapses. In 2021, there have already been three corrections between -15% and -30%.
Ethereum (ETH)
Ethereum (ETH) reached a new all-time high of $2,650 while Bitcoin showed some weakness. However, the correction was about the same here as well. Currently, the price is around $2,200 . This is 25% below the all-time high.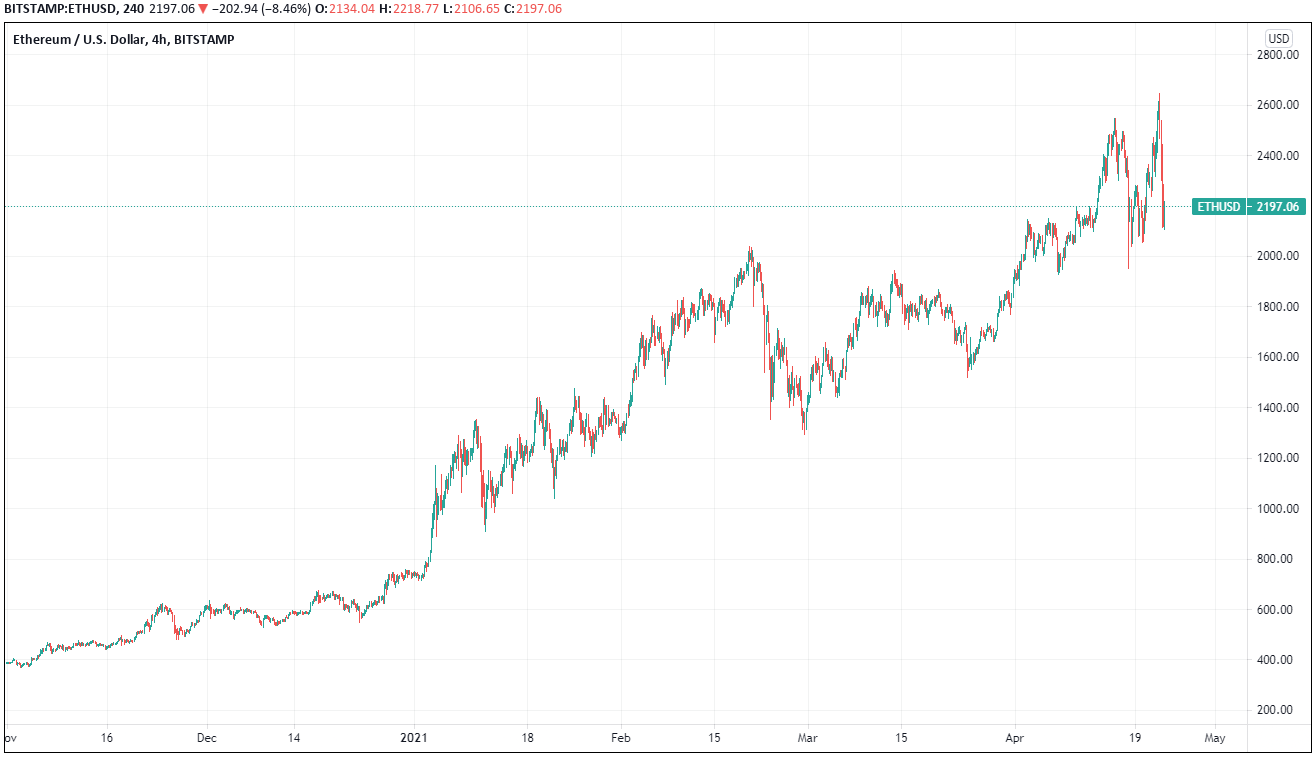 The correction started after US President Biden proposed a 43% capital gains tax. Traditional financial markets also reacted negatively to the news. Due to the high leverage in crypto markets, excessive liquidations amplified the correction. In just 24 hours, nearly $4 billion worth of positions were liquidated.
Altcoins
Again, it looks exclusively red. The correction hit most altcoins even harder than Bitcoin and Ethereum. This is because most altcoin markets are more illiquid and characterized by more overleveraged traders.
Not a single altcoin did not correct by double digits. Hardest hit: Vechain (VET) -23.3%, Ripple (XRP) -19.4%, Litecoin (LTC) -17.9%, Bitcoin Cash (BCH) -17.4%, and Uniswap (UNI) -17%. Also, in the 30-day time frame, only one token saw an increase in price: Dogecoin (DOGE) +31.7%.
---
Disclaimer
All information in this publication is provided for general information purposes only. The information provided in this publication does not constitute investment advice and is not intended as such. This publication does not constitute and is not intended as an offer, recommendation or solicitation to invest in any financial instrument, including cryptocurrencies and the like. The contents contained in the publication represent the personal opinions of the respective authors and are not suitable or intended as a basis for decision-making.
Risk notice
Investing in cryptocurrencies, is fundamentally associated with risk. The total loss of the invested capital cannot be excluded. Cryptocurrencies are very volatile and can therefore be exposed to extreme price fluctuations in a short period of time.