Recurring market commentary on what's happening in the crypto markets, summarized by Crypto Finance AG Senior Trader Patrick Heusser.
Market commentary
A few things have already been said/pointed out. I see it as a pretty healthy move in terms of the over leveraged situation the market has been in. The term basis in both BTC and ETH has nicely contracted to more normal (sustainable) levels.
The total liquidations where a staggering $5bio for BTC but what is more interesting the additional $4bio that happened in altcoins ($1bio was on ETH). This is also felt in the perpetual funding rates for most of the coins that turned negative or started to find a new base at around 0% (so very neutral).
We also quickly discussed quickly on the desk what to do with this opportunity. One of our guys who is rather the analytic brain mentioned that most of the time after such a deleverage move it was historically rather a good opportunity to build up long exposure. Timing is difficult as always but I think as well, with several "legs" to build up long exposure is not a bad idea.
Chart wise we broke out of that rising wedge and almost dipped to my first target of $50k. The first initial bounce brought us back to the lower band of the Ichimoku cloud on the 4h chart and from there we saw the second selling wave coming in.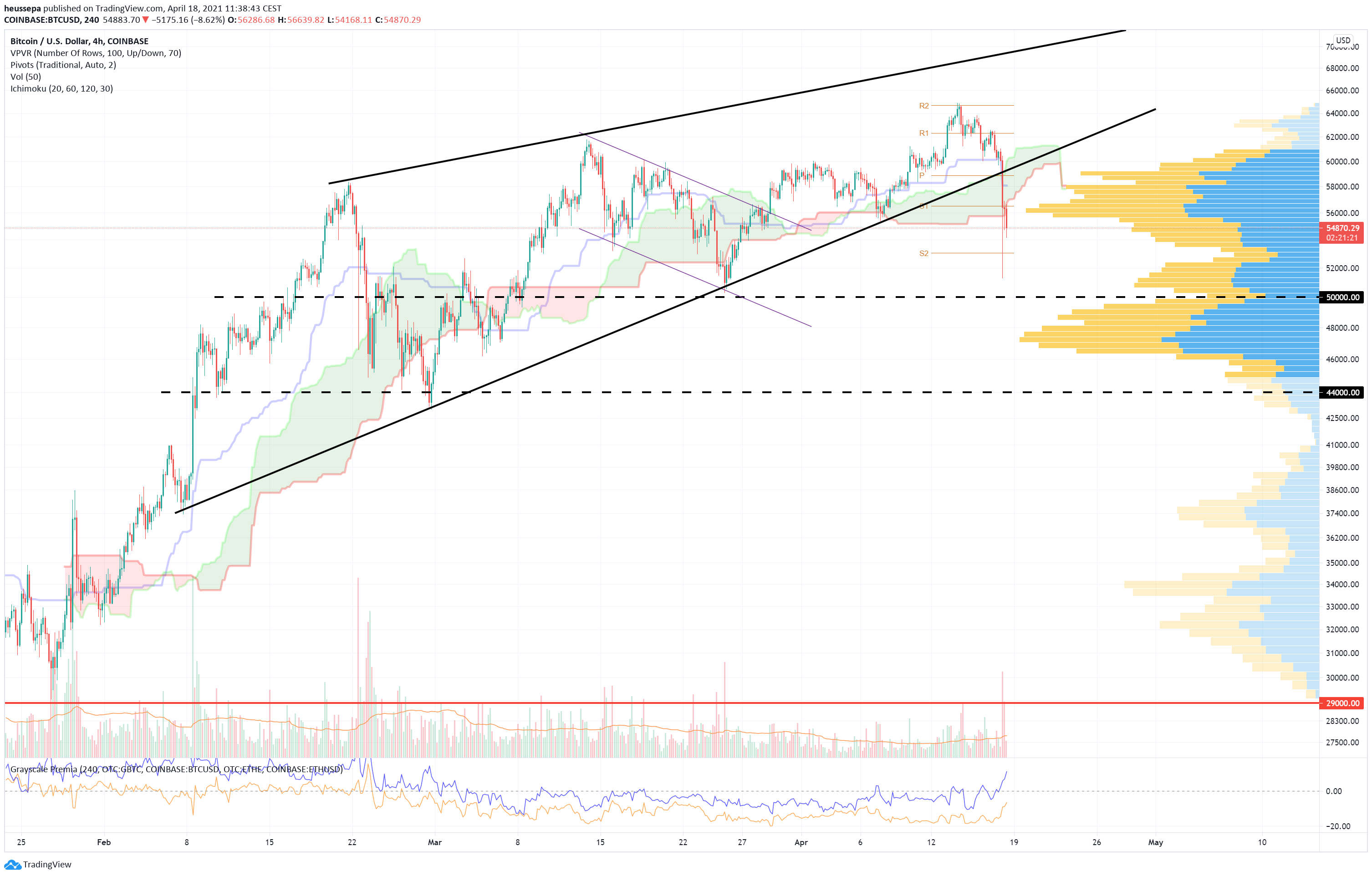 Bitcoin Daily Chart
On the daily chart we seem to find some support where the base line (blue line) comes in. We pushed through but with the rebound we traded back above it. If it gives way on a daily closing we most probably are going to revisit the old range of $44-50k.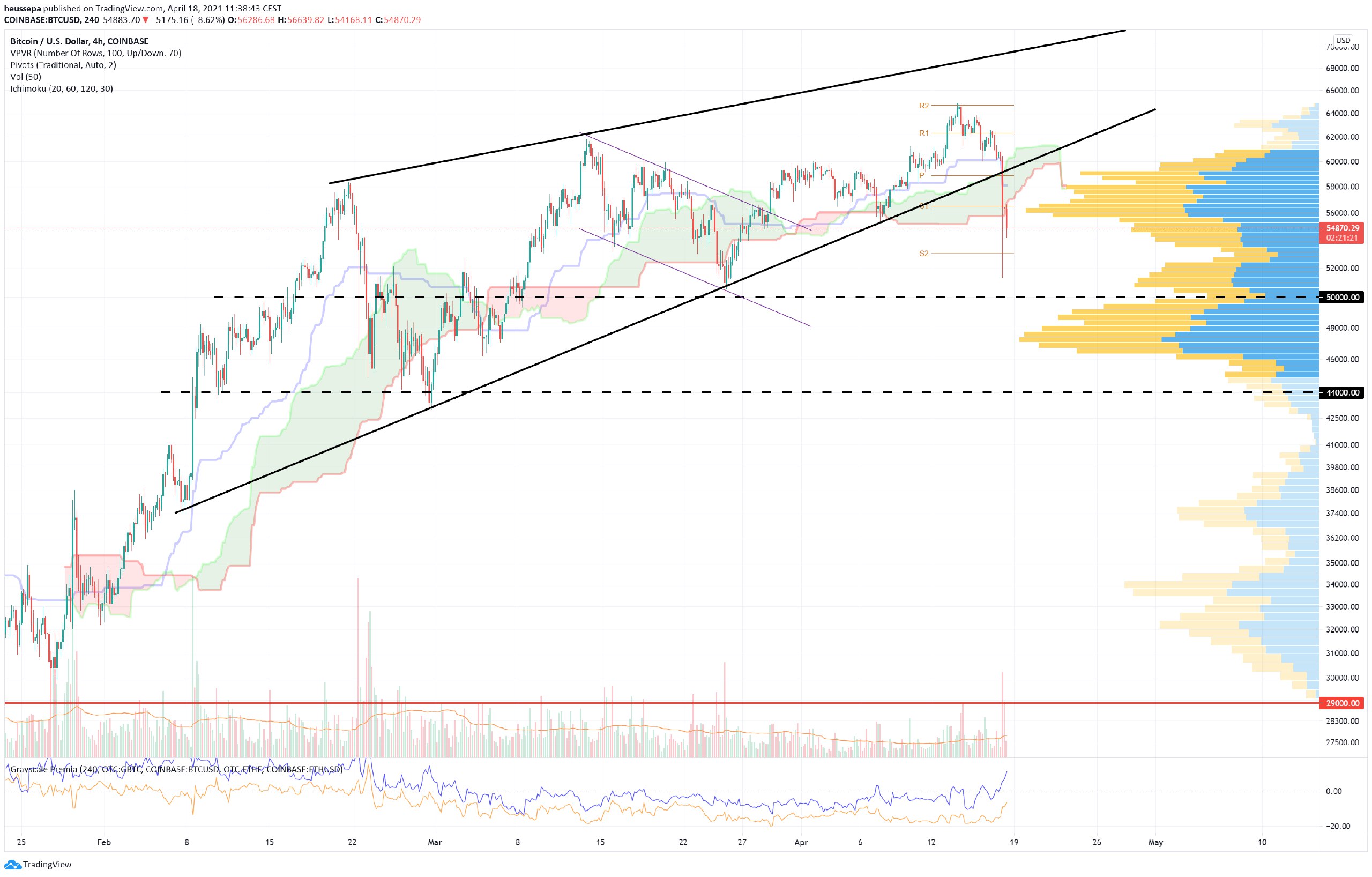 ---
Copyright © 2021 | Crypto Broker AG | All rights reserved.
All intellectual property, proprietary and other rights and interests in this publication and the subject matter hereof are owned by Crypto Broker AG including, without limitation, all registered design, copyright, trademark and service mark rights.
Disclaimer
This publication provided by Crypto Broker AG, a corporate entity registered under Swiss law, is published for information purposes only. This publication shall not constitute any investment  advice respectively does not constitute an offer, solicitation or recommendation to acquire or dispose of any investment or to engage in any other transaction. This publication is not intended for solicitation purposes but only for use as general information. All descriptions, examples and calculations contained in this publication are for illustrative purposes only. While reasonable care has been taken in the preparation of this publication to provide details that are accurate and not misleading at the time of publication, Crypto Broker AG (a) does not make any representations or warranties regarding the information contained herein, whether express or implied, including without limitation any implied warranty of merchantability or fitness for a particular purpose or any warranty with respect to the accuracy, correctness, quality, completeness or timeliness of such information, and (b) shall not be responsible or liable for any third party's use of any information contained herein under any circumstances, including, without limitation, in connection with actual trading or otherwise or for any errors or omissions contained in this publication.
Risk disclosure
Investments in virtual currencies are high-risk investments with the risk of total loss of the investment and you should not invest in virtual currencies unless you understand and can bear the risks involved with such investments. No information provided in this publication shall constitute investment advice. Crypto Broker AG excludes its liability for any losses arising from the use of, or reliance on, information provided in this publication.