A comprehensive overview of the latest developments in the (crypto) markets. Concisely summarized in a market commentary by the CVJ.CH editorial team.
Market Commentary
Bitcoin (BTC)
This Tuesday, on the day of Coinbase's IPO, Bitcoin reached a new all-time high at $64,900. Since then, we have seen a small correction (-5%) and are at $61,200.
Currently, the price is at the old all-time high, just above the strong support zone around $60,000. An even deeper correction would not do much harm to the positive market structure, but could lead to a slightly longer consolidation phase.
Ethereum (ETH)
Over the past two months, Ethereum has struggled slightly to keep up with Bitcoin. But now, the second largest cryptocurrency has once again showed strength, and has shot to a new all-time high of $2,500. There was a short-term correction here as well (-6%).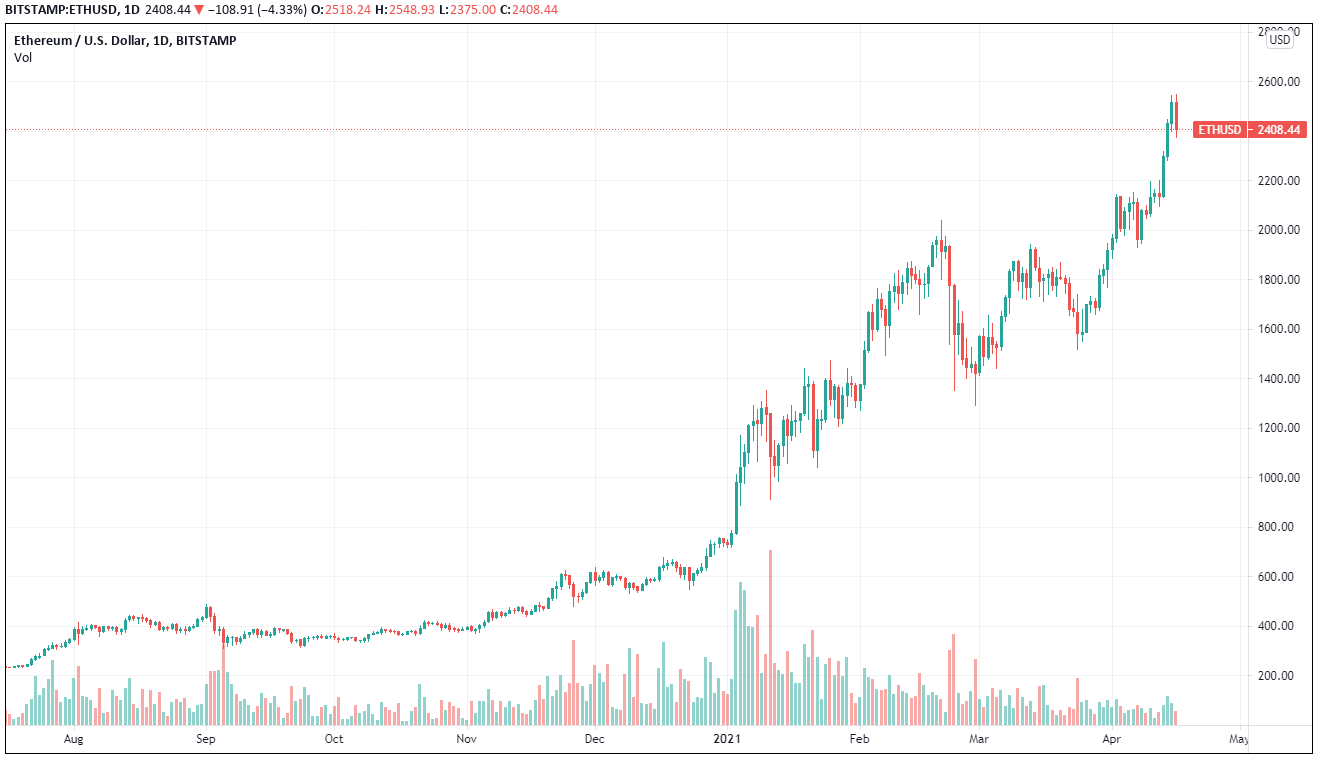 The futures funding rate remains high across all exchanges. This means that many traders are in the market with leveraged long positions. In the event of a deeper correction, this could lead to some liquidations and a more aggressive move lower.
Altcoins
Altcoins also had a good run this week, although they are also affected by the current correction. Often during consolidation periods of Bitcoin, a rotation into Ethereum and other altcoins can be observed. For example, over half of the top 15 coins by market cap had a 7d performance of 20%+.
Winners of the week are: Dogecoin (DOGE) +336.4%, Ripple (XRP) +56.6%, Bitcoin Cash (BCH) +40.7%, Chainlink (LINK) +25.5% and several others. "Losers" were none this week, slightly underperforming were: Theta Network (THETA) +1.1%, Polkadot (DOT) +1.6% and Bitcoin (BTC) +4.8%.
One of these coins stands out strongly: Dogecoin (DOGE). The chart is almost vertical, the price movements a month ago are not even visible anymore. In under a week, Dogecoin has more than tripled and once again entered the top 10 by market cap.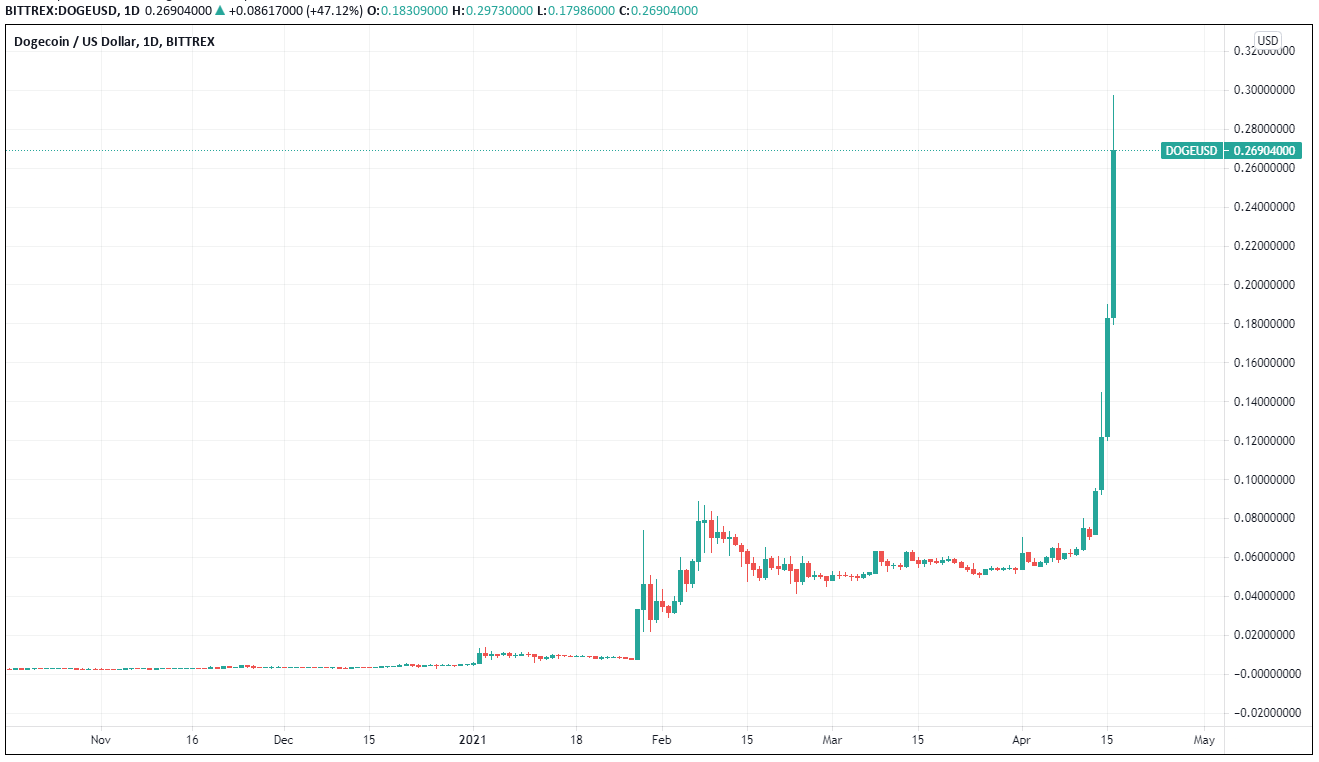 The move was unexpected for some in the industry, as the token was originally created as a joke, has no other fundamentals. Meanwhile, however, DOGE is worth one and a half times as much as Uniswap (UNI) – the governance token of the largest decentralized exchange (DEX), which processes a daily trading volume of USD 1.5 billion. To many, therefore, it seems completely absurd that Dogecoin occupies a market capitalization of nearly $35 billion. However, the power of memes and trends in today's culture was already underestimated during the GameStop debacle.
---
Disclaimer
All information in this publication is provided for general information purposes only. The information provided in this publication does not constitute investment advice and is not intended as such. This publication does not constitute and is not intended as an offer, recommendation or solicitation to invest in any financial instrument, including cryptocurrencies and the like. The contents contained in the publication represent the personal opinions of the respective authors and are not suitable or intended as a basis for decision-making.
Risk notice
Investing in cryptocurrencies, is fundamentally associated with risk. The total loss of the invested capital cannot be excluded. Cryptocurrencies are very volatile and can therefore be exposed to extreme price fluctuations in a short period of time.