Recurring market commentary on what's happening in the crypto markets, summarized by Crypto Finance AG Senior Trader Patrick Heusser.
Market commentary
Good Morning, folks!
We started the week with the Cardano "Mary" hard fork.
"Mary" allows users to create tokens that run on Cardano natively, just as ADA does. By allowing for the creation of tokens on the Cardano blockchain, Cardano's decentralised blockchain will be transformed into a multi-asset blockchain.
This will unleash the full promise of Cardano for a wide range of services and solutions, e.g. decentralised finance (DeFi), non-fungible tokens (NFT), stablecoins, and others. It paves the way for a burgeoning decentralised crypto economy.
Enabling new tokens was one of the first big use cases that caught on for Ethereum, enabling 2017's multi-billion dollar initial coin offerings.
The middle of the week was the most quiet of the year so far. BTC traded between USD 46k-52k.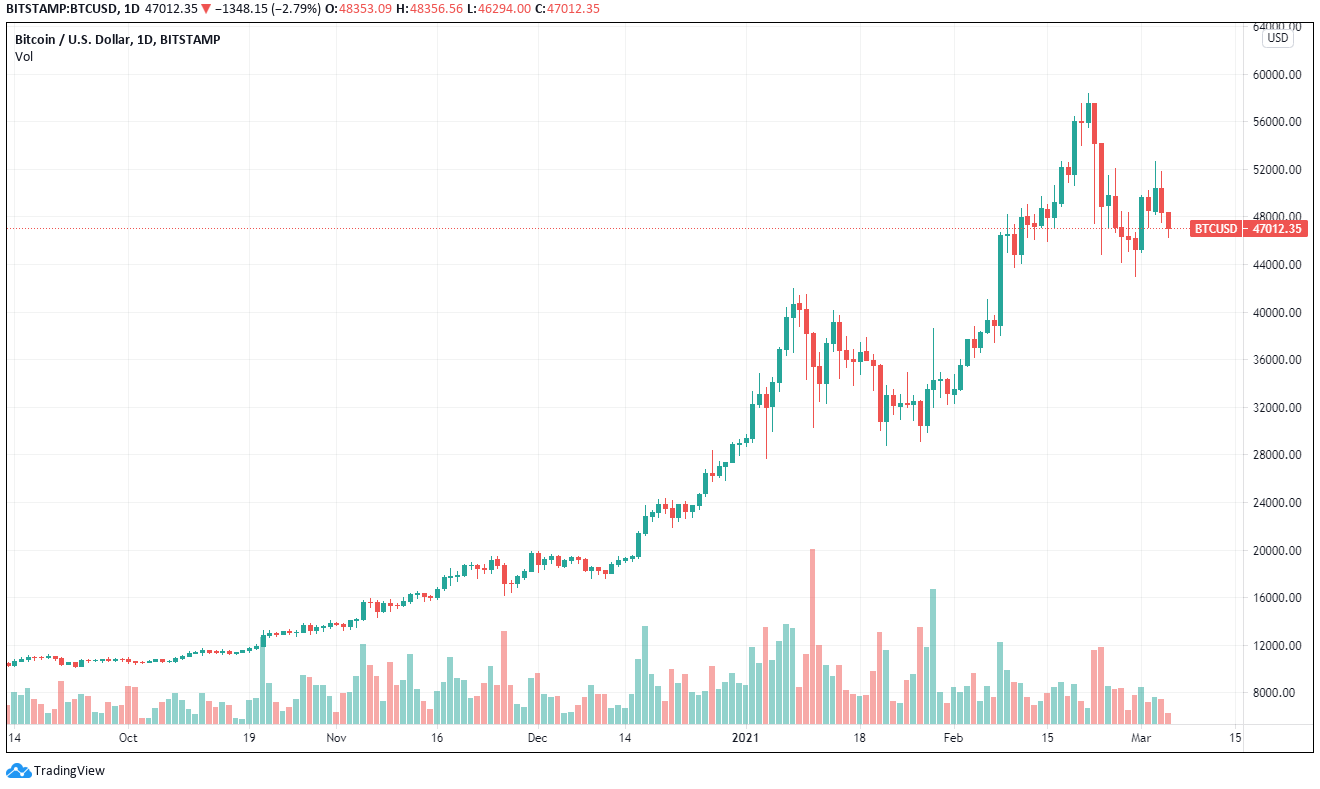 Overnight markets reacted negatively to Fed Chair Jerome Powell's comments last night after he said that he expects some inflationary pressure, but that this most likely won't be enough to make the central bank hike rates. He also said that the rise in yields did catch his attention and that they would improve current economic conditions.
---
Copyright © 2021 | Crypto Broker AG | All rights reserved.
All intellectual property, proprietary and other rights and interests in this publication and the subject matter hereof are owned by Crypto Broker AG including, without limitation, all registered design, copyright, trademark and service mark rights.
Disclaimer
This publication provided by Crypto Broker AG, a corporate entity registered under Swiss law, is published for information purposes only. This publication shall not constitute any investment  advice respectively does not constitute an offer, solicitation or recommendation to acquire or dispose of any investment or to engage in any other transaction. This publication is not intended for solicitation purposes but only for use as general information. All descriptions, examples and calculations contained in this publication are for illustrative purposes only. While reasonable care has been taken in the preparation of this publication to provide details that are accurate and not misleading at the time of publication, Crypto Broker AG (a) does not make any representations or warranties regarding the information contained herein, whether express or implied, including without limitation any implied warranty of merchantability or fitness for a particular purpose or any warranty with respect to the accuracy, correctness, quality, completeness or timeliness of such information, and (b) shall not be responsible or liable for any third party's use of any information contained herein under any circumstances, including, without limitation, in connection with actual trading or otherwise or for any errors or omissions contained in this publication.
Risk disclosure
Investments in virtual currencies are high-risk investments with the risk of total loss of the investment and you should not invest in virtual currencies unless you understand and can bear the risks involved with such investments. No information provided in this publication shall constitute investment advice. Crypto Broker AG excludes its liability for any losses arising from the use of, or reliance on, information provided in this publication.