A summarizing review of what has been happening at the crypto markets of the past week. A look at trending sectors, liquidity, volatility, spreads and more. A weekly report in cooperation with market data provider Kaiko.
This week in the cryptomarkets:
Bitcoin surged past $12k to 2020 highs following news of PayPal's entrance into cryptocurrency markets.
BTC-USD trading volume soared to their highest daily levels since July, topping $1 billion on October 21st.
ChainLink's YTD returns are currently at +580% as centralized exchanges continue to list the LINK token in droves.
Market depth decreased and spreads widened for BTC-USD trading pairs in response to the past week's volatility.
Bitcoin reacts to institutional news
The past month has seen a flurry of positive institutional cryptocurrency events, each time triggering a jump in the price of Bitcoin (BTC). The bullish sentiment began with Square's announcement, which resulted in +2.44% daily returns (significant compared with the previous few months' anemic price action). Since then, Bitcoin's daily returns have been positive 12 out of the past 14 days, the longest streak since April. BTC jumped 7.42% following the PayPal announcement, its largest single day increase since July.
Trading volume reaches highest daily level since July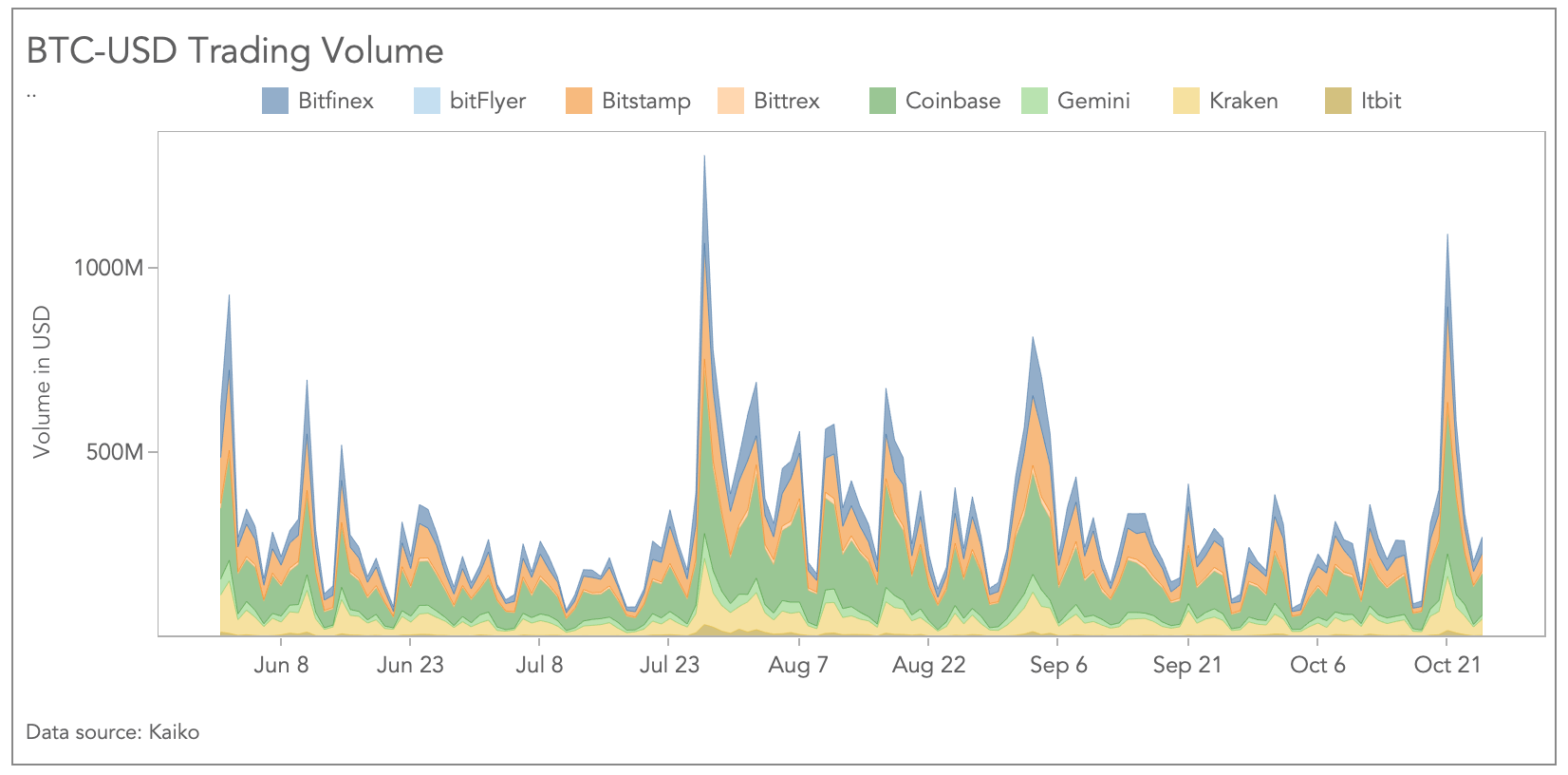 Traders leapt at the PayPal news this week resulting in the highest volume trading days for Bitcoin since July, with more than $1 billion traded across the top BTC-USD pairs. The spike in volume also resulted in one of the largest week-on-week increases in volume this year, with volumes up by 106.51%. The bullish market sentiment spread beyond just Bitcoin, with ETH, LTC, and XRP markets experiencing similar leaps.
ChainLink's exponential growth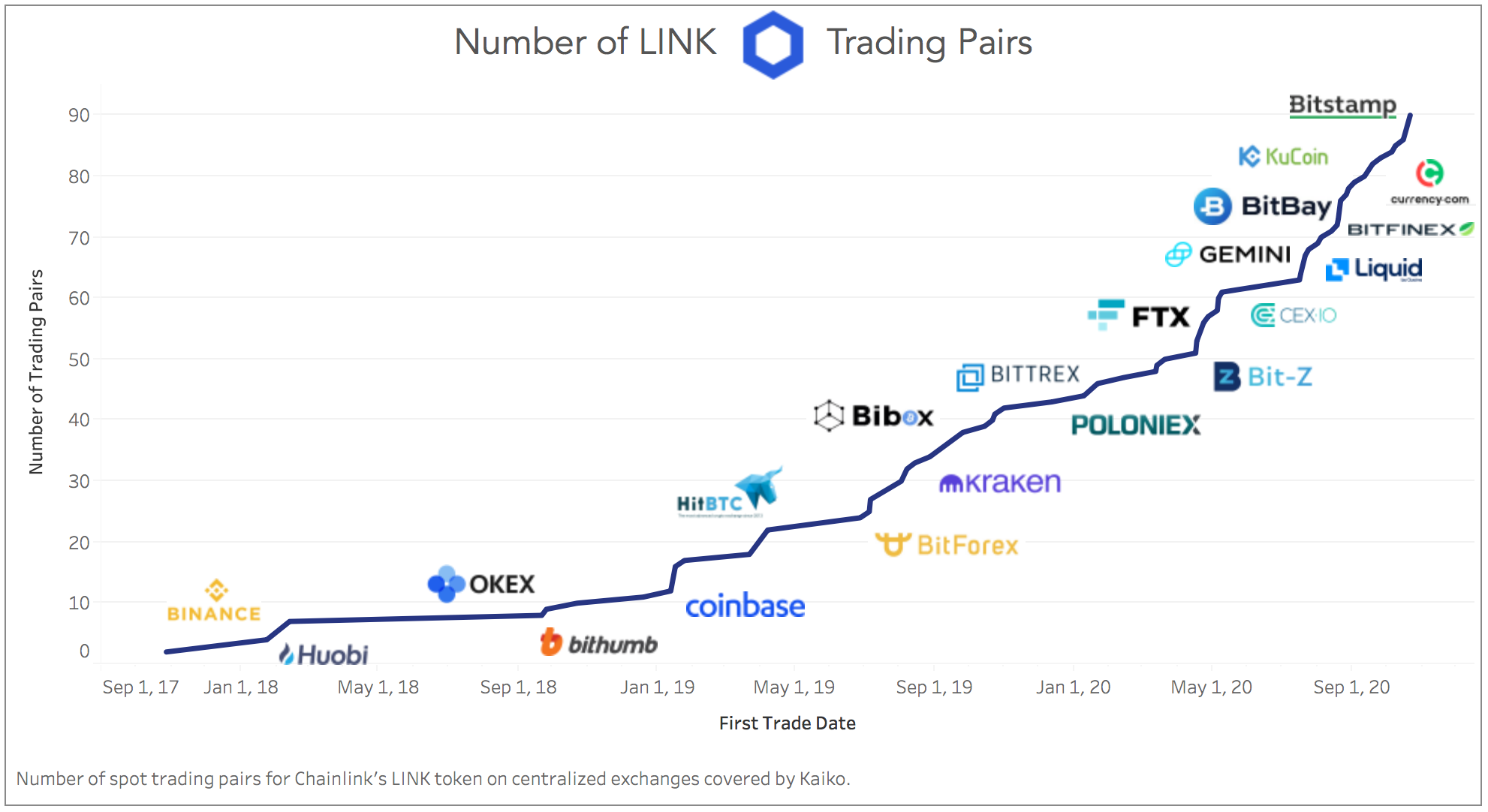 ChainLink's LINK token has been one of the best performing token's of the year with YTD returns currently at +580%. LINK started off the year trading around $1.75 and now trades around $12, boosted in large part by this past summer's DeFi-mania. LINK's explosive growth has resulted in waves of listings on centralized exchanges since 2017, charted above. We can observe a large concentration in new listings around August 2020, right when DeFi began to take off. LINK's token powers the ChainLink decentralized oracle network which allows smart contracts on the Ethereum Network leverage off-chain data (Kaiko serves as a data provider for the network).
Market depth plummets with rising volatility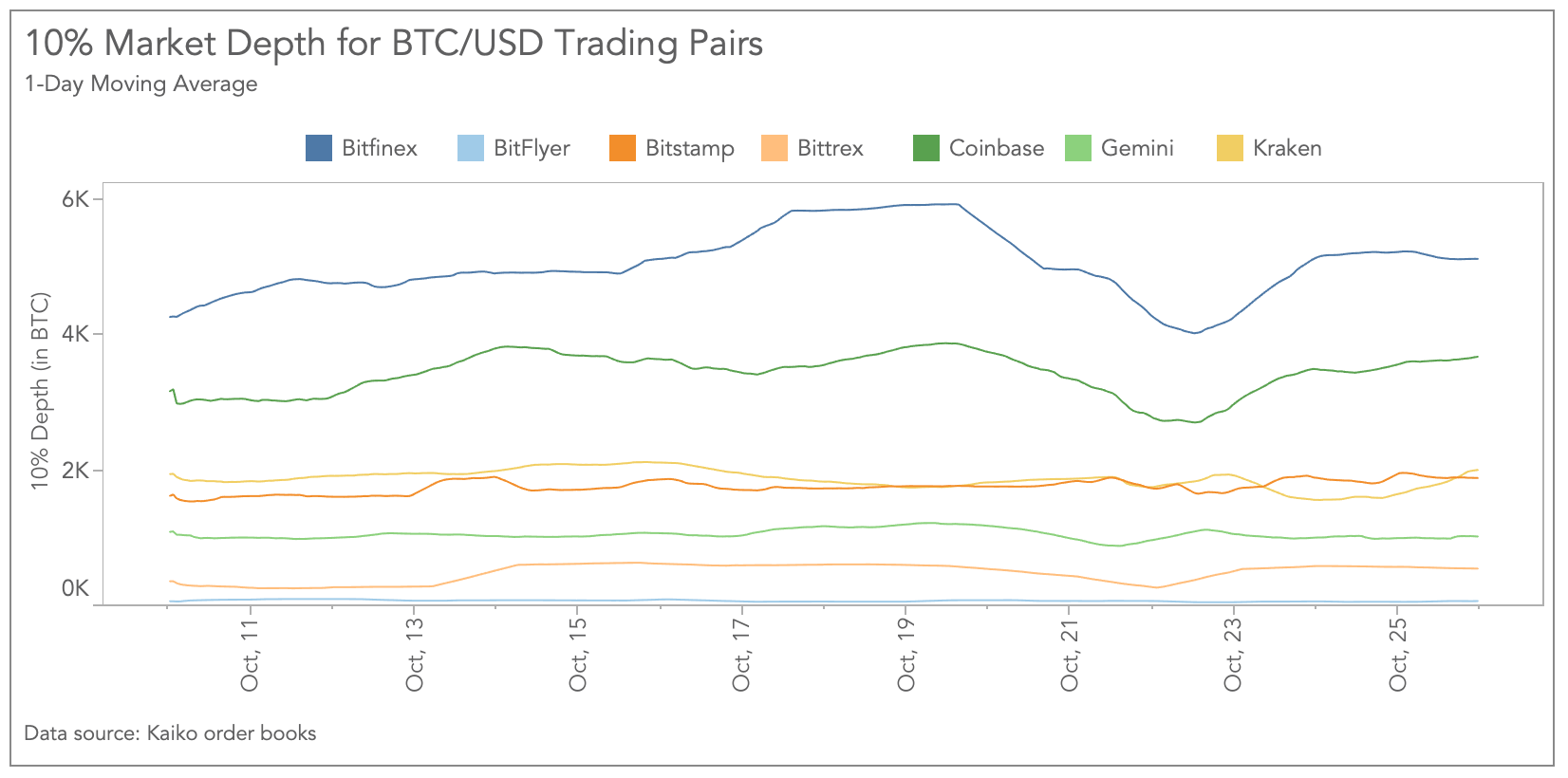 Last week we observed a steady increase in depth on most exchanges, a characteristic of low-volatility trading. This week, market depth crashed following Bitcoin's 7% daily returns on October 21st. The drop in depth is most visible on Bitfinex and Coinbase and indicates that market makers reacted to the increased risk that comes with volatility.