Major U.S. bank JPMorgan believes that recent developments such as insurance company MassMutual investing in Bitcoin underscore increased institutional interest and anticipates $600 billion in potential demand.
Larger institutional Bitcoin investments have been seen scattered through 2020. In particular, companies directly related to digitalization, such as MicroStrategy or Square, stood out. Last week, MassMutual became the first insurance company to enter the world of crypto assets. According to JPMorgan strategist Nikolaos Panigirtzoglou, this is an important milestone.
Bitcoin in portfolios of pension funds and insurance companies
MassMutual's $100 million investment suggests that bitcoin adoption is spreading from family offices and wealthy investors to insurance companies and pension funds, Panigirtzoglou said. While it is unlikely that these institutions would ever make large allocations, even a small shift toward the new asset class could be significant.
"MassMutual's bitcoin purchases represent another milestone in bitcoin adoption by institutional investors. You can see the potential demand that could emerge in the coming years as other insurance companies and pension funds follow MassMutual's lead." – Nikolaos Panigirtzoglou, Strategist JPMorgan Chase & Co.
Potential investments of over $600 billion
If pension funds and insurance companies in the U.S., the eurozone, the U.K. and Japan invested 1% of their assets in Bitcoin, it could lead to an additional $600 billion in Bitcoin demand, according to JPMorgan strategists. The current market capitalization of Bitcoin, the largest cryptocurrency, is about $358 billion.
Bitcoin vs. traditional markets (Gold, S&P 500, SMI); Year-to-Date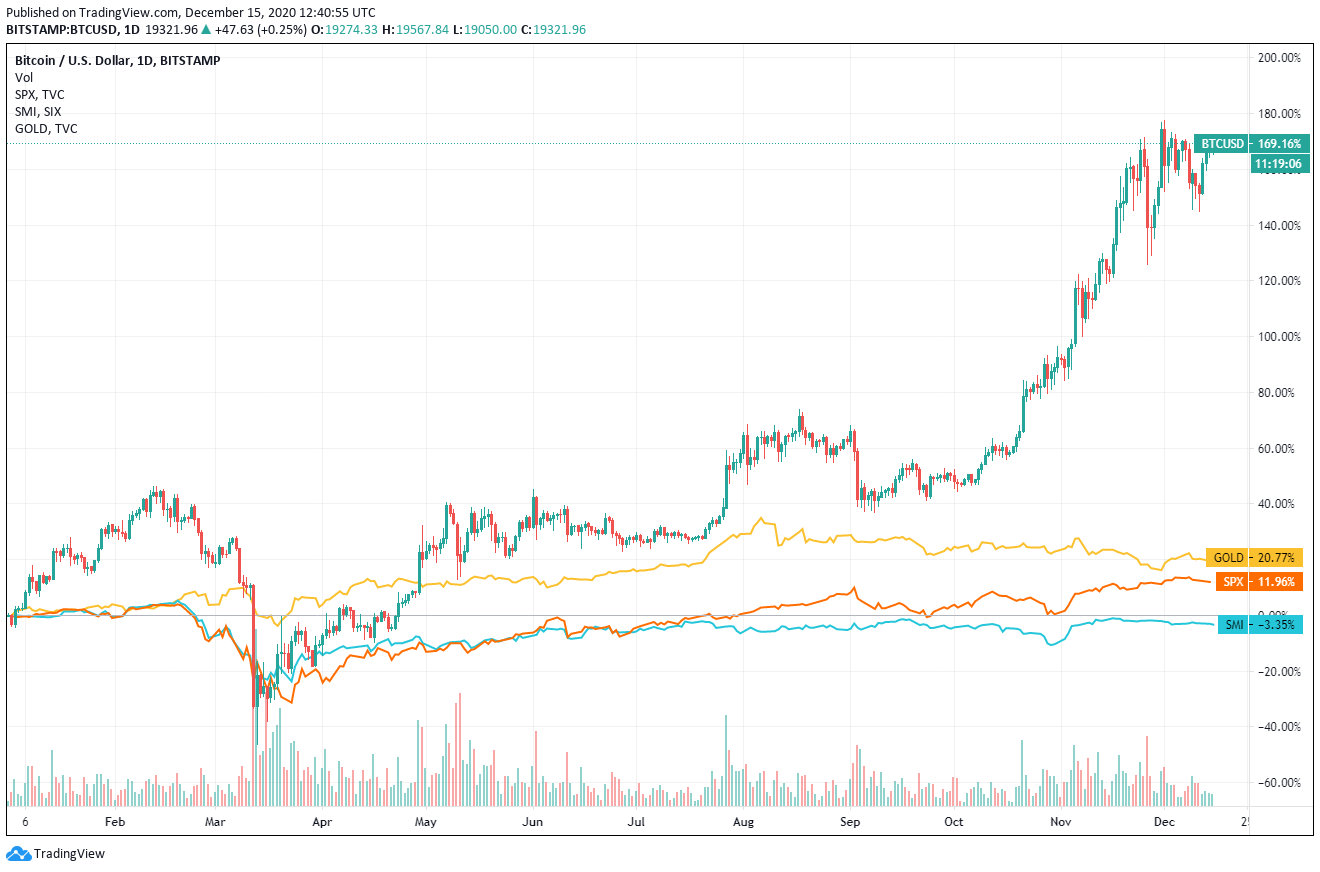 On the other hand, traditional investors such as insurers and pension funds would face regulatory hurdles related to the level of risk and liability, which would likely limit the scope of their investments in Bitcoin. Despite some unclear regulatory requirements that are increasingly being defined, Bitcoin had an exceptional year, which could be related in part to institutional demand.