For several years, US issuers have been striving to bring the first ETF for Ether (ETH) to the market. However, despite the approval of the first Bitcoin ETF in October 2021, the US Securities and Exchange Commission (SEC) has so far blocked any applications. This could change in the coming months.
Various applicants have once again applied for an Ether ETF in the US this year. Similar to the already approved Bitcoin funds, the products would be based on futures contracts from the CME Exchange. CVJ.CH reported earlier this week that the chances for issuers are good. New statements from an anonymous Bloomberg source now confirm this realization. By mid-October, another investment opportunity in the second-largest cryptocurrency by market capitalization should be available for institutional investors.
Subscribe to our newsletter
The best articles of the week, directly delivered into your mailbox.
The fiercely contested Ether ETF
Nearly a dozen companies, including Volatility Shares, Bitwise, Roundhill, and ProShares, have applied for the launch of an Ether ETF. A significant portion of these applicants already operate futures-based Bitcoin ETFs and are familiar with the SEC's requirements. Which fund will be approved first remains unclear. However, several Ether ETFs could receive green light by October. Within a few weeks, the SEC will have to decide on 16 Ether ETFs. The agency could postpone approval multiple times, but a rejection is unlikely according to Bloomberg.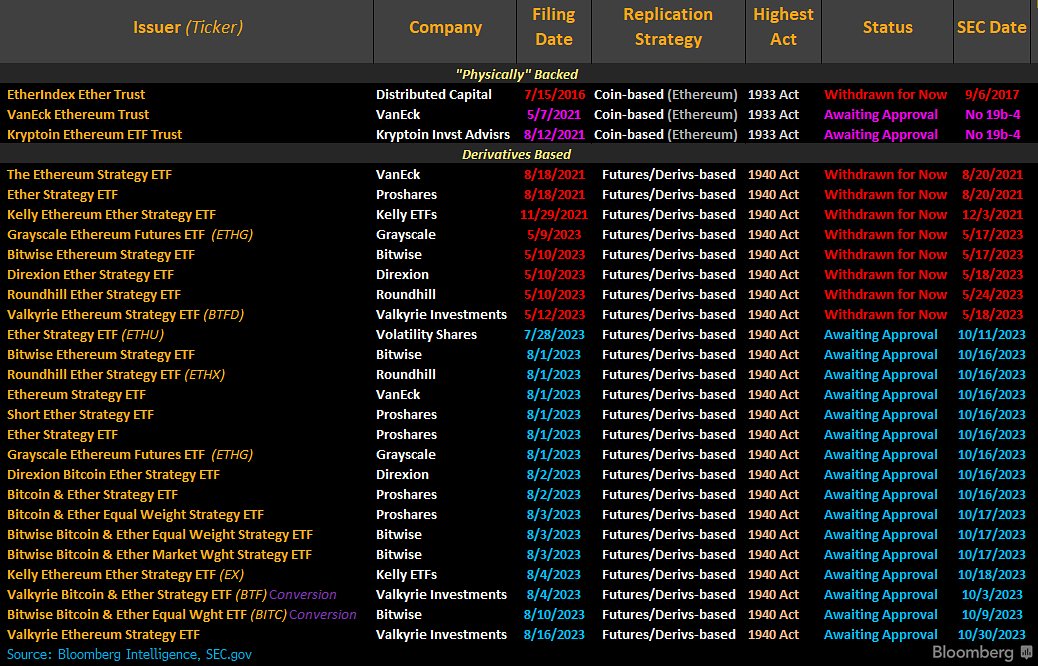 The deadlines for the combined Bitcoin and Ether products of issuers Valkyrie and Bitwise are the first to arrive. On October 11th, the SEC is expected to decide on the first "pure" Ether ETF from Volatility Shares. The applicant has been operating a leveraged futures Bitcoin ETF for nearly a month. Some of the applications are also seeking a short ETF for the second-largest cryptocurrency by market capitalization.