The first Polygon Ecosystem Index has gone live, capturing the largest projects on the currently leading scaling solution. The PECO token is supposed to provide investors an easy and low cost way to invest in Polygon's vibrant and growing ecosystem.
Network congestion on Ethereum has resulted in lower throughput and higher transaction costs. Layer 2 solutions attempt to solve for this in myriad ways, but Polygon's approach has gathered significant traction. Recently surpassing Ethereum in daily active addresses, Polygon's DeFi ecosystem has over $4 billion in total value locked (TVL) in part thanks to native protocols such as Quickswap and Qi DAO.
The scaling platform Polygon
Polygon initially was developed as a side-chain to enable computation and storage off the Ethereum network, but has evolved to become a more end-to-end solution. Today, Polygon is an interoperability and scaling platform for building Ethereum-compatible blockchains and launching applications, and it has become one of the most popular scaling solutions by total value locked.
Index tokens are uniquely suited to provide investors with a vehicle to capture the growth of certain blockchain ecosystems. Furthermore, they play an important role in enabling the ecosystem greater scale and reach by providing users a 1-click investment to the entire realm. Polygon was chosen as Amun's first ecosystem index due to its early success in providing Ethereum users with a viable solution to achieve higher throughput and lower fees.
PECO Token
Created in collaboration with the Polygon Foundation and leading Polygon projects, PECO provides investors with an easy and low cost way to invest in Polygon's vibrant and growing ecosystem. ​​The index targets Polygon-native projects only, rather than protocol tokens that have been bridged from Ethereum. This gives investors more targeted exposure to Polygon itself, rather than including projects that exist in both Ethereum and Polygon ecosystems.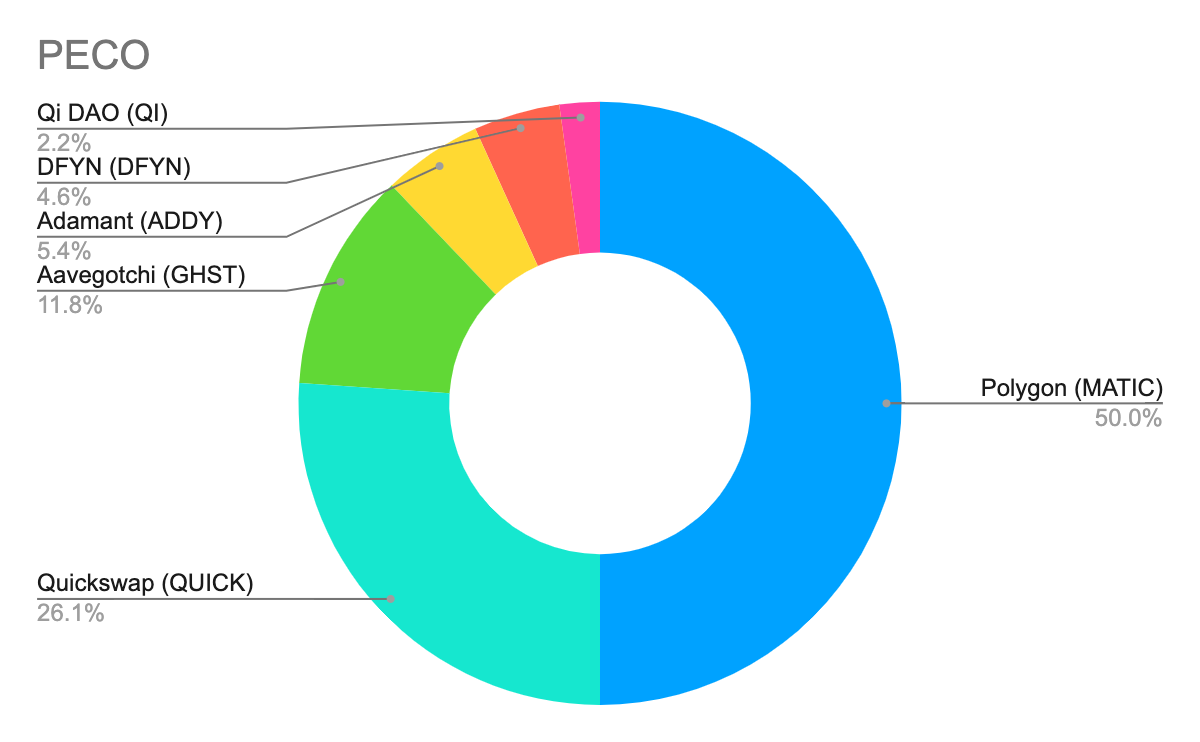 To maximize its reach, PECO is available on both Polygon and Ethereum. A bridge allows the users to bring their tokens across the two networks. PECO gives holders an alternative to only holding MATIC and instead gives them a token that grows with the entire ecosystem, not just the base token. As PECO is an index token, there is no max supply. This token can be minted and burned at any time.
Index Composition
Initially, MATIC will be 50% of the index composition. As the Polygon ecosystem matures, a lower percentage of MATIC could make room for other promising projects. The remaining 50% of the PECO token is composed of protocol tokens weighted using the averaged ratio of market cap and DEX liquidity. They must also satisfy the following criteria:
Must be native to the Polygon network and contribute to the Polygon ecosystem.
Must have launched on the Polygon mainnet for a period greater than 2 months, to eliminate transient, unsustainable projects.
Must have organic adoption in liquidity and market cap.
Must have sufficient DEX liquidity on QuickSwap and Dfyn (above $3 million).