Crypto exchange Bitstamp released a report on one of the most comprehensive global crypto surveys in the first quarter of 2022, surveying investors from over 23 countries. An in-depth summary of key facts and trends about how long and in what they invest, as well as their confidence in it.
With nearly 30,000 respondents, the Bitstamp Crypto Pulse report makes use of one of the most comprehensive surveys of crypto investors. Both retail and institutional investors from a wide range of countries were asked about their attitudes, investments and confidence towards the crypto industry. Analyzed through a wide variety of factors and indicators, the survey is one of the most up-to-date in the field and provides insight into how far crypto adoption has progressed among investors.
Institutional investors already in since 2017
Of the 28,615 respondents, approximately 23,000 were private investors and 5,500 were institutional (professional investors or investment organizations). No individuals were surveyed who had never been involved with cryptocurrencies. Finally, Bitstamp wanted to understand the target group from which adoption and development is actually driven. Of the retail investors, 54.3% were men and 44.5% were women, with an average age of around 37. Among professional investors, the percentage of men was slightly higher at around 60%.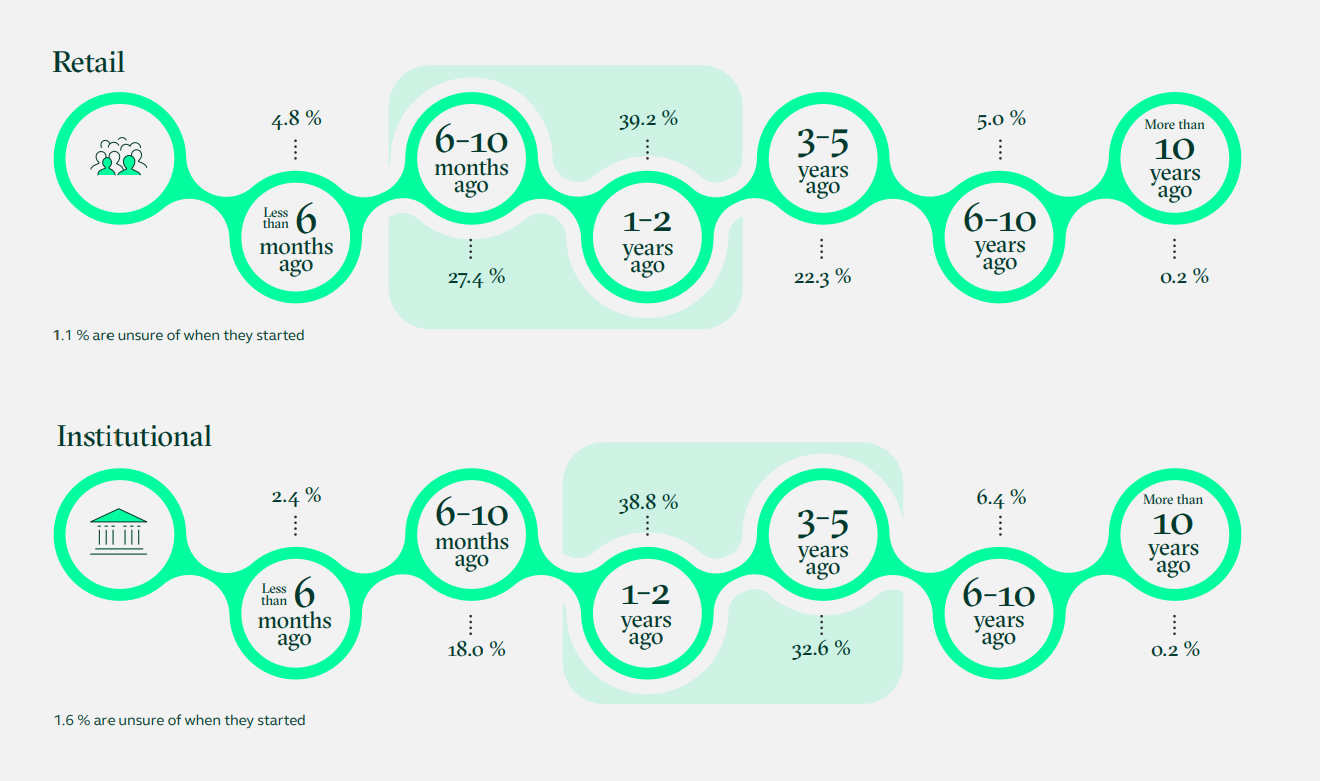 Most of the retail investors surveyed have not been active in the crypto market for too long. Almost 60% have been involved with the topic for less than 2 years. Among professional investors, the curve shifts back about one crypto cycle. Accordingly, institutional adoption of cryptocurrencies is not a new phenomenon; funds and asset managers seem to have been doing the groundwork for years.
The various crypto use cases
From metaverse computer games to NFT collections to everyday payments, the crypto space has evolved greatly over the years. In the process, new use cases also emerged; in particular, crypto donations to charity experienced an upswing in the wake of the Russian-Ukrainian conflict. In the survey, it was found that over 70% of retail investors are looking to expand their investments in the crypto space, and around 50% said they trade in it in some form at least once a week.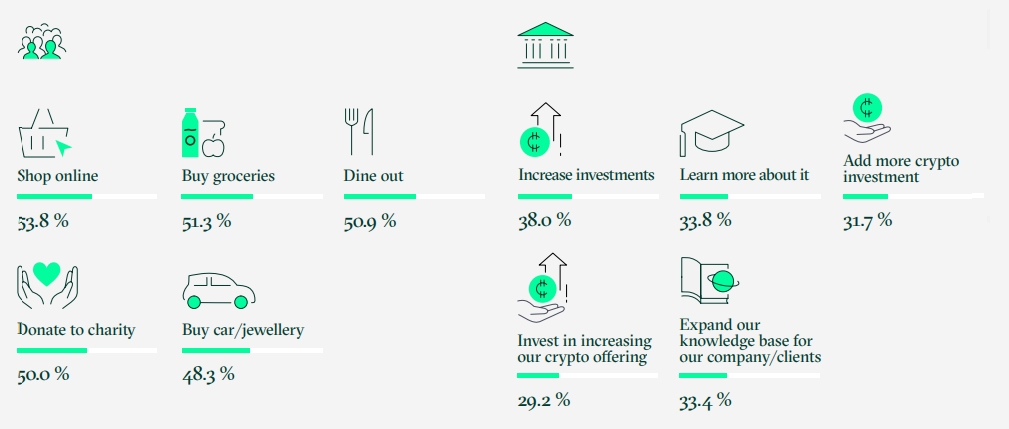 Many of the retail investors said they spend cryptocurrencies on a wide range of consumer goods. From online purchases to donations to charity. This is in contrast to the widespread rumor that digital assets are only used for speculation. Among institutional investors, it was confirmed that 72% plan to increase their crypto investments in the next 5 years and nearly 70% recommend the space to their clients.
Knowledge and trust in cryptocurrencies
Back in March 2020, a study hypothesized that knowledge about cryptocurrencies is related to user trust. In Bitstamp's survey, this hypothesis was substantiated and shows the direct influence of knowledge on trust levels. Especially in countries with uncertain and volatile fiat currencies, a large portion does not have access to a bank account, whereas blockchain technology offers them the opportunity to participate in the global economy.
As cryptocurrencies could be a way out of the crisis for third world countries, the knowledge and trust around the area is also generally higher than in developed countries. In the Western world, many people are cautious and speculation often actually comes before everyday payments. Accordingly, the highest trust in cryptocurrencies was observed in African and South American nations. France and Japan, on the other hand, showed by far the greatest distrust, with trust levels below 50%.