The investment firm of the well-known hedge fund manager George Soros has confirmed that the fund trades in Bitcoin and other cryptocurrencies. However, the family office is mainly interested in the application cases of DeFi and similar financial instruments.
In 2018, the investment firm received the green light for crypto trading for the first time. This was despite the rather critical attitude of the billionaire philanthropist due to the high volatility of the sector. However, how the Soros Family Office has been positioned since then has never been disclosed.
In an interview with Bloomberg, CEO and CIO Dawn Fitzpatrick revealed for the first time that the fund has indeed been trading Bitcoin for quite some time. However, he said that particular interest lies in the decentralized financial applications (DeFi) space.
Shifting from equities to crypto
The chief investment officer at Soros Fund Management believes that Bitcoin is much more than just an inflation hedge. The gap with the mainstream has already been crossed, she says. The broader financial industry has slowly but surely begun to recognize the potential of cryptocurrencies and the underlying technology, she said.
"We own some coins – not many. The coins themselves are less interesting [to us]than the use cases of DeFi and things like that." – Dawn Fitzpatrick, CEO & CIO Soros Fund Management
In the same move, the firm announced it had liquidated a $5 billion 2020 equity investment to use the capital in crypto markets. This is one of the examples of the shift of interest of several multi-billion dollar companies towards blockchain-based projects.
The potential of DeFi
Decentralized Finance (DeFi) generally refers to decentralized blockchain protocols that represent financial products in one form or another. Blockchain technology can ensure this without an intermediary; the protocols are based only on computer code. The system thus provides programmed security, transparency, reliability and automation. Nevertheless, the field also faces regulatory challenges.
According to a recent study, the adoption of DeFi by various institutions has driven up the valuation of the protocols by over 800%. The recent 35% increase in Uniswap is just another example, it said. Investors in countries with strict investment controls such as China, in particular, have recognized the potential of decentralized alternatives, he said.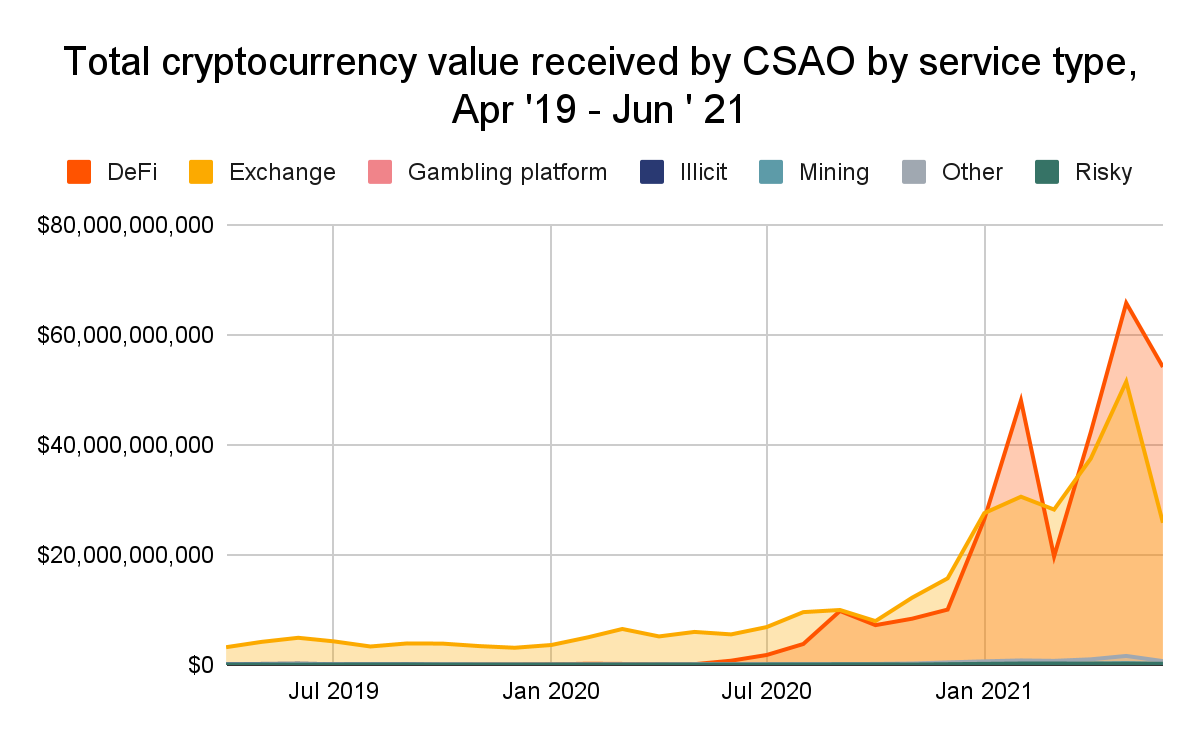 Market researcher Chainalysis confirmed the adoption of virtual currencies and reported excellent growth in the DeFi sector. The firm also noted that the Central and South Asia and Oceania (CSAO) region is the most interested in DeFi protocols, according to the Global Crypto Adoption Index. In addition to China, this includes countries such as India, Vietnam and Pakistan. This, he said, shows the potential of the sector in underprivileged parts of the world, some of which lack access to a financial system.