Smart TV leader Samsung is incorporating an intuitive, integrated NFT platform for discovering, buying and trading digital artwork into its latest models, mapping its New York flagship store 837 in the metaverse video game Decentraland.
Samsung's 2022 Smart TVs feature a new Smart Hub designed to put content selection and discovery at the centre. In addition to an app for video games, the Korean company is introducing an intuitive NFT platform for discovering, buying and trading digital artwork. Samsung underscores its decisive move into the metaverse with a presence in the NFT game Decentraland.
Integrated NFT platform
The unveiling of the new TV was all about the latest technologies that deliver the highest picture clarity. But Samsung also devoted some time to other features. These included the NFT management feature, which came as a surprise to many.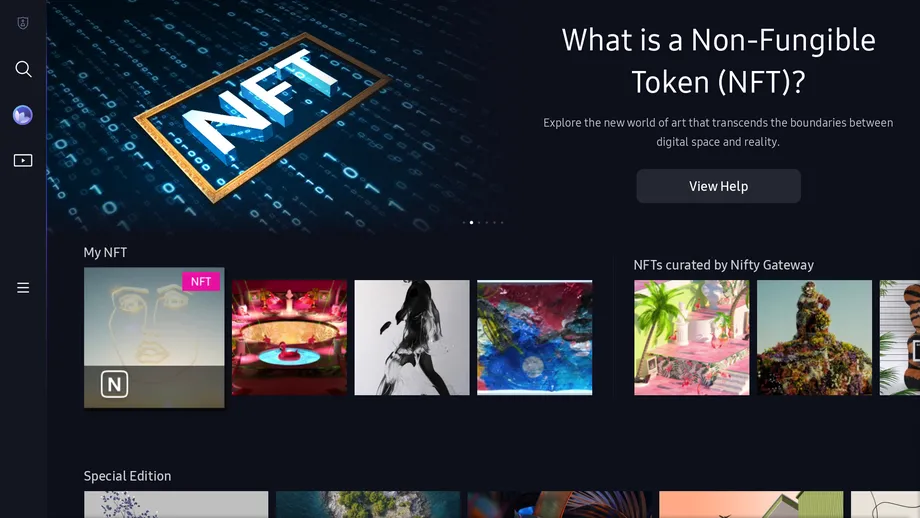 Samsung's high-end TVs serve as the framework for the artwork, and it makes sense that the company would bring in non-fungible tokens. However, enabling the purchase of NFTs through the platform was a bold and unexpected move from one of the largest electronics manufacturers in the world.
Samsung's presence in the metaverse
At the Consumer Electronics Show (CES), the company's U.S. arm unveiled the Samsung 837X, a digital experience modelled after the company's New York City flagship. The immersive world is designed to captivate fans with mystical quests that lead to exclusive NFTs and a live mixed reality dance party.
"The Metaverse allows us to transcend physical and spatial boundaries and create unique virtual experiences that would otherwise be impossible. Innovation is in our DNA, and we can't wait to show you all this burgeoning virtual world." – Michelle Crossan-Matos, Senior Vice President of Corporate Marketing and Communications at Samsung Electronics America
The 837X virtual complex will be open for some time in the metaverse game Decentraland. Later this year, Samsung plans to bring the experience to more people by introducing a multiverse approach on new platforms. Each world is expected to offer different experiences for fans. For immersion in Decentraland, the company explains how to use the Ethereum wallet MetaMask and create an avatar.