International restaurant services provider Lavu and global payment solutions leader Verifone have announced a cross-distribution partnership that will provide 35 million restaurant operators with a select choice of cryptocurrencies as payment options for their events and guests.
The two companies recently announced a new distribution partnership. It is said to involve seamless integration of Lavu's All-In-One restaurant software with Verifone's FLEX advanced payment solution. Customers of both companies are expected to benefit, as the partnership will enable diverse payment options in restaurants. Customers will be able to make card, cardless, smartphone, peer-to-peer and cryptocurrency payments at the Verifone terminal.
"Our partnership with Verifone advances our mission to help even more restaurants reach new customer segments and remain profitable during an increasingly challenging time. Especially over the past two years, consumers have acclimated to contactless, cardless and flexible payment methods." – Saleem S. Khatri, CEO of Lavu
Strategic partnership for the restaurant industry
The strategic partnership will help to serve better the restaurant industry as both Verifone and Lavu aim to provide their customers with a high-quality and consistent POS and payment experience. Lavu will now be able to expand its payment acceptance offering into new markets by leveraging Verifone's broad range of payment connectivity. The first product available will consist of a Verifone Engage e285 device with Lavu's tablet-based POS solutions.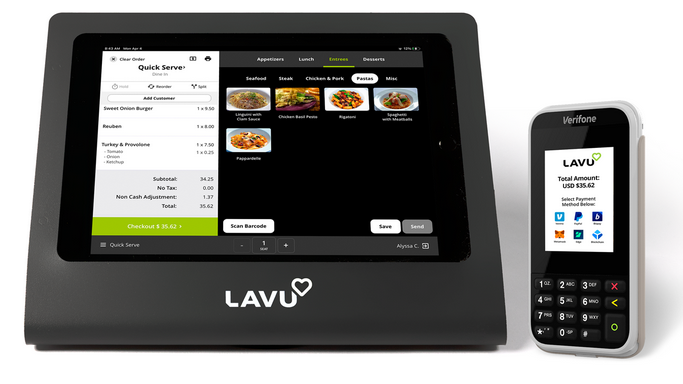 With access to Verifones advanced payments platform, millions of restaurants will more easily meet rapidly evolving consumer behavior. Especially at a time when an accelerated shift to digital and shared payments is being driven. Sharing a bill with a large group, paying with cryptocurrencies or making staggered payments are all guaranteed and simplified with this payment system. The customer selects the desired payment method at the Verifone terminal and uses his mobile device to complete the transaction.
Various payment methods will be available to customers of both companies. In addition to Bitcoin (BTC) and Ethereum (ETH), cryptocurrencies such as Litecoin (LTC), Dogecoin (DOGE), Shiba Inu (SHIB) and various USD stablecoins can be used to pay directly via an anonymous wallet.
Payment terminals available in Switzerland as well
The software from restaurant service provider Lavu is available in over 65 countries as a complete restaurant solution. The 35 million Verifone devices are known to customers in over 150 countries. In Switzerland, the card and payment terminals are only available through providers and network operators, as the company does not rent or sell the devices to merchants and service providers here.
The Verifoneterminals are distributed and used by Paymash, Concardis and Raiffeisenbank. Worldline and SIX Payment Services also used or rent the devices and the associated services. In the complete solutions, the terminals are partly included and the two best-known cryptocurrencies (BTC, ETH) are already available as a payment option.