MicroStrategy is looking to issue USD 550 million worth of convertible notes in order to increase its investment in Bitcoin. The business intelligence firm already owns 40,824 Bitcoins, which is equivalent to about $750 million.
MicroStrategy is a publicly traded company (NASDAQ:MSTR) in the business intelligence industry. It first attracted attention in mid-August after announcing that it had allocated a portion of its $250 million in cash into Bitcoin. A press release this week has now indicated that MicroStrategy intends to issue $400 million in senior convertible notes - for the sole purpose of acquiring more Bitcoins. After exercising a top-up option, even a $550 million capital raise was announced through the convertible notes.
If the net proceeds from the sale of the notes are fully invested in Bitcoin in accordance with the company's internal guidelines, the company would hold more than $1 billion worth of Bitcoins.
Bitcoin as "digital gold"
According to CEO Michael J. Saylor, the decision was influenced by several risk factors that could threaten the economic environment. These include the COVID-19 crisis, unprecedented stimulus measures through quantitative easing (QE), and global political, as well as economic uncertainties. The current announcement reemphasizes Saylor's belief.
"We believe these and other factors combined drive a significant decline in the value of fiat currencies and many other conventional assets, including many assets traditionally held as part of corporate treasury management. Bitcoin is digital gold - harder, stronger, faster, and smarter than any previous medium of exchange." - Michael J. Saylor, CEO MicroStrategy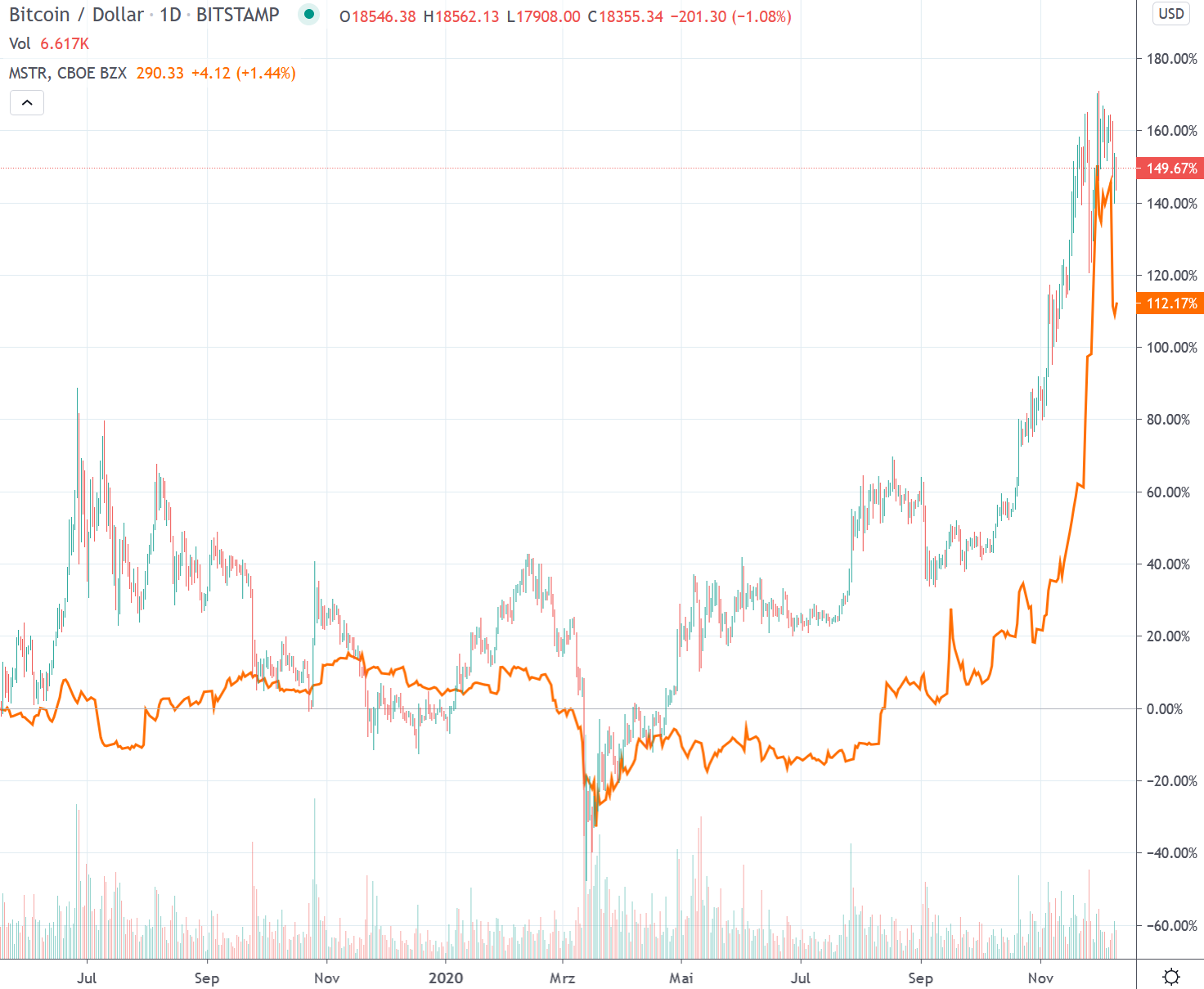 MicroStrategy's Strategy
CEO and founder of Micro Strategy, Michael J. Saylor, already revealed himself to be a Bitcoin enthusiast several times this year and has gained a lot of attention with media statements via Twitter, among others. The most recent Bitcoin purchase was announced by Michael Saylor last week at an average price of about $19,500.
MicroStrategy has purchased approximately 2,574 bitcoins for $50.0 million in cash in accordance with its Treasury Reserve Policy, at an average price of approximately $19,427 per bitcoin. We now hold approximately 40,824 bitcoins.https://t.co/nwZcM9zAXZ

— Michael Saylor⚡️ (@michael_saylor) December 4, 2020
According to Saylor, the investment in the largest cryptocurrency should not only provide a hedge against inflation, but also possesses the potential to generate a higher return than traditional assets. MicroStrategy sees a bright future for Bitcoin as long as further technological advancements are obtained, adoption expands and the network effect continues to rise.
The aggressive Bitcoin acquisition strategy is quite unique for a company. Although more companies are likely to take a liking to Bitcoin, Michael Sylor's strategy is remarkable. The targeted Bitcoin investment sum would amount to a considerable part of Microstrategy's current market capitalization of just over USD 2.7 billion.
Not everyone likes the intensive acquisition strategy. Analysts at Citibank already reacted to Saylor's latest coup. Because of its "disproportionate" focus on Bitcoin, they downgraded the company's shares from hold to sell.