Together for an innovative and world-leading Swiss metaverse ecosystem: 47 partners from business, science and administration found the Swiss Metaverse Association. They want to learn together, exchange ideas, create proofs of concepts, and advocate for favorable framework conditions so that Switzerland is among the world's best as a future location for metaverse.
The Swiss Metaverse Association was founded on February 27, 2023 in Bern with 47 founding members and covers the areas of business, administration, science and society as a public-private partnership. It networks relevant actors and promotes the economic and social anchoring of metaverse-based applications and activities in Switzerland.
The goal of this association, recently founded in Bern, is to create a broad-based metaverse ecosystem and to advocate for attractive framework conditions in Switzerland, so that new business models, companies and jobs can be created.
The Swiss Metaverse Association (short: Metassociation) is chaired by Tina Balzli, Partner and Head of Fintech & Blockchain at CMS Switzerland, and Alexandra Hofer, Senior Consultant at furrerhugi.
"With this association, we are laying important foundations to position Switzerland as an innovative and forward-looking location that enables metaverse projects. As an association, we network the relevant players, initiate projects, and promote dialogue and education" - Tina Balzli, co-president
Great need to talk about the metaverse
The project "Metassociation" was initiated jointly by Lorenz Furrer, Managing Partner at furrerhugi, and Daniel Diemers, Partner at SNGLR Group. Daniel Diemers also sits on the board of the Swiss Metaverse Association. The 47 founding members include organizations, banks, international companies, startups, universities, associations and individuals. In the past meetings with the founding members, it has become clear that the metaverse opens many possibilities and opportunities, but also brings with it questions and challenges - accordingly, the members' need to exchange ideas and pursue interesting questions is very great.
"We are very pleased that the Swiss Metaverse Association has been so well received. With the 47 founding members, the association has diverse expertise in very different areas - this adds great value. Together, we can now help shape a future digital world that benefits everyone" - Alexandra Hofer, co-president
Addressing questions around the metaverse proactively
Various events are planned within the framework of the Swiss Metaverse Association, and working groups are being formed to address specific issues and topics. Current priorities include the following topics: Tax, the Industrial Metaverse, Regulation, Arts and Culture, Research and Education, Insurance and Banking, Technology and Infrastructure, Health, and Tourism and Sports. Additionally, it is planned to write a white paper and create a Swiss Metaverse Ecosystem Map. Board member Daniel Diemers, Head Expert Tribe, explains, "We want to learn together, develop ideas, find synergies, work out the challenges and opportunities of the metaverse, and thus ensure that Switzerland becomes one of the most attractive and best metaverse locations in the world."
Founding members of the Swiss Metaverse Association: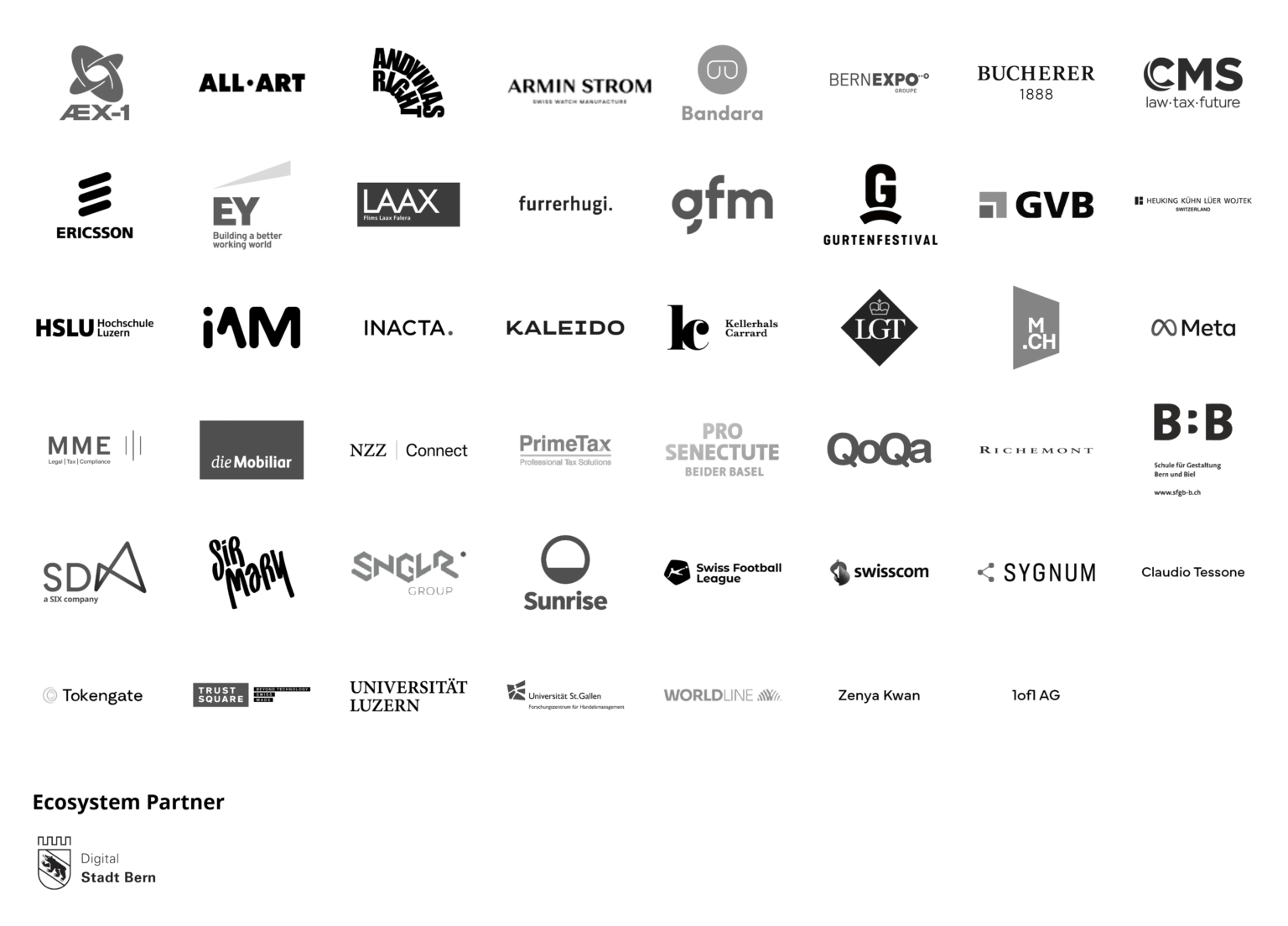 1of1 | All.Art | Andy Was Right | Armin Strom | Bandara | Bern Expo | Bucherer | CMS Schweiz | Die Mobiliar | Ericsson | EY | furrerhugi | gfm | Gurtenfestival | Gebäude Versicherung Bern | Heuking | Hochschule Luzern | iAM Lab | Inacta | Kaleido Privatbank | Kellerhals Carrard | LGT | MCH Messe Schweiz | Meta | MME | NZZ Connect | Pirx / AEX-1 | PrimeTax | Pro Senectute Beider Basel | QoQa | Richemont | Schule für Gestaltung, Bern und Biel | SDX | Sir Mary | SNGLR | Sunrise | Swiss Football League | Swisscom | Sygnum | Tokengate | Trust Square | Universität Luzern, Institut für Marketing und Analytics | Universität St.Gallen (IRM-HSG), Forschungszentrum für Handelsmanagement, Gottlieb Duttweiler Lehrstuhl | Weisse Arena Gruppe | Worldline Schweiz | Claudio Tessone (Universität Zürich) | Zenya Kwan
The ecosystem partner is the Digital City of Bern.