One of the biggest upgrades in the history of blockchain technology is behind us. Ethereum's switch to Proof of Stake, also known as the Merge, went through without complications. The network no longer relies on miners, with block validation being handled by stakers.
The first Ethereum blocks have just been validated by the Proof of Stake consensus algorithm. This is a huge milestone for the largest smart contract platform. The transition, which was announced in the original 2013 whitepaper, means new properties for both Ethereum as a network and the native cryptocurrency Ether (ETH) as an asset.
No more Proof of Work
Until now, the Ethereum blockchain used the common Proof of Work consensus algorithm. Which actor was allowed to validate the next block was determined based on the computing power provided. This energy-intensive process prevents malicious takeover of the network by requiring a massive amount of real resources to be expended.
Proof of Stake achieves the same goal by providing capital (staking) that can be slashed in case of malicious acts. Switching the consensus algorithm leads to an estimated reduction of the total network energy consumption by over 99.9%. This not only means less ammunition for crypto opponents, but also new attractiveness for investors who adhere to ESG standards.
"The merge will reduce worldwide electricity consumption by 0.2%" - @drakefjustin

— vitalik.eth (@VitalikButerin) September 15, 2022
Smooth Merge process
Nearly 40,000 users watched the transition via a Youtube livestream from the Ethereum Foundation. Around 13 minutes after the validation of the first proof of stake block, the finalization was confirmed and potential reorganizations (reorgs) of the blockchain were ruled out. The whole process went smoothly and without any complications. Nothing changes for Ethereum users and the 200 billion in deposited assets on the network, all applications continue to work as usual. The price of Ether didn't react much to the news.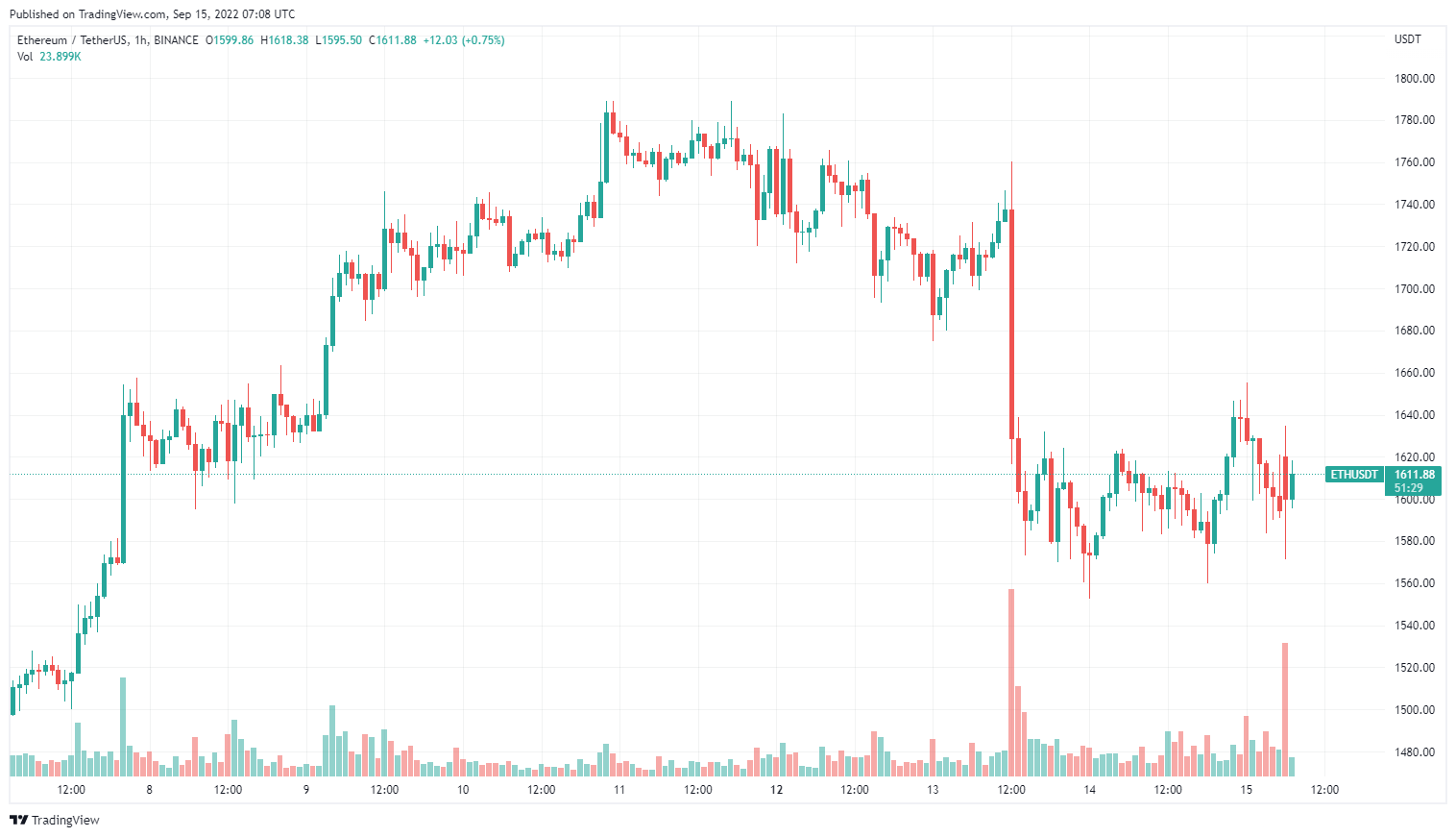 No lower transaction fees
A common misconception about the Merge relates to the transaction cost and speed of the Ethereum network. Since the Merge is merely a consensus shift from Proof of Work to Proof of Stake, the upgrade does not include any improvements to network throughput. Transaction fees will continue to be handled as they always have been. The real scaling Ethereum comes with the developers' next focus: sharding.
Sharding is a common process in computer science of splitting a database horizontally to divide the load among different "shards." This offloads individual parts of the network and, when combined with rollups, allows Ethereum to accelerate exponentially. Sharding will become the primary focus of developers after the successful Ethereum Merge, and an implementation is expected before the end of 2023.