The U.S. Commodity Futures Trading Commission (CFTC) has sued leading global crypto exchange Binance and its founder Changpeng Zhao (known in crypto circles as "CZ") for alleged violations of trading regulations. The CFTC also accuses Binance of deliberately deceiving the authority.
According to the lawsuit filed in the U.S. District Court for the Northern District of Illinois, Binance facilitated U.S. customers' transactions in cryptocurrency derivatives such as bitcoin futures and options. Binance operated an unregistered futures trading platform and violated anti-money laundering regulations. Binance had failed to implement adequate know-your-customer (KYC) and anti-money laundering (AML) procedures. This allegedly led to the exchange being used for illegal activities such as money laundering and terrorist financing.
Abonnieren Sie unseren Newsletter
Die besten Artikel der Woche direkt in ihre Mailbox geliefert.
Global company in different jurisdictions
Binance is a global cryptocurrency exchange that is headquartered in Malta but operates in several jurisdictions around the world. The world's largest exchange has been scrutinized by regulators in several countries, including the United Kingdom, Japan, and Canada. Officially, the exchange does not serve users in the United States. A separate U.S. division (Binance US) was supposed to be the basis of a regulated trading platform specifically for U.S. customers, but its separation from the global unit has been challenged by regulators.
Changpeng Zhao, also known as CZ, is a renowned figure in the crypto industry and has served as CEO of Binance since its inception in 2017. In the complaint, the CFTC alleges that CZ also had knowledge of the illegal activities on the exchange.
CFTC appears to have some internal chat logs, doesn't sound great on paper

"Like come on. They are here for crime."
"we see the bad, but we close 2 eyes." pic.twitter.com/SvK7hdwSnp

— db (@tier10k) March 27, 2023
In a press release, CFTC Chief Counsel Gretchen Lowe called Binance's actions a "deliberate evasion of U.S. law," referring to internal chats and emails. They are said to reveal that Binance's efforts to comply with the law were a sham and that the company deliberately offered itself up for unlawful transactions.
Binance denies the allegations
In response to the lawsuit, Binance issued its own statement in which CEO CZ denied the CFTC's allegations and stated that the crypto exchange takes its regulatory obligations seriously. Binance is committed to working with regulators and strives to ensure compliance with applicable laws, he said.
One of Binance's spokespersons pointed to the huge investments made to secure no U.S. users on the platform. To this end, the platform has increased its compliance teams from 100 to 750 employees over a few years. In addition, $80 million was spent on KYC and other compliance tools.
"The complaint filed by the CFTC is unexpected and disappointing, as we have worked with the CFTC for more than two years. Nevertheless, we intend to continue working with regulators in the U.S. and around the world. The best way is to protect our users and work with regulators to develop a clear, thoughtful regulatory system." - Binance Spokesperson
Unsightly chat messages
This lawsuit is just the latest in a series of regulatory challenges facing the cryptocurrency industry. Governments and regulators around the world - but particularly in the United States - are increasingly cracking down on crypto exchanges and other platforms in an effort to combat money laundering and other illegal activity. At the forefront is the U.S. Securities and Exchange Commission (SEC), which engaged in various legal proceedings with all U.S.-based crypto exchanges in a matter of weeks.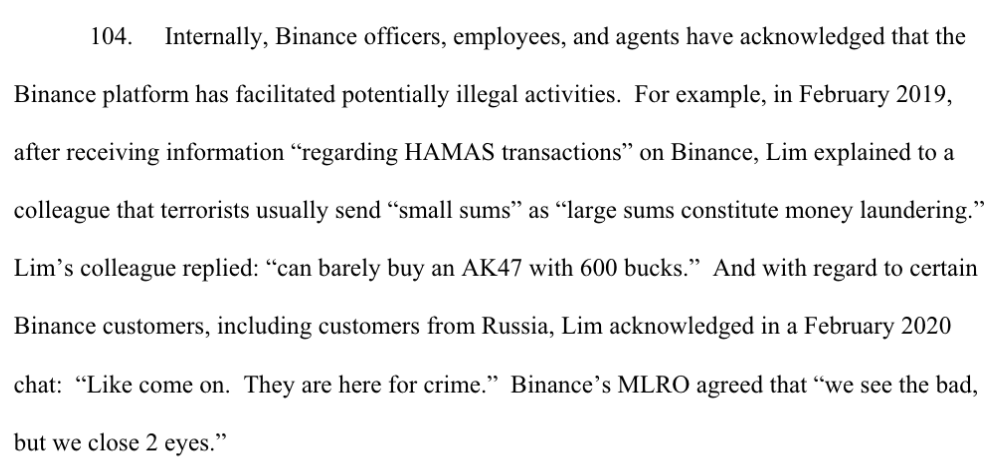 The revelation of internal chat histories acknowledging terrorist financing and charging compliance officer Gerald Lim with falsifying corporate audits does not cast the industry in a good light. Further, Binance is accused of acting similarly to FTX with Alameda Research against its own clients. Moreover, the exchange was well aware of the illegality of its actions. However, Binance had strategically accepted the possibility of a CFTC lawsuit.