The multifaceted NFT market has repeatedly made it into the headlines of traditional media in recent months. The majority of the trading volume is on the OpenSea platform. Among other crypto exchanges, Coinbase is now venturing into the space.
Non-fungible tokens (NFTs) have become the zeitgeist of the crypto market. Blockchain tokens come in the form of a crypto asset that represents ownership of something unique that cannot be exchanged. Thus, they are particularly popular in the art industry and are increasingly penetrating other sectors. Monthly trading volumes, while down slightly, remain in the billions of dollars. The bulk of these volumes, and their fees, have so far gone to OpenSea. With the entry of various crypto exchanges, competition is getting tougher.
Coinbase NFT Marketplace
The goal of the new platform, according to Coinbase, is to allow everyone to profit from their creative spark. Creating an NFT should be as simple as tapping a few keys. Anything that involves more complex hurdles, they say, is a barrier to creativity. In doing so, they recognize the "creator economy" as a subset of the real economy and want to promote it.
"Today, we're announcing Coinbase NFT, a peer-to-peer marketplace that will make minting, buying, presenting and discovering NFTs easier than ever before. Just as Coinbase helped millions of people access Bitcoin for the first time in a simple and trusted way, we want to do the same for NFTs." – Coinbase blog post
According to a media spokeswoman, the platform will use self-storing wallets while not requiring users to follow Know Your Customer (KYC) procedures. This is different from what Coinbase's brokerage customers must do to trade cryptocurrencies. The company did not want to disclose the fees but will announce these details shortly before the official launch of the platform.
Social network
People are creative by nature. They create art, express individuality, build communities, and seek meaning. Before the advent of NFTs, Coinbase says there was no universal way for creators to own, control and profit from their works – especially in the digital world. So buying and selling will be core functions on the Coinbase platform.
But the company wants to go beyond that. Namely, the marketplace is to be built on social engagement. With this, Coinbase wants to unite creators, collectors and fans and give them opportunities to interact. Based on interests, Coinbase curates a personal feed. In the profile, this displays all NFT in one place so like-minded fans or artists can connect. The social element is designed to shape the future by sharing passions, creating new collaborations, and sparking imagination.
Competition gets tougher
Coinbase is throwing its hat into a ring that is becoming increasingly competitive. Recently, crypto exchange FTX announced the full-fledged launch of its marketplace for Solana-based NFTs. Its biggest competitor Binance also has its own offering, which the company plans to expand into the "largest NFT trading platform in the world." Even Shopify lets creators mint, sell and trade NFTs.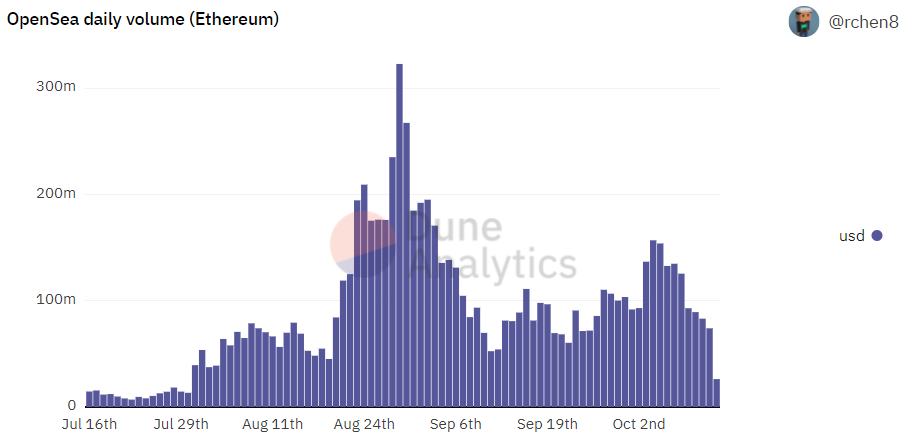 It makes perfect sense that crypto exchanges would want a piece of the non-fungible pie. OpenSea, which gained unicorn status in a recent funding round, saw its trading volume jump. The largest NFT marketplace saw more than $2.7 billion in trading volume last month. While that's a fraction of the $129 billion in cryptocurrency trading that Coinbase turned over in September, it represents a three-fold increase for OpenSea compared to the beginning of the year.