One of the most traded NFT collections currently is the Bored Ape Yacht Club (BAYC). To decentralize governance for their ecosystem, the Bored Ape developers launched a fungible token called ApeCoin (APE) with an airdrop to all existing NFT holders.
The launch announcement of ApeCoin (APE) was not made by the producers of the BAYC collection, Yuga Labs, but its own ApeCoin DAO for decentralization purposes. The latest token to join the 13,000 already listed on CoinGecko has been touted as one for culture, gaming, and commerce. The ERC-20 token will apparently function as a governance token for the ApeCoin DAO which aims to expand the Bored Ape ecosystem.
Introducing ApeCoin ($APE), a token for culture, gaming, and commerce used to empower a decentralized community building at the forefront of web3. ?

— ApeCoin (@apecoin) March 16, 2022
Airdrop to all Bored Ape holders
The ApeCoin DAO stated that over half of the total supply of APE will be allocated to the community which includes all Bored Ape NFT holders with a smaller portion going to the developer team. Yuga Labs announced that they will be adopting ApeCoin "as the primary token for all new products and services." This will include a blockchain game the studio plans to launch later this year.
Ape Foundation board members include Reddit co-founder Alexis Ohanian, head of ventures and gaming at FTX, Amy Wu, and co-founder and chairman of Animoca Brands, Yat Siu, among others. The first exchange to embrace the token was Coinbase which announced a listing on under the "experimental asset label." Most of the top exchanges followed shortly after.
BAYC hype makes itself known in numbers
According to CryptoSlam and OpenSea, Bored Ape Yacht Club (BAYC) has been the top-selling NFT collection over the past months with a weekly trading volume of roughly 100 million dollars. The second most popular NFT collection in terms of weekly sales volume is the sibling Mutant Ape Yacht Club (MAYC) which has generated over $50 million in volume.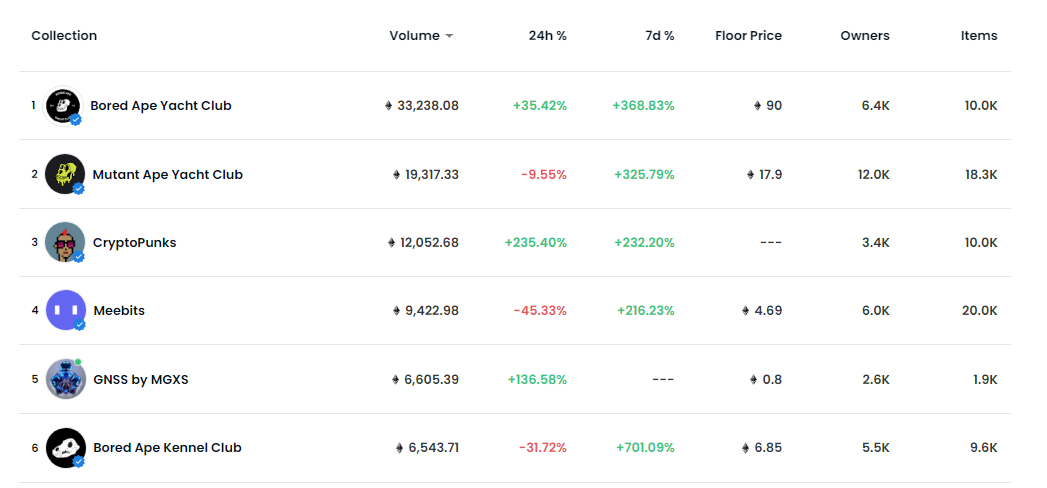 The two following collections, CryptoPunks and Meebits, also joined the Bored Ape family after the development team Yuga Labs acquired the intellectual property rights for the underlying brand. These announcements combined with a token airdrop to all Bored Ape holders have reinvigorated the NFT markets with volumes increasing by multiples over the past couple of days.