What exactly is the Metaverse? It is a virtual-reality space in which users can interact with a computer-generated environment and other users. Now, combine that with a fast and cheap blockchainand a fully functioning internal marketplacefor NFTs and you get Star Atlas.
Wikipedia describes the term metaverse as a collective virtual space created by the convergence of virtually augmented physical reality and physically persistent virtual space. The new possibilities of token economies and unique objects in the form of NFTs that originate from the crypto realm open up new application possibilities, especially in the gaming sector.
Trip to the Metaverse with Star Atlas
Patrick Heusser tested an exemplary project on the Solana Blockchain including a fully functional marketplace on Serum using the game Star Atlas. To learn more about what Star Atlas is and what it has to offer, read the white paper:
"Star Atlas is a virtual gaming metaverse based in the year 2620. In this distant future, three major factions have emerged; (1) The MUD Territory governed by humankind, (2) The ONI Region as a consortium of alien races, and (3) The Ustur Sector controlled by sentient androids. These factions are in an ongoing struggle for resources, territorial conquest, and political domination. You, a faction citizen of Star Atlas, will have the ability to influence the outcome of this intergalactic conflict while creating the opportunity to earn rewards for your contributions. This document describes the adventure ahead for new recruits. The metaverse introduces a unique gaming experience through the combination of both traditional core game and blockchain mechanics." – Excerpt from the whitepaper
You might be saying to yourself, "But I'm not a gamer". However, the intended audience for this game is quite broad. To begin with, it is built on a dual token system. ATLAS is the settlement token and POLIS is the governance token. The game is geared towards entrepreneurs, executives, cryptocurrency enthusiasts, video gamers, space travel enthusiasts, and economists (yes, economists!).
There was no question in my mind that I had to try it out, and so I joined about one month ago. At that point in time, it was only possible to buy collectibles (e.g., the Discovery of Iris):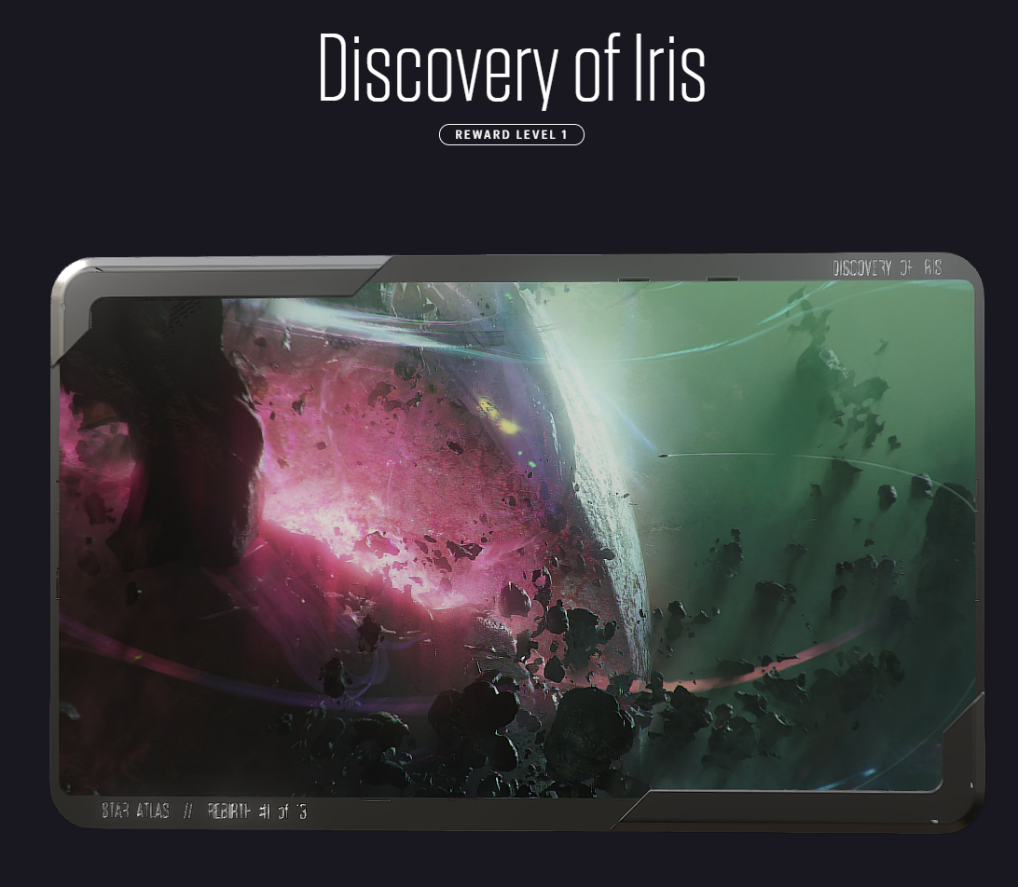 The collectibles have some pretty cool AR (augmented reality) effects. You can check them out on the Star Atlas page by clicking on the "view experience" button and then following the instructions on how to see them via mobile phone.
But what is Star Atlas all about?
Exploration
The grand strategy genre of video games encourages claim staking to expand your empire and install strategic trade routes using an offensive and defensive tactical plan of action. In this mode, the player primarily interacts with a dynamic overview of the charted and uncharted regions of space via the map view aka the Star Atlas.
Role-Playing Game
The first principle driving the entire economy of Star Atlas is the mining gameplay. The wealth derived from mining creates many other branching revenue streams for players to contribute to and establish a career. From trading raw and refined ore, to cargo hauling, to crafting retail components, there is a broad range of career choices a player can embody and advance within the specializations of that career.
Space Flight Simulation
The beauty of space science-fantasy adventure is to manually pilot or captain your own spaceship into the vast unknown. For exploration, combat, and various other role-specific game mechanics, the cockpit view gives a sense of ownership and grounding to a player's chosen ship purchases. This immersive first person, seated view will allow players to utilize equipment such as flight sticks, throttles, multi-functional button control panels, head tracking hardware, and most importantly, virtual reality head-mounted displays.
To fund the full vision of the Star Atlas universe, fundraising in the form of asset sales will take place (like the ones I participated in for the collectibles) in five phases based on development milestones: (there are no clear dates/deadlines when we can expect to jump into the next phase).
The Galactic Asset Offering (GAO – Phase 01) has just started, and players are able to buy ships, structures, access, and further collectibles. E.g., I am the proud owner of the following ships and structures: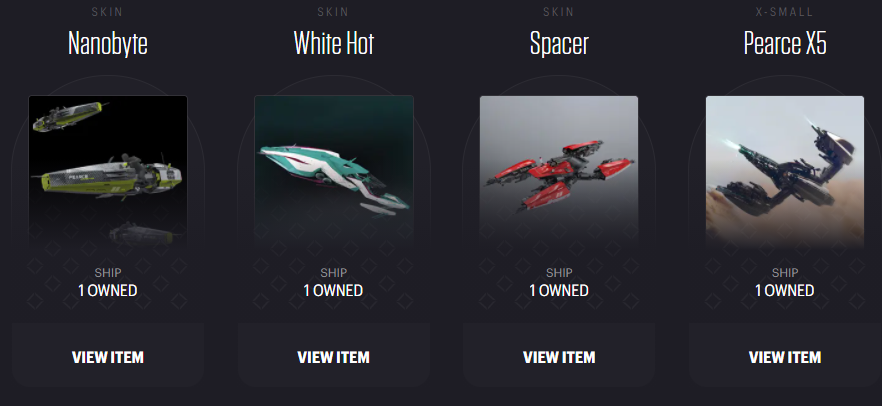 There is a fully functioning marketplace where you can trade your inventory. Currently, most players are still on the buy side getting ready for the next phase of the game. Sellers are mainly the creators and a few lucky ones who received airdrops on the back of their owned collectibles.
Further phases planned
Phase 02 will offer a browser mini-game. Basically, this means that a very limited version of the full-scale Star Atlas game will launch then.
Phase 03 will introduce the full version of Star Atlas, which will be launched in Unreal Engine 5. The first milestone of this version of the game will be a functional shipyard module. The description below explains what the capabilities of this new Unreal Engine 5 technology are:
"Nanite graphics technology has been in the works for over a decade and is set to release in 2021. Up until Nanite, polygons have bottlenecked the real-time rendering bandwidth. With Nanite compression, we have the ability to simulate cinema-quality real-time environments with the capability of managing billions of polygons." – Unreal Enginge Docs
When we get to Phase 04, all remaining pre-live assets will go on sale. All assets purchased in this phase are immediately and fully playable in a beta build of Star Atlas.
And then in the last phase, Phase 05, the game will have reached its final launch state. Ongoing sales of newly introduced assets will be limited to new concepts and post-live production ready assets developed by the Star Atlas development team. Basically, here we will reach the point where the Star Atlas gaming community and developers start to collaborate and decide together (in a kind of DAO) what could be up next.
Earn yields through gaming
Now let us return to the intended audience. The variety of facets that the game has to offer is astonishing. E.g., you can use the marketplace simply to lend some crypto assets to earn yield. Or, you can try to trade some of those assets on the back of their rarity. If you like generating steady income, you should buy a mining or power plant structure and sell your produced goods on the marketplace. If you like engaging in more political power games, you should try to build a DAC (decentralised autonomous corporation). Or if you are a gamer, you can offer your skills to other players which do not have the time to game and earn money that way.
Through the implementation of Decentralised Autonomous Corporations, entire space-cities can be constructed, and the micro-economy managed by those in charge. Careful strategic cooperation enables players to dominate regions, and the resources available therein. The POLIS token will serve a pivotal role in these cities, permitting the owners of political clout to impose taxes, fees, fines, rules, and laws on those outside the DAC wishing to gain access to these entirely independently owned cities. For more insights listen to the interview of the CEO and Co-Founder of Star Atlas Michael Wagner.