CV VC is an early-stage venture capital investor with a focus on startups that build on blockchain technology. A conversation with CV VC Founder and CEO Mathias Ruch about the blockchain revolution, venture capital and the Crypto Valley.
The foundation of the Crypto Valley can be traced back to 2013. The Swiss financial center and the boom in the Fintech industry had a significant influence on its development. Politicians and regulators were able to provide the necessary legal certainty at an early stage, thus laying the foundation for growth. Today, numerous companies are dealing with the introduction of digital assets, crypto currencies and decentralized infrastructure. Over the years, the region has enjoyed new company settlements and constant development. Meanwhile, an ecosystem of diverse companies around the blockchain technology including specialists for digital assets with a banking license has been established. Startups constitute an important pillar of innovation in this ecosystem. Their financing is secured by specialized venture capitalists, among others.
A conversation with the Founder and CEO of venture capital specialist CV VC, Mathias Ruch, about the blockchain revolution, start-up financing and the Crypto Valley.
CVJ.CH: How did CV VC come about?
Mathias Ruch: It was partially through luck that Ralf Glabischnig, Marco Bumbacher and I met each other and founded Lakeside Partners, the predecessor company of CV VC, in 2016. Marco and I had already founded the software startup Joya 20 years ago, which later became the TV show "Joya rennt". Meanwhile, he founded the IT company inacta together with Ralf in 2009. I continued to be active in the media and startup scene. A little while later, Olaf Hannemann joined the company, bringing 20 years of experience at JP Morgan and a lot of know-how from investment banking with him. We soon realized that something absolutely new and unique was emerging on our doorstep, the Crypto Valley, which was driving the Blockchain revolution. Instead of simply investing in the bubble, we decided to use our resources to build a local ecosystem for these new blockchain startups. We supported the entrepreneurs and visionaries with expertise, events and co-working spaces to promote a network comprised of all stakeholders. We organized thematic competitions, international conferences, co-founded the Crypto Valley Association and the Swiss Blockchain Federation. Only later, in 2018, did we begin to build a systematic and strategic investment model.
Why only in 2018?
At the beginning of 2018 it became apparent that the ICO hype was coming to an end. The correction was important and paved the way for sustainable, long-term projects. One can also say that common sense was back in the system. CV VC brought together a variety of different activities. This included CV Labs as the heart of Crypto Valley, so to speak. CV Labs is home to our three-month incubation program, during which startups get to develop and perfect their investor pitches, business plans and prototypes with the help of experts.
You have been at the forefront of the blockchain world for several years now. How satisfied are you with the developments in Switzerland?
I see myself as an enabler and bridge builder. I am convinced that the technology has similar potential as the Internet, which was developed 30 years ago at CERN, near Geneva. The problem is that the high expectations raised by the ICO hype have not been fulfilled: development is progressing more slowly, the potential is not (yet) visible and the benefits are not (yet) tangible enough. It is important to connect the different actors in the Crypto Valley and give the ecosystem a face, an identity. In addition, academia and, above all, politics must also be involved, as this is the only way to unfold the technology's full potential.
How did you do that in concrete terms?
We organized various roundtables and meetings with members of parliament, the heads of the Department of Finance and the Department of Economic Affairs, invited Federal Councillors to Zug to demonstrate the potential that blockchain offers Switzerland in a global context and to show that the entire industry wants reliable and future-oriented framework conditions. I am very confident since both the National Council and the Council of States have approved new Blockchain legislation without any dissenting votes this year and anticipate that Switzerland will thus have one of the most advanced and innovative regulatory systems in the world from summer 2021 onwards. In addition, our ecosystem has matured; we have regulated players who can meet global demand by supplying the infrastructure for tomorrow's financial market.
Why are you convinced that the Crypto Valley will win the race for a global blockchain hub?
The opportunity is huge. We can't afford to leave our hard-earned advantage to others who have now started catching up. The ecosystem, the entire Crypto Valley must be brought together, the offerings of all suppliers must be bundled and presented to a global market. I assume that especially in the financial sector, which is strongly rooted in Switzerland and Liechtenstein, the spread of new types of digital assets is expected to lead to leaps in innovation.
The path for secondary trading will be paved, as it is central to the success of digital assets. I also see that most corporations have now recognized the potential of the technology and are implementing their own projects and products. It would be nice if the investors, who have become somewhat more cautious this year due to Corona, would cast off their restraint and actively support the potential of the Blockchain Nation Switzerland.
What do you pay particular attention to when deciding for or against a startup investment? What are the prerequisites for a startup?
The standard answer is the right team with a great scalable idea in the right place at the right time! More broadly, it means spending a lot of time with the founders: Successful startups have a team that combines different know-how and different characters. The founders must complement each other and be able to tolerate discussions, contradictions and course corrections. Timing, on the other hand, can be the downfall of the best team if a great product comes to the market too early, finds no buyers and the startup runs out of breath – especially tricky in the current pandemic environment. Scalable in the digital world always means global anyway – a mindset that is a basic requirement for all startups we support. This does not mean, of course, that a product or service cannot first be tested and launched in a local market.
How does blockchain technology come into play?
The key point is that our startups want to solve a specific problem with blockchain technology. There must be more than a declaration of intent or an idea behind it, and a concrete implementation plan must be recognizable. Of course, we examine a variety of factors and the startups go through a multi-stage selection process – from the screening phase, through multi-stage interviews and in-depth due diligence, to our final investment committee.
What does the deal that is offered to the startups look like?
CV VC invests in startups in two ways. On the one hand, through our incubation program with a fixed offer for very young startups, and on the other hand through individual selective investments in selected startups that are already a little further along in their development.
Within the incubation program, startups receive an investment of up to CHF 125,000 and go through a three-month incubation program. In return, we receive 10% equity participation in the form of a convertible loan. After the selection process, the 10 to 20 selected startups are invited to Zug into the incubation program. During this time, they commit themselves to live in Switzerland and to participate in the workshops and one-on-one sessions with the experts. They will also meet the key players in the Crypto Valley, including investors. Upon completing the program, the startups will be accompanied and coached by us. We bring them into contact with investors and offer them opportunities to pitch and present.
And how do you proceed with selective investments?
In this case, both the amount of investment and the valuation depend on the maturity of the startup. Our focus is clearly on startups in the early seed, pre-series A, and series A financing rounds. Valuations there range from 3 to 20 million, depending on the stage of development, and our investments range from CHF 100,000 to 500,000. We are a good partner for our startups thanks to our role in the ecosystem, our own CV Labs in Zug, Vaduz and Dubai and our global network.
Through our consulting activities we have good connections to the economy, investors and politics. Through our own events – from small meetings to our large CV Summits with over 1,000 participants – we offer our startups specific opportunities to bring their vision to a broad audience.
Financing of startups sounds like a hobby for the super rich – isn't that extremely risky?
Startups are the backbone of any innovation-driven economy. A nation that wants to expand its economy depends on entrepreneurs who can recognize opportunities, take risks and inspire people. In the past, startup entrepreneurs were named Alfred Escher, today Niklas Nikolajsen. Because startups do not have marketable products and therefore no sales at the beginning, they need investors, be they individuals, companies or venture capital funds.
Investing in individual startups is in fact a risky business, because investments in the early stages of a company have inherent risks and often require a lot of capital before a profitable business model is created. Therefore, from an investor's perspective, it is absolutely crucial to invest only in people, companies and industries that you believe in and understand and to achieve a high degree of diversification. This is the only way to achieve a good risk optimization.
What is the approximate rate of failure for startups?
It's somewhere between 80 and 90%. But it is normal that many great ideas do not make it to the market and you have one or two write-offs. So in the end, a portfolio approach needs a few startups that have excellent development and high value-added to make investments profitable. This is where the real rational for our existence lies: in our industry expertise, our network and the possibility of broad portfolio diversification.
Isn't that what every venture capitalist is claiming?
What makes CV VC different from others: We are convinced of the ecosystem approach and have internalized two principles: 1. The consistent focus on a disruptive technology, on Blockchain. Thirty years ago, the Internet was invented in Switzerland, but its great commercialization did not take place in Switzerland or Europe, but in the USA and China. Now we have the chance and the opportunity to invest in Switzerland as the point of origin for the next wave of global technology companies. 2. For a technology to make a breakthrough, it needs an ecosystem, as was the case in the Silicon Valley in the 1990s. We have made targeted investments in this ecosystem called Crypto Valley, with CV Labs and our events bringing together the right people, visionaries, entrepreneurs, investors, developers, lawyers, academics, … This ecosystem is a fertile breeding ground for the Crypto Valley.
Which investment in your portfolio are you particularly proud of?
This is a difficult question, because we have made every single investment with full conviction. We are proud of each and every startup because each team is passionate about its work, unwavering in its focus and hungry for success. That's why I don't want to single out any single company.
That sounded very diplomatic. You must surely have some favorites, right?
All right, let's put it this way: First of all, I would like to highlight the wide range of our still young portfolio. We are proud that we have managed to invest in 27 exciting startups from 16 countries and 4 continents in less than 18 months. The fact that the applications and end markets of our startups are so different particularly illustrates the future potential of Blockchain technology.
Some startups are already very successful: two have doubled their valuation, one is about to quintuple its valuation, and another one has raised 725,000 euros in funding.
What is CV VC's approach to investing?
Our portfolio is fully focused on Blockchain Technology For Tomorrow – T4T. These are end markets and applications that are expected to grow disproportionately in the future, driven by current socio-economic trends. We therefore focus on the following six sectors: Future of Work, E-Commerce & Logistics, Lifestyle & Health, IT Security & Identity, Education & Science and Finance & Investments. We are convinced that blockchain technology will play a catalyst role for innovative solutions in all these sectors.
With your latest product, you allow "normal" investors to access investments that would have been unthinkable just a few years ago. What is driving them and what is the way forward?
We are driven by the potential of blockchain technology and the cooperation with young, committed startups. This is now being made available to a broader group of investors – an important step for us. Together with the specialists from GenTwo Digital and MRB Asset Managers AG, we are launching a so-called Actively Managed Certificate (AMC). This is a Swiss security with an ISIN number that can be easily booked into your own securities account via existing banking partners. Due to the risk class of venture capital, buyers must be qualified investors under either Swiss law or the law of their country. For large venture capital and private equity funds, the minimum requirements are often several times higher than with us.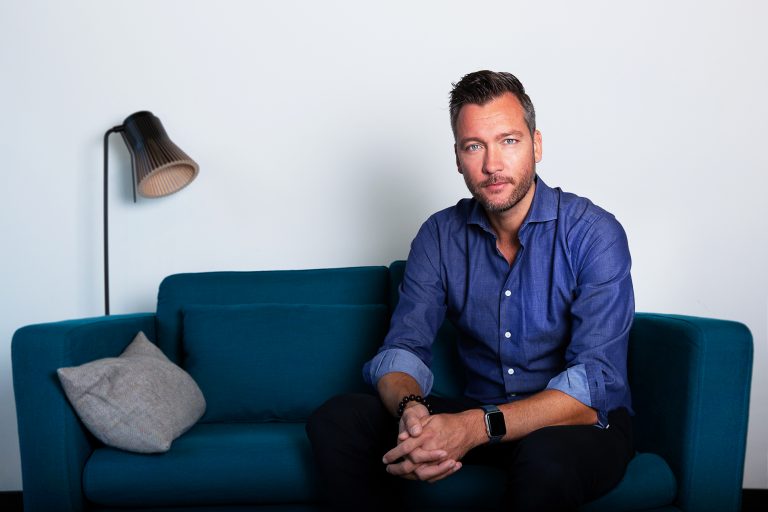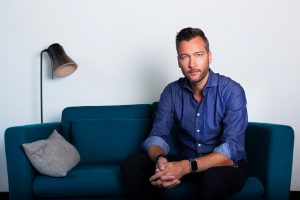 Mathias Ruch, who originally studied economics and media, has been an entrepreneur and investor in the digital start-up scene for 20 years. He founded, managed and exited several companies, including FaroTV and the innovation platform Atizo. Today he is a driving force in the development of the global blockchain start-up ecosystem and co-founder of the Swiss Blockchain Federation.