The US Securities and Exchange Commission (SEC) has filed a civil lawsuit for fraud against Do Kwon and Singapore-based Terraform Labs Pte. Ltd. in a federal court in Manhattan. The SEC accuses them of misleading US investors who invested billions in LUNA and the TerraUSD stablecoin.
According to the SEC, Kwon and Terraform Labs misrepresented the risks of TerraUSD and deceived investors about the use of LUNA in South Korea. The lawsuit includes allegations of fraud, the sale of unregistered securities, the sale of swaps based on unregistered securities, and other charges. Prosecutors in South Korea have issued an arrest warrant for Kwon and Interpol has issued a "Red Notice" seeking his arrest worldwide. The SEC lawsuit comes almost a year after the effective collapse of the Terra/Luna ecosystem and is part of a broader crackdown on the cryptocurrency industry.
Terra/Luna crash: $40 billion wiped out
Algorithmic stablecoins follow a different approach than centrally issued dollar tokens such as Tether (USDT) or USD Coin (USDC). In this case, an algorithm or protocol acts as a central bank and is responsible for maintaining the stability of the stablecoin. In theory, the mechanism should be able to counteract inflationary or deflationary tendencies of the relevant stablecoin through the issuance and redemption of its own protocol tokens. In practice, such models only work with a steady increase in demand and are very vulnerable to disproportionate redemptions by investors in the reverse case, as CVJ.CH warned weeks before the crash.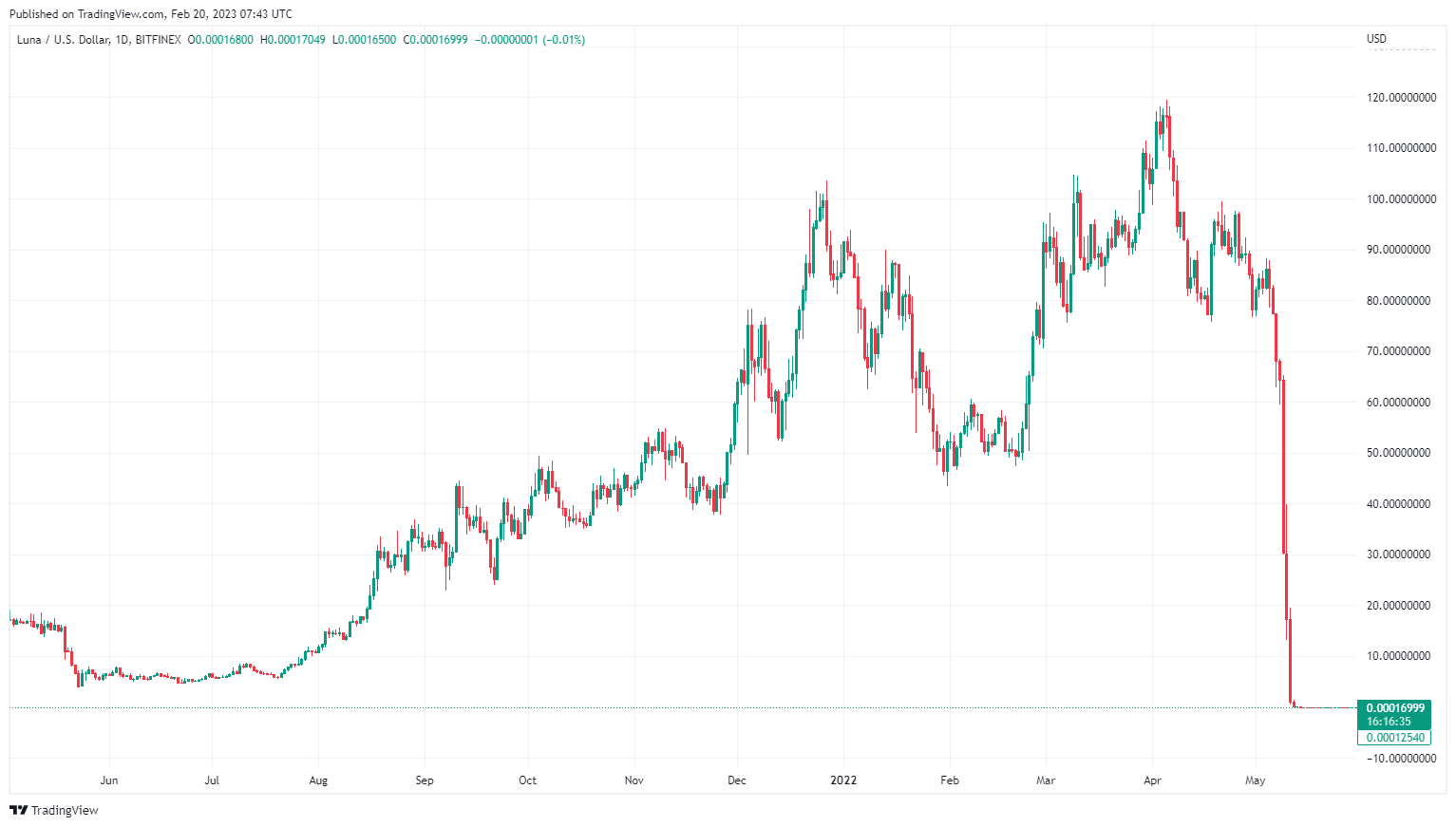 According to the SEC's lawsuit, Kwon and Terraform's plan led to a loss of at least 40 billion US dollars in market value. In April 2022, the market capitalization of the LUNA token was among the top 10 largest cryptocurrencies in the world, and TerraUSD (UST) was ranked among the top 5 stablecoins. Among the investors were US-based investors, which is why the SEC considers the Terra case within its jurisdiction.
SEC accuses Terraform Labs of fraud
The SEC alleges that Terraform and Kwon repeatedly misled the investing public about one of the most important aspects of the Terraform offering: the stability of the UST stablecoin. Terraform and Kwon emphasized the supposed effectiveness of the algorithm underlying UST in maintaining its peg to the US dollar. In reality, an unnamed US trading firm had to intervene repeatedly in the market process. Additionally, the narrative of adoption in the real world through the payment app Chai was entirely fabricated.
"From at least April 2018 to May 2022, Terraform and Kwon sold crypto securities in unregistered transactions and operated a fraudulent scheme that resulted in a loss of at least 40 billion US dollars in market value - including devastating losses for US retail investors and institutional investors." - SEC lawsuit in a New York court