The world of cryptocurrencies has experienced rapid development in recent years as more and more companies invest in blockchain technology. "The State of Crypto: Corporate Adoption" sheds light on the current state of crypto adoption by businesses and its impact on the global financial system.
The world's leading Fortune 100 companies are increasingly focusing on crypto, blockchain, and Web3 technologies. Companies such as Google, Goldman Sachs, and IBM recognize the need to modernize the centuries-old global financial system to remain competitive in the evolving global economy. A recent study conducted in collaboration with The Block reveals the growing adoption of blockchain-based technologies and the driving forces behind it.
Corporate giants innovate with crypto and blockchain
Fortune 100 companies are heavily investing in crypto, blockchain, and Web3 technologies due to their potential to reshape the global financial system. Of the Fortune 500 executives familiar with cryptocurrency or blockchain, 64% emphasize the importance of investing in these technologies to gain a competitive advantage. The study highlights the significance of blockchain for data collection, management, supply chains, and overall financial system improvement. As a result, several initiatives have been launched by major tech firms and banking giants over the past few years.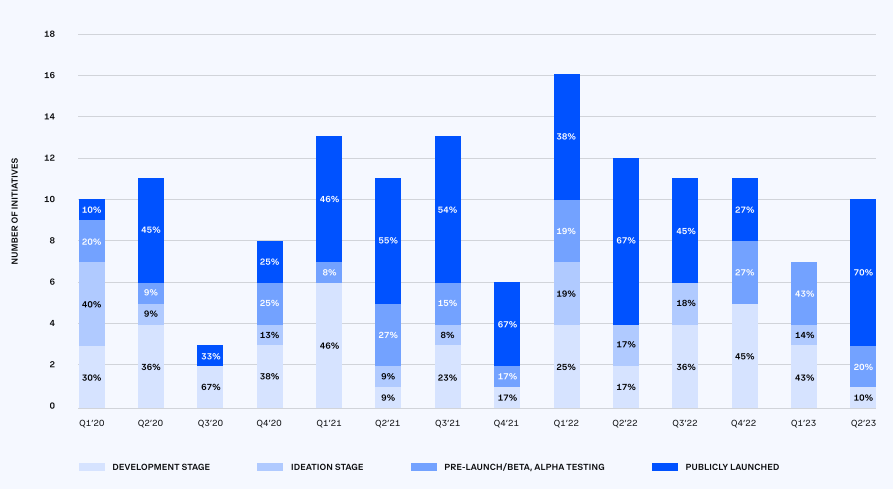 Furthermore, blockchain technology offers unparalleled transparency and security, enabling companies to streamline their operations. It helps reduce fraud and strengthen customer trust. By utilizing smart contracts and decentralized networks, companies can automate processes, improve efficiency, and establish new trust models with their partners and customers. Integrating blockchain into existing systems can revolutionize data management by enabling seamless collaboration among multiple companies and eliminating the need for intermediaries.
Leading Fortune 100 companies rely on Web3
Within Fortune 100 companies, the technology, financial services, and retail sectors are leading in Web3 adoption. The top ten brands in terms of Web3 initiatives include industry giants such as IBM, Alphabet, Microsoft, and Goldman Sachs. Technology companies focus on infrastructure, supply chain management, and data collection, while financial services mainly explore payments, crypto trading products, and tokenization. The retail sector has recently witnessed a strong surge in Web3 initiatives, diversifying the sector's involvement.

The increasing integration of Web3 technologies in these sectors points to a fundamental shift towards a more decentralized and digitized future. For technology companies, Web3 initiatives mostly involve developing robust infrastructures to support the growth of decentralized applications and enable seamless interoperability.
Financial service providers are exploring new ways to utilize blockchain and smart contracts to revolutionize payments and settlements, improve transaction speed, and enhance security. Retail brands, on the other hand, are using NFTs and Web3 technology to enhance customer engagement, offer unique digital assets, and create immersive experiences in the metaverse.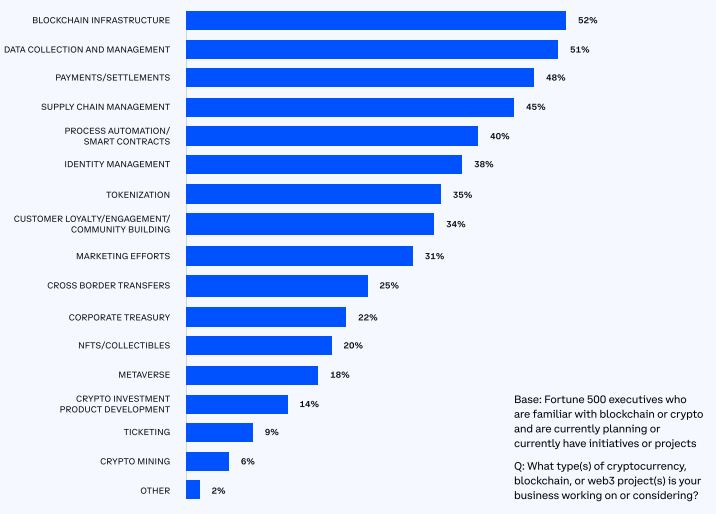 Clear regulations and qualified professionals are key elements of adoption
To achieve broader adoption in businesses, educating companies about the benefits of crypto and Web3 technologies is crucial. Many executives cite lack of understanding and perceived lack of investment profitability as obstacles to adoption. Additionally, collaborating with developer communities and educational institutions can help bridge the talent gap in this field.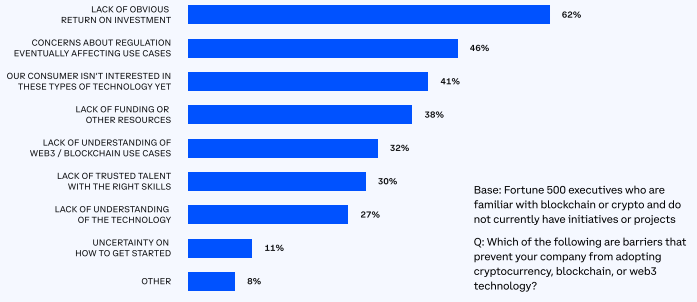 Another essential factor is regulatory clarity, with the majority of executives emphasizing the need for clear rules to navigate the crypto and blockchain space effectively. Governments and regulatory authorities also play a crucial role in promoting innovation and creating an environment that supports the growth of crypto and Web3 technologies. By establishing clear and comprehensive regulations, policymakers can provide companies with the confidence and security they need for investing in these transformative technologies.
Concluding findings
In summary, the increasing adoption of crypto, blockchain, and Web3 technologies by Fortune 100 companies demonstrates that their potential to revolutionize the global financial system has been recognized. As companies continue to invest in these technologies, overcome obstacles, and collaborate with regulatory authorities and educational institutions, the future looks promising for broader adoption and integration of Web3 into business operations. Ultimately, this will reshape industries and unlock new opportunities for growth and innovation.