A new study examines how technological developments, particularly the introduction of OpenAI's ChatGPT model, can significantly impact financial markets and cryptocurrencies. An overview of the convergence between two of the most meaningful technologies of the modern era.
We are excited to share the findings of our recent research article "The influence of ChatGPT on artificial intelligence related crypto assets: Evidence from a synthetic control analysis" that explores how technological developments, specifically the launch of OpenAI's ChatGPT model, can significantly affect financial markets, particularly cryptocurrencies.
New technologies sprout
In today's world, the burgeoning field of artificial intelligence (AI) is influencing nearly every aspect of our lives. From powering personalized recommendations on our favorite streaming platforms to enabling advanced medical diagnostics, AI's potential seems limitless. Simultaneously, in the realm of finance, cryptocurrencies have emerged as a disruptive force, challenging traditional notions of currency, value transfer, and asset ownership. AI and cryptocurrencies, two significant technological trends of the 21st century, are now beginning to converge, presenting intriguing opportunities and complex challenges.
This backdrop led us to explore how a significant development in AI could ripple through the world of cryptocurrencies. Specifically, we focused on the launch of OpenAI's ChatGPT that has garnered substantial attention for its ability to generate human-like text. It is the latest milestone in AI's evolution and represents a significant leap forward in natural language processing technology.
Subscribe to our newsletter
The best articles of the week, directly delivered into your mailbox.
Basis of the study
The context of our study was also shaped by the broader cryptocurrency market dynamics at the time of the ChatGPT launch. Although the cryptocurrency market was in a bearish state during data collection and indicated a general downward trend in prices including investors being risk-averse, we hypothesized that the launch of such a cutting-edge technology could have a distinct impact on AI-related cryptocurrencies. Why? Because these digital assets are often closely linked to the fortunes and advancements of their underlying technology, which in this case, is AI.
Understanding how public attention shifts in response to technological innovations forms a vital part of our study's background. As we live in an era where information is readily available, trends can quickly gain traction and equally quickly fade away. However, the launch of ChatGPT was not an ephemeral phenomenon. Instead, it caught the sustained attention of the public, retail investors, and even institutional investors.
"So Binance has been using AI in its products in some areas. For example, our team recently integrated Chat GPT into Binance Academy.... You can interact with the AI and if you ask for something, the AI will try to give you an answer." - CZ, CEO of Binance
Our study is situated at the intersection of AI's continuous evolution, the volatility of the cryptocurrency market, and the significant role that both retail and institutional investor attention plays in shaping financial markets. As we unravel the effects of the ChatGPT launch on AI-related cryptocurrencies, we believe our findings will shed new light on how technological advancements can influence the financial landscape.
Analysis of the study datasets
The analysis required a comprehensive dataset of AI-related cryptocurrencies which we sourced from two of the most popular cryptocurrency data platforms, CoinGecko and Coinmarketcap. Both platforms provide curated lists of cryptocurrencies related to various sectors, including AI. By leveraging these resources, we were able to construct a robust dataset, representative of the diverse range of AI assets available in the market.
The use of these lists presented us with certain challenges since CoinGecko adopts a narrower definition for categorizing AI assets, which results in a more concentrated list of tokens, whereas Coinmarketcap uses a broader categorization, which includes AI and Big Data-related tokens.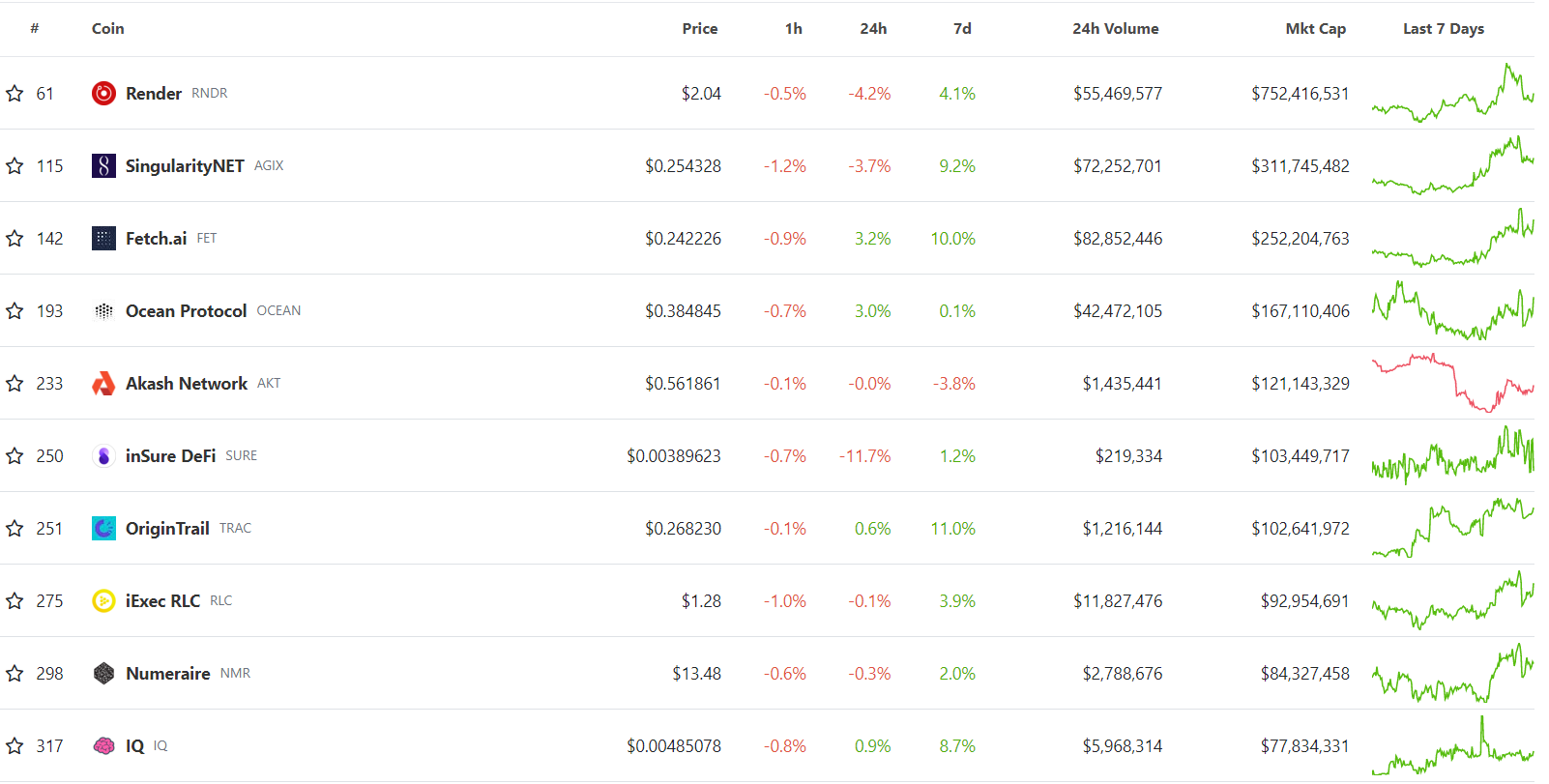 Thus, we decided to create two panels for our analysis - Panel A, based on CoinGecko's list, and Panel B, based on Coinmarketcap's list. This approach allowed us to test our hypotheses across different classifications of AI assets, thereby enhancing the robustness of our results. To measure the impact of the ChatGPT launch on the performance of AI assets, we used a method called Synthetic Difference-In-Differences (SDID). At its core, SDID involves comparing the changes in an outcome variable, in our case, the returns of AI assets, before and after an event – the launch of ChatGPT.
In our study, we used non-AI assets as the control group and AI assets as the treatment group. By comparing the changes in their returns before and after the ChatGPT launch, we could ascertain the effect of the event on the performance of AI assets. Importantly, the synthetic control group in our SDID model ensured that the observed effects were truly attributable to the ChatGPT launch and not to other factors influencing the cryptocurrency market as a whole.
The impact of ChatGPT on AI asset prices
Our Synthetic Difference-In-Differences analysis provided some eye-opening results. We discovered that, in the wake of the ChatGPT launch, AI-related cryptocurrencies or AI assets experienced significant price increases even though we were facing a generally bearish cryptocurrency market and a risk-averse investment climate at that time.
We observed that AI assets on average saw price hikes of at least 10.7% in the one-month period and as high as 35.5% in the two-month period following the ChatGPT release.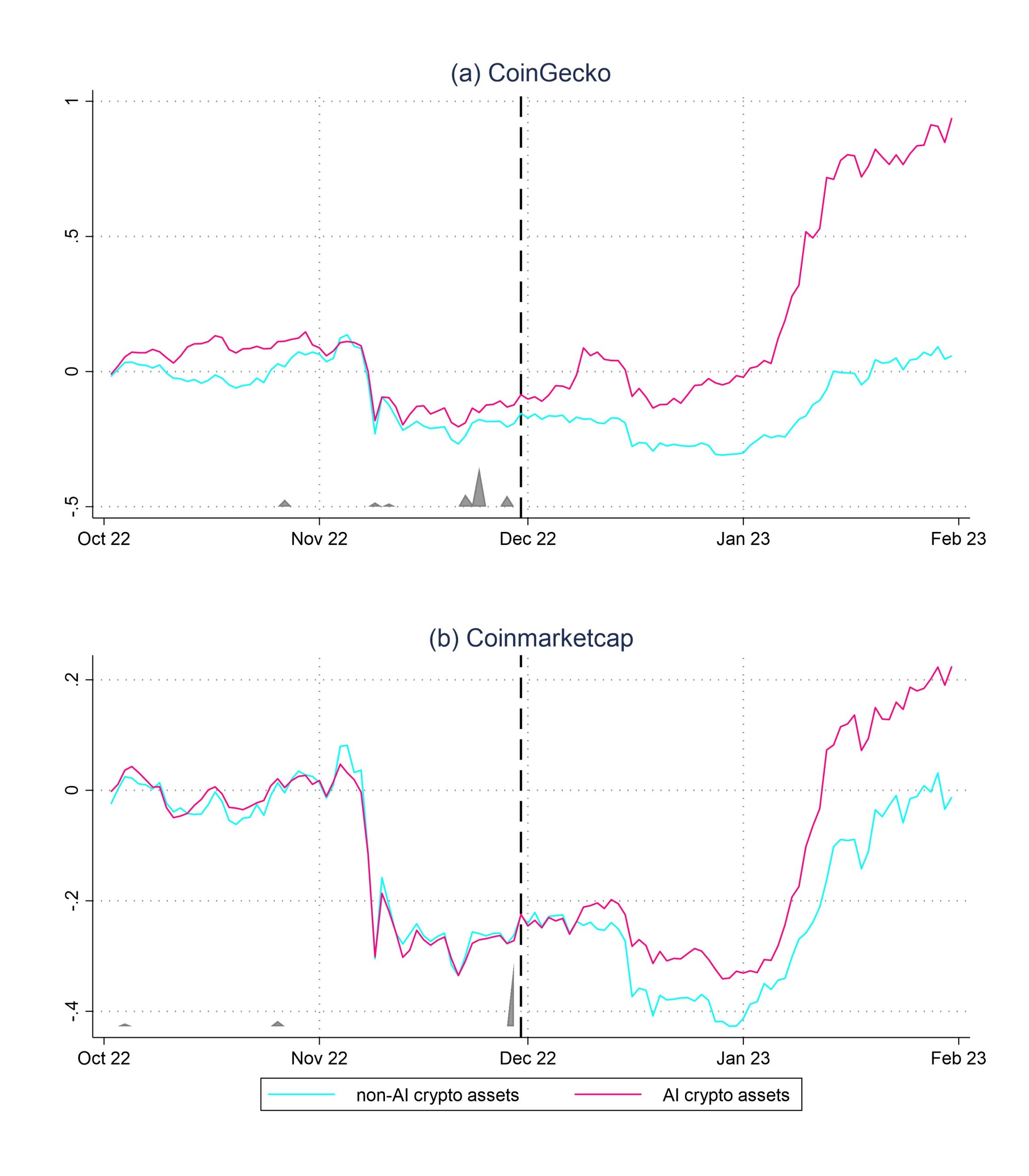 These findings suggest that the launch of this transformative AI technology, accompanied by the wave of attention it garnered, influenced investors' perceptions of the potential inherent in AI, leading to an uplift in AI-asset valuations. It is an intriguing illustration of how technological innovation and its surrounding publicity can have tangible effects on financial markets.
Impact of the interest of private and institutional investors
Our analysis revealed intriguing insights about how retail investor attention, as measured by Google Trends search volumes for AI, Artificial Intelligence, and ChatGPT, influenced the performance of AI-related crypto assets. Prior to the launch of ChatGPT, changes in search volumes for these terms did not significantly affect the returns of both AI-related and non-AI-related assets. However, this dynamic noticeably shifted after the launch. While the search volumes remained irrelevant for non-AI assets, they became highly relevant for AI assets. In fact, we found that increases in searches were associated with positive increases in AI-asset returns. These findings support the notion that media attention can shape investor sentiment and market outcomes.
In the following we used the frequency and sentiment of financial news articles on Eikon as a proxy to measure institutional investor attention. Similar to retail investors, the reaction of AI and non-AI-asset returns to changes in institutional investor attention was not statistically significant before the ChatGPT launch.
However, post-launch, AI assets exhibited statistically significant reactions in some instances, although the impact was less pronounced than that observed among retail investors. These findings align with a JP Morgan survey, which found that a majority of institutional investors were not planning to engage in cryptocurrency trading.
Conclusion and Implications
Our study demonstrates that the launch of a technological innovation like ChatGPT can significantly influence financial markets, specifically AI-related cryptocurrencies, even in a bearish market environment. The spillover effect of the increased attention towards ChatGPT and AI more broadly resulted in greater valuations for AI assets. In terms of signaling theory, this suggests that media coverage can serve as a quality signal for investors, highlighting the potential of new technologies and their corresponding market opportunities. This could have far-reaching implications for future technological launches and how they might influence financial markets.
This research opens up avenues for further studies exploring spillover effects from AI-related stocks to AI-related crypto assets, the role of influencers in promoting new technologies, and the mechanisms by which "AI-mania" propagates. As AI continues to evolve and influence various sectors, it's crucial to understand its broader economic implications.