Non-fungible tokens (NFTs) have garnered a lot of attention in the past couple of months. Although most projects are currently focussing on art or static images, the potential of the technology go far beyond. A look into the future of non-fungible tokens and the merge between the physical and digital world.
Based on the findings in the first and second article in this series, it could be argued that the current NFT craze and its many digital-only use cases will not be going away anytime soon. Despite society's advanced stage of digitalisation, we can be pretty certain that humans will continue living in the physical world. However, certain questions remain: Where do and will we spend most of our time and resources? And how will these two worlds merge into one interconnected one? There are currently several projects around the world that are trying to merge our real "physical" world with the digital one, balancing value creation between both worlds.
In this last article of this NFT series, we are going to look at some of these future-oriented use cases. They are very likely the most powerful ones, which will serve to shape our future as well as create new and enhanced business models. By including off-chain and non-digital value into NFTs, we may very well be entering into a new era of wider adoption.
Limited retail products & services
The creation of limited and exclusive physical products is not new. Issuing an NFT that represents a product that can be sold in a pre-sale (prior to production) is also not revolutionary, but there is one great advantage: an NFT can be exchanged without an intermediary, and with the ease of a mouse click.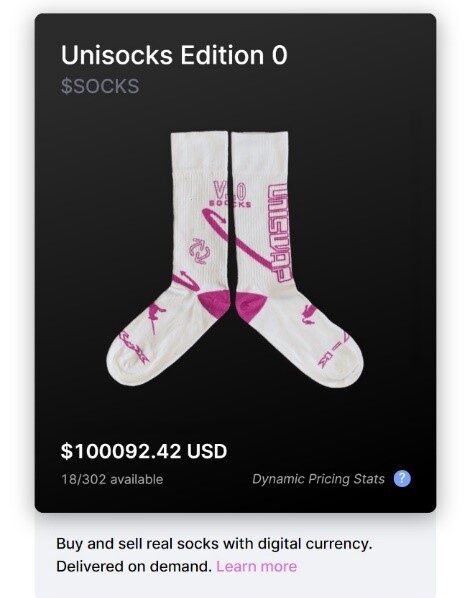 Unisocks, for example, are 302 NFTs, which are currently trading at roughly USD 100,000 each ($SOCKS). The special thing about this NFT is the fact that you can buy and sell real socks with digital currency. They are delivered on-demand. On-demand in this case means that you have the possibility to burn (i.e. destroy) your NFT in order to receive one pair of Unisocks. Currently, only 18 out of 302 socks are available.
Pursuing this idea further, it becomes clear that the same concept can, of course, be applied to services. Already back in 2018, and far ahead of his time, a fellow thought to tokenise himself. He issued tokens that represented one second of his time. This concept designed for entrepreneurs and consultants took a "free-market" approach: token owners could receive the benefits of their experience for a period of time, depending on how many tokens they had. The more competent his work, the higher the demand for his skills and knowledge, and the higher the value of the tokens. Conversely, the lower the quality of his work, the lower the value of his token.
Fan involvement
Another big advantage of NFTs is that you can eliminate physical boundaries and involve global communities and/or fans to partake in the activities of their club, even though they live far away from the stadium, to name one example. There are companies, such as socios, which are creating fan NFTs for football clubs all over Europe, incl. Juventus Turin, FC Barcelona, and Young Boys Bern. Through NFTs, they aim to monetise the global fan communities by providing them with the possibility of "becoming more than just a fan". Each NFT holder can influence the team by voting on the design of the jersey, gaining access to VIP rewards, participating in exclusive promotions, and joining a global community of superfans. This essentially creates different and new revenue streams for sport clubs, and increases fan interaction. It is essentially, Panini collectibles on steroids.

Another extremely popular project is NBA Top Shot. NBA Top Shot is a digital collectibles collaboration between the National Basketball Association (NBA) and Dapper Labs, the company behind the groundbreaking NFT CryptoKitties platform in 2017 mentioned in the previous article. NBA Top Shot is a blockchain-based platform that allows sports fans to buy, sell, and exchange licensed video clips of a specific game highlight in unique formats. The videos are represented by tradable NFTs that also contain other relevant information, such as statistics about the specific game and the player featured in the clip. The project began in 2019, spent the majority of 2020 in development, and peaked in popularity in 2021, with over one million registered members, and a total year-to-date sales volume of over USD 700 million.
In addition to the Top Shots team's long-term growth goals of integrating their NFTs with e-sports, a number of NBA players have recognised the project's significance and have found new ways of interacting with their fans directly. Some players quickly became frequent Top Shot users who periodically livestreamed themselves opening new packs. Interestingly enough, others have even started exchanging tokenised "Moments" for real-world experiences, e.g. courtside seats or a specific game jersey in exchange for an NFT.
Community building
NFTs are not only exciting for sport fans, but also for the followers of certain companies, platforms, and influencers. For businesses, NFTs can help build communities while simultaneously simplifying monetisation. One good example is GaryVee, one of the most famous internet personalities when it comes to entrepreneurship and marketing. He recently launched an NFT collection called VeeFriends, which will give its holder exclusive access to digital content as well as community events and even physical consulting hours. This kind of concept empowers all kinds of digital creators, giving them the possibility to monetise their reach and become less dependent on big platforms.

In the future, influencers, in particular, may find NFTs to be a great tool to interact with their communities – both in serious and less serious ways. Post Molane, for example, just recently auctioned off an NFT to play beer pong with him.
New models and their limitations
What makes NFTs such a fascinating sector is their large and growing use case. This is because of their interoperability across many applications and industries. It is also the case that there often exists overlaps between use cases. E.g., a piece of art can be used in a game, and trading cards are not only there to be collected, but can also be used to meet a sports idol. An in-game item might become a collectible, and a unique music NFT might possibly end up being a ticket.
As with everything new, there are still many technical as well as legal hurdles around NFTs. These have not been addressed in this article. What happens if there is a bug in a Smart Contract? Who would be liable for a loss? Can ownership, i.e. shipment of a physical asset, be enforced simply by holding a token? Yet again, our regulators will play an important role in the future development of this space. Only time will tell which projects will survive and which ones will really take off.