Yuga Labs, the crypto studio behind the popular Bored Ape Yacht Club (BAYC) NFT collection, revealed initial plans of their own metaverse: Otherside. The roughly year-old startup took in around $320 million with the controversial sale of digital land pieces in this gaming world.
Otherside aims to become a metaverse game world that brings together various NFT projects such as the Bored Apes, CryptoPunks, Meebits, Cool Cats and others. BAYC developer Yuga Labs is designing the project in collaboration with game developer Animoca Brands. Pieces of land, called "Otherdeed" NFTs, act as the basis of the Otherside world; similar to the digital real estate in crypto-metaverses like The Sandbox and Decentraland.
The Otherside Metaverse
Since Yuga Labs' cryptic tweet in March, excitement has been building for a new product in the Bored Ape ecosystem. Around the same time, the company announced its partnership with Animoca Brands to build this game world. The game world's teaser features a monkey in flip-flops and a hat enjoying his evening. After he fishes out a magic potion and drinks it, he is sent to the "Otherside" – a bizarre world full of lava, ice and flying islands.
See you on the Otherside in April. Powered by @apecoin pic.twitter.com/1cnSk1CjXS

— Yuga Labs (@yugalabs) March 19, 2022
On his strange adventure he meets other well-known NFT avatars. Among them are a CryptoPunk, a Mutant Ape, Cool Cats and others. Thus, it was implied that the Yuga Labs metaverse will not be accessible exclusively to the bored apes. Rather, the game world will be open to all NFT avatars. Projects and creative minds will also have access to a developer kit that can be used to import any avatar.
Otherdeeds as land pieces in the Bored Ape world
Otherdeed NFTs are key to claiming land in the Otherside metaverse. Each NFT has a unique mix of environment and sediment – some have resources, others contain powerful artifacts, and an alien ("Koda") roams on a few. Of the first 100'000 NFTs for the virtual world, the majority were sold in an auction, with existing owners of Bored Ape NFTs and the development team getting some land.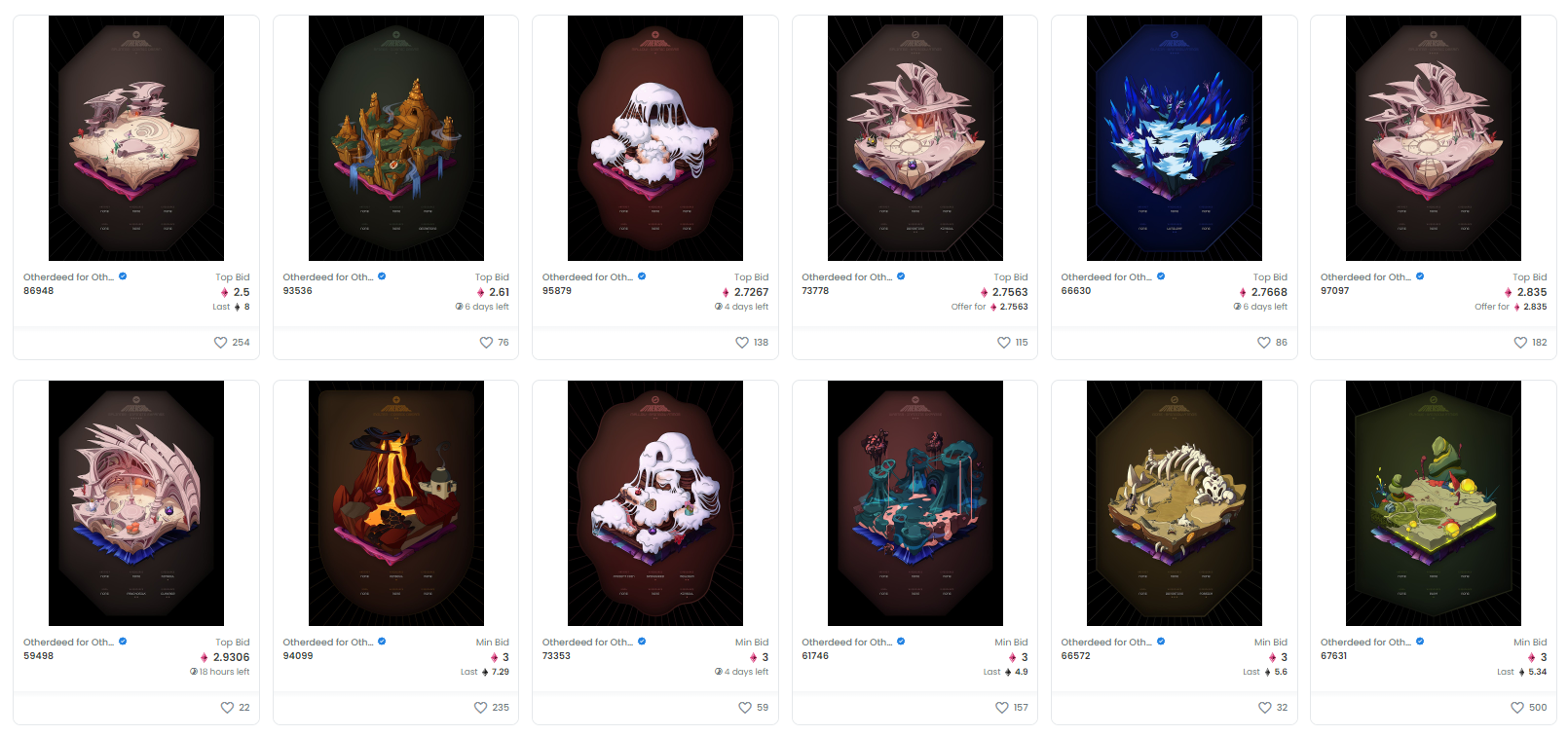 Owners of Otherdeed NFTs can participate in prototype builds, demos, and tests that will influence the final game design and experience. Each Otherdeed is a dynamic NFT made up of a collection of elements that will evolve as components are shifted. How exactly the game experience will look like, or in terms of land pieces, is still unclear.
Cashgrab for Yuga Labs investors?
After just 24 hours, Yuga Labs raised over $300 million through the land auction. However, this was not without controversy. The huge demand for the NFTs caused transaction fees on Ethereum to skyrocket, prompting Yuga Labs to hint at its own blockchain. In response, some users accused the crypto studio of creating non-existent problems in order to launch new products and generate more revenue.
You wrote a terribly unoptimized contract, created a gas war, lied about dutch auction mechanics to pump your own narrative, and hid how many wallets were eligible

Maybe get a solidity dev before you go around trying to create BSC 2.0?

— foobar (@0xfoobar) May 1, 2022
References quickly followed to the leaked pitch deck that Yuga Labs sent to venture capitalists a few months ago. This shows not only the roadmap, but also how Yuga Labs intends to generate long-term cash flow for investors.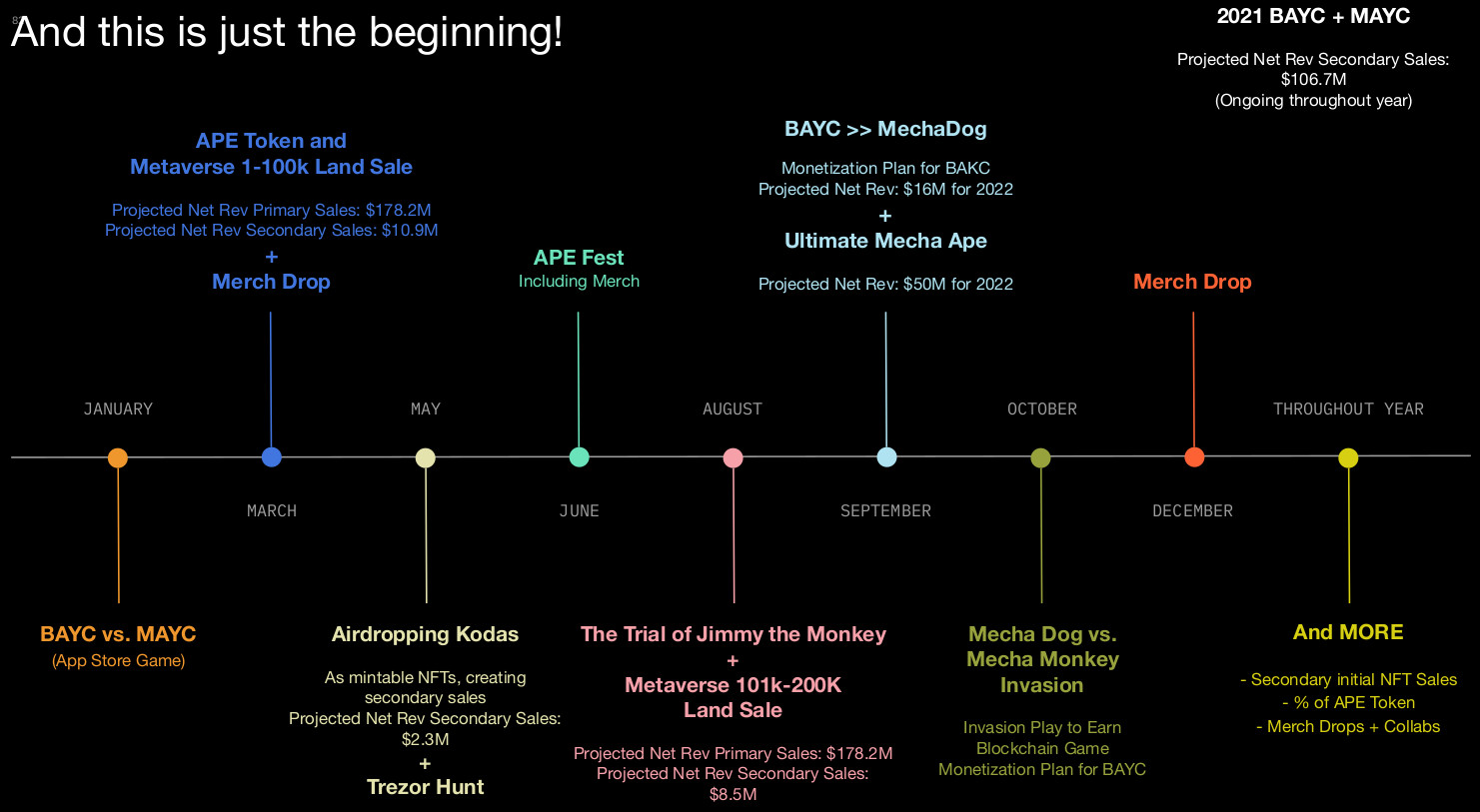 With various events throughout the year, the startup aims to raise just under half a billion, a portion of which will go toward the development of the Otherside metaverse. The pitch deck seemed to convince, as Yuga Labs closed a $450 million funding round in mid-March. Investors included venture capitalists a16z, Animoca Brands, FTX and more.