After nearly four years of silent existence, the value of the strictly limited pioneers of the NFT standard is gradually being recognized by the art movement. The possibilities of digital rights, unique and verifiable, is reaching an expanded investor base.
A non-fungible token known in the cryptocurrency world as an NFT is a cryptographic asset that represents ownership of something unique that cannot be exchanged. Most NFTs are created on the Ethereum blockchain and represented as ERC-721 tokens, an established standard for non-fungible tokens on the Ethereum network.
Unique digital images in the form of NFTs are currently experiencing a huge boom. The weekly trading volume was recently close to USD 300 million. The most traded NFTs refer to the genre of CryptoPunks, which are considered the catalyst for the modern crypto art movement. Their status in the crypto ecosystem has made CryptoPunks a mark of legitimacy and identity for their holders.

What are CryptoPunks?
CryptoPunks were released in June 2017 as one of the first non-fungible tokens (NFTs) on the Ethereum blockchain. The project was developed by American studio Larva Labs, a two-person team consisting of Canadian software developers Matt Hall and John Watkinson. The experimental project was inspired by the London punk scene, the cyberpunk movement and the electronic music artists Daft Punk. The crypto art project was an inspiration for the ERC-721 standard, which did not exist at the time, and the modern blockchain art movement. Many investors and collectors consider CryptoPunk's NFTs as pop art, blue chip digital art investments and digital Warhols.
They are 10,000 unique digital collectibles with proof of ownership stored on the Ethereum blockchain. No two Punk's are alike, and each of them can officially be owned by only one person. Originally, they could be requested for free with an Ethereum wallet, which is equivalent to fair distribution. Currently, CryptoPunks are distributed across nearly 2,700 addresses. There are various marketplaces where they are traded. An aggregated overview can be found at the publisher Larva Labs.
Traditional auction houses auction off CryptoPunks
In May 2021, the first nine CryptoPunks were sold at Christie's for $16.9 million. It was the second-largest NFT purchase ever, following the sale of a Beeples for $69 million in March. The auction of nine CryptoPunks came from Larva Labs itself. The group initially kept 1,000 of the NFTs for itself and gave away the rest.
The trend was also spotted by auction house Sotheby's. After the "Alien" punk with the "Covid Mask" #7523 fetched $11.8 million in June, setting a new record for a single CryptoPunk, Sothebys announced another auction.
The 24 signed prints created at the inception of CryptoPunks are rare in themselves. In addition, each of the punks that were offered bears a mix of coveted features. Each piece comes with a wax-sealed envelope, stamped with a "paper wallet" - a mnemonic code that provides access to the unique Ethereum-based token.
Increasing trading activity
CryptoPunks have enjoyed great popularity since several NFT projects took off in February in their trading activity and price appreciation. In March, two Punks were sold for more than $7.5 million each. The popular NFT project saw a huge increase in volume at the end of July and now various celebrities have already stocked up on a CryptoPunk.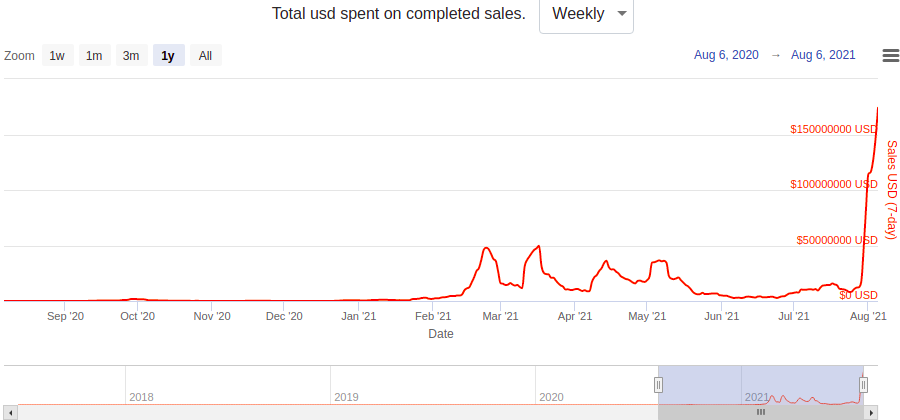 Meebits, Hashmasks, Bored Ape Yacht Club
The CryptoPunks community is one of the pioneers of the NFT movement. For this, Larva Labs wanted to thank the owners for their support. Each CryptoPunk or Autoglyph was basically a ticket that owners could use to redeem a free Meebit NFT. While the CryptoPunks have become an ideal 2D avatar for social media, the 20,000 Meebits are designed to be a 3D avatar for virtual worlds, gaming and VR.
"We are optimistic about the future of metaverse and look forward to seeing how the meebits are used in such environments." - Larva Labs
There are no limits to how the Meebits can be used, and Larva Labs helps developers provide interfaces. Meebit owners get access to an additional asset pack that contains the complete 3D model. It can be used to render and animate the Meebit or used as an avatar in the Metaverse.
As of January 2021, 16,384 unique hashmasks have been created. Each was created by a combination of different artists. They have different masks, eye colors, items and other features. As the rightful owner of a Hashmask NFT, users receive an unlimited, worldwide, exclusive license to use, copy, and display the purchased art for commercial purposes. Examples of such commercial use would include using the art to create and sell merchandise.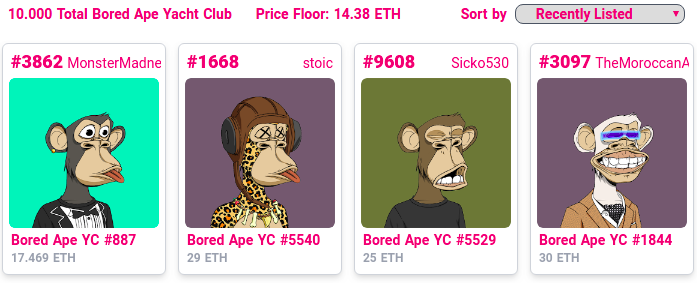 Another example is the Bored Ape Yacht Club (BAYC) - a collection of 10,000 unique digital collectibles that live on the Ethereum blockchain. They were started by four friends who wanted to use their skills to build something new. In doing so, they created monkeys and, inspired by their ancestors, introduced a limited-time sale. Within a day, all ten thousand Bored Ape Yacht Club paintings were sold out, raising more than two million dollars. Since then, the collection has traded for nearly a hundred million dollars, with the cheapest "Apes" often being purchased for nearly $40,000.
Weekly sales in the hundreds of millions of dollars
In recent weeks, trade for digital images in the form of NFTs picked up massively. In this context, the NFTs are traded on various platforms almost exclusively against Ether. In the last 7 days, the top 3 projects generated a turnover of almost 80,000 Ether or the equivalent of more than 250 million USD.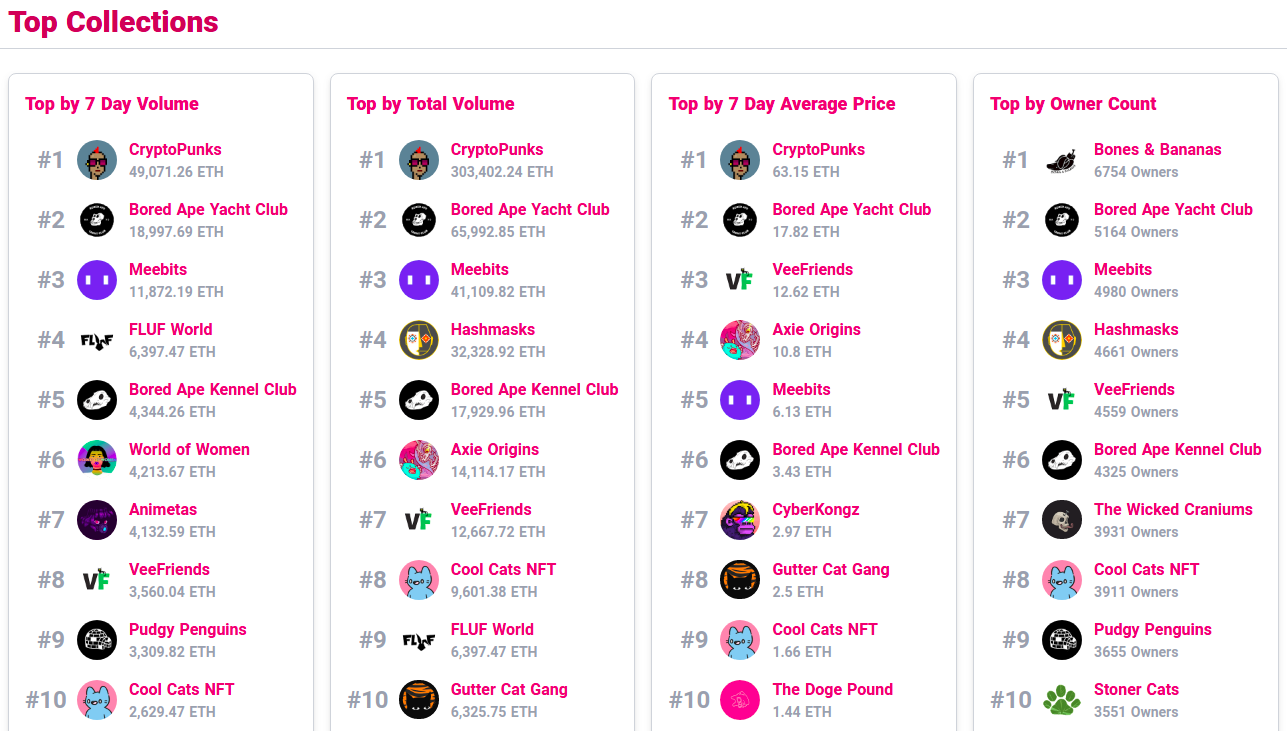 Interesting: For all "Bored Ape Kennel Club" secondary sales, the accruing fee of 2.5% is completely donated to animal shelters. In the last 7 days alone, a total of 340'000 USD has been donated.