Customers of the former largest crypto exchange Mt. Gox could finally receive compensation for their lost Bitcoins after years of uncertainty. Repayments are set to begin at the end of August 2022 and could raise up to three billion USD in Bitcoin. How it will continue remains open.
Nearly a decade ago, shortly after an attack forced the then-only bitcoin trading platform to close, a handful of Mt. Gox users launched a long-standing legal battle. This could start to bear fruit in the coming months. According to a document from the crypto exchange's rehabilitation trustee, preparations are currently being made to begin repayments. In the latest letter to the aggrieved parties, the steps to receive the compensation payments are explained.
A shaping history
Known as a crypto exchange, the platform got its start in 2009. Originally, this was a trading exchange for trading cards from the game Magic: The Gathering, which is where the name comes from. The Magic: The Gathering Online Exchange (Mt. Gox) was rebranded as a Bitcoin exchange a year after it was registered with the Tokyo Chamber of Commerce and quickly became the most important marketplace for the cryptocurrency due to its first-mover advantage. The exchange handled around 70% to 80% of Bitcoin trading volumes at the time; an absolute market dominance that could no longer be replicated by any exchange.
This success story came to an end with the hacker attack. In February 2014, Mt. Gox filed for creditor protection in a Japanese district court, stealing 750,000 Bitcoin in customer deposits and 100,000 Bitcoin from the company itself. According to prices at the time, this equated to a loss of $800 million; today it would be over $16.5 billion. Around 200,000 Bitcoin were recovered a few months later.
In 2015, CEO Mark Karpelès was arrested by Japanese police and sent to a high-security prison. He was released on bail about a year later before being found guilty in 2019. He was accused of intentionally manipulating Mt. Gox data to inflate the exchange's holdings. The Frenchman was acquitted of the misappropriation charge and the court case ended with a suspended sentence of two and a half years.
Years of value increase for the former owners
Already in 2018, the Japanese bankruptcy trustee began to compensate creditors with the sale of 200'000 Bitcoin (today about 4 billion USD), which were still seized during the bankruptcy. Of the 650,000 BTC that were considered lost for a long time, another 150,000 BTC were recovered. These have a current market value of around $3 billion and could soon find their way back to their rightful owners, as the Tokyo District Court ruled last November.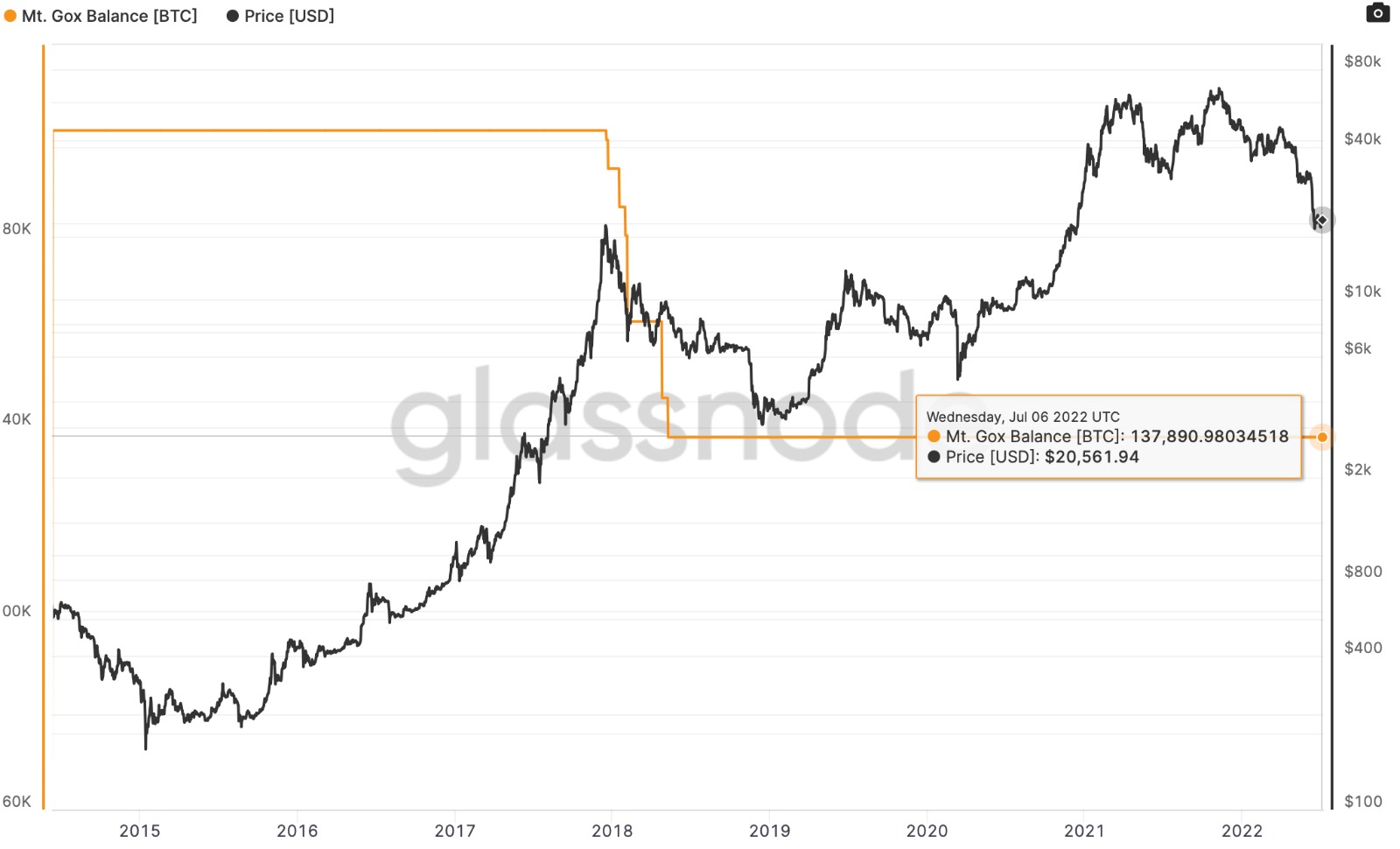 Some investors are fearful of potential downward pressure that the redemptions could put on the Bitcoin price. The victims of 2014 had bought Bitcoin at an average value of about $300 – despite the current bear market, that leaves a large unrealized profit. Thus, there is speculation as to whether these market participants still have confidence in the currencies or want to realize their gains as quickly as possible. Whatever the former Gox users will decide, realistically, some price pressure should be expected.
Subscribe to our newsletter
The best articles of the week, directly delivered into your mailbox.