In a recently published study, crypto market researcher Chainalysis examined wash trading and money laundering activities in the emerging NFT industry. Although money laundering is a popular topic of discussion, only low levels of activity were found in contrast to wash trading.
The Chainalysis study makes it clear that the popularity of non-fungible tokens (NFTs) skyrocketed in 2021. For example, the market researcher tracked a minimum value of $44.2 billion in transactions, up from just $106 million in 2020. However, this also increased criminal activity, which the company sought to scrutinize. The market researcher identified two prominent categories related to the misuse of NFTs: wash trading to artificially increase the value of a collection and money laundering through the purchase of an NFT.
Wash trading with NFTs
Wash trading is the execution of a trade in which the seller is on both sides of the trade in order to give a misleading picture of the value and liquidity of an asset. According to Chainanalysis, in the case of NFT wash trading, the goal is to make one's NFT appear more valuable than it actually is. The NFT is simply "sold" for a high price to a new wallet that the original owner also controls. Since the majority of NFT trading platforms allow their users to trade without complex registration procedures, this is easy to do.
Using on-chain analysis, Chainalysis identified a total of 262 users who sold an NFT to a self-funded address more than 25 times. To calculate the profitability of wash trading, the market researcher subtracted the transaction fees spent from the profits of those activities. Thus, an interesting story emerges: most NFT wash traders were unprofitable, but the successful wash traders profited so much that this group of 262 made a huge profit overall.

NFT money laundering activities low, but visible
Money laundering has long been an issue in the art world, and it's not hard to understand why. A 2019 National Law Review article points out that artworks like paintings are easy to move, have a subjective price, and can offer certain tax advantages. Criminals can therefore buy artwork with illegally obtained funds, sell it later, and poof – they have seemingly clean money unrelated to the original criminal activity.
With this in mind, and due to the pseudonymity of cryptocurrencies, many wonder if NFTs are vulnerable to similar abuses. But while money laundering with physical art is difficult to quantify, market researchers like Chainalysis can make reliable estimates of money laundering with NFTs thanks to the inherent transparency of the blockchain.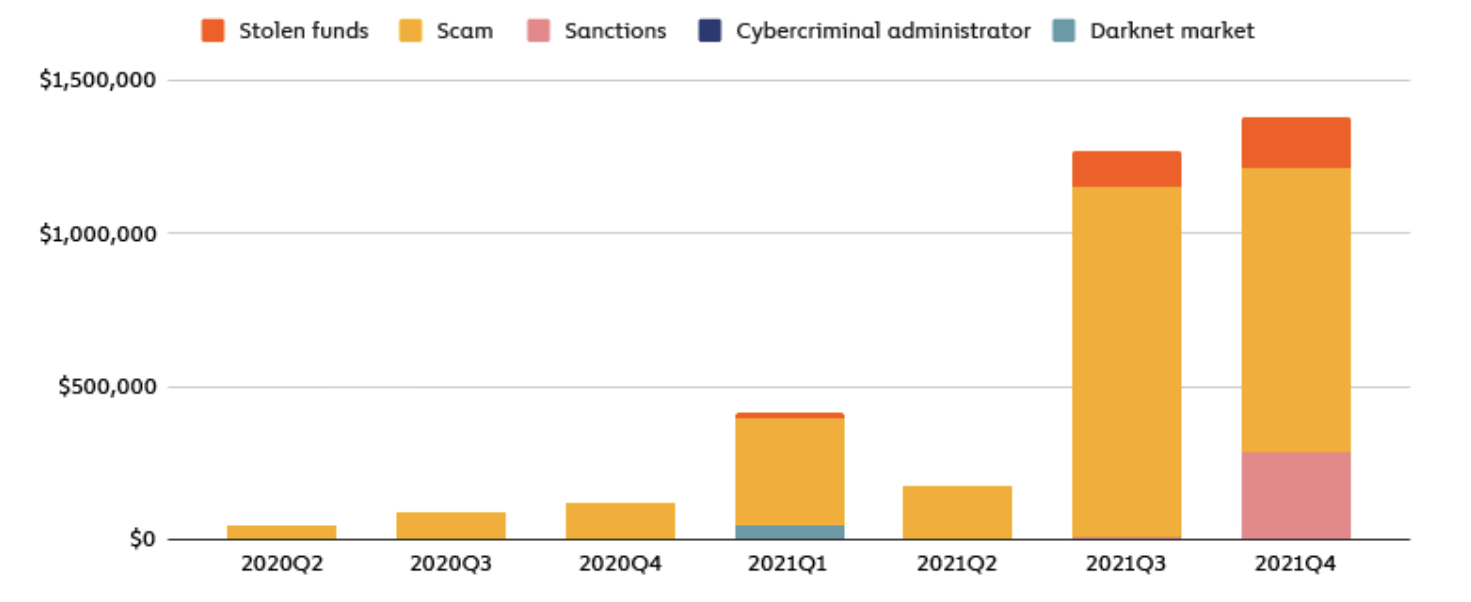 Chainalysis has been operating a list of flagged addresses whose activity is associated with illegal transactions for a long time. Overall, the market researcher was able to identify a significant increase in the trading volume with illegal funds. In the fourth quarter of 2021, those activities reached nearly $1.4 million. In both quarters, the vast majority of this activity came from fraudsters sending funds to NFT marketplaces to make purchases. However, this figure should be put in relation to the approximately $23 billion in trading volume on NFT markets in 2021, making the actual money laundering activity seem vanishingly small.
Conclusion of the study
All of this activity represents a drop in the bucket compared to the billions of dollars in volume the market researcher tracked throughout 2021. Nonetheless, according to Chainalysis, money laundering and especially remittances from sanctioned cryptocurrency companies pose a major risk to building trust in NFTs and should be monitored more closely by marketplaces, regulators, and law enforcement.