In a recent report by the European Central Bank, crypto assets are criticized regarding their carbon footprint. However, they also fear an increased transition risk for the financial system due to their use and therefore want to regulate the area sovereignly through political engagement.
The European Central Bank's (ECB) recently published report criticizes cryptocurrencies for being harmful to the climate due to their high carbon footprint, according to their research. This makes their valuation particularly vulnerable to climate policy, they argue. For countries that are trying to mitigate their carbon footprint through climate-neutral engagements, the efforts are allegedly negated again by mining cryptocurrencies. Furthermore, crypto could bring increased transition risk to the financial system. Therefore, the ECB suggests that crypto should be clearly defined via policy decisions and whether the concept is generally feasible to implement.
Bitcoin nullifies energy savings?
According to the ECB, the largest cryptocurrencies such as Bitcoin (BTC) or Ethereum (ETH) have a similarly large emission output as medium-sized countries. This high energy consumption is said to negate targeted savings by Eurozone countries. For 2030, the EU is trying to shift to as much CO2-neutral energy production as possible with its net-zero policy. Thus, greenhouse gas (GHG) emissions would be saved and climate change could be kept in a certain frame. However, cryptocurrencies would cancel out these goals because the energy consumption is simply too high.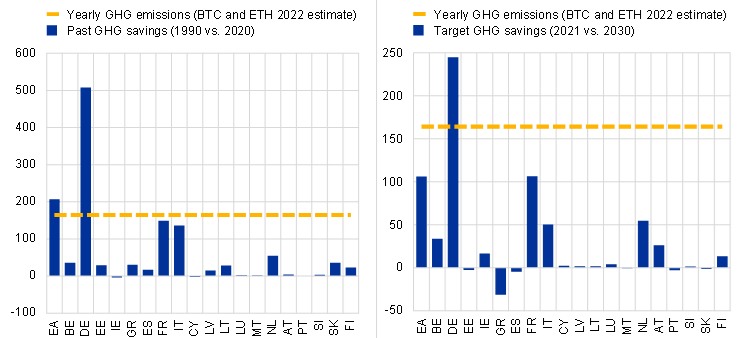 The reason for the high energy consumption of cryptocurrencies like BTC or ETH is the so-called proof-of-work consensus algorithm. This is used to validate transactions and has to calculate complex mathematical values for it. To perform these calculations, graphics cards are used, which generate the power consumption. However, as the technology evolves, the efficiency and power consumption of this hardware is constantly improving. There are also alternative solutions in terms of cryptographic protocols.
These are already being pursued by the community with the Ethereum merge. The attempt to switch from Proof-of-Work (PoW) to Proof-of-Stake (PoS) is still to be implemented by the end of September this year. This would dramatically reduce the computing power required and the validation of transactions would consume considerably less energy.
PoS as a promising prospect?
The ECB thus strongly criticizes PoW tokens. However, they highlight that switching the crypto industry to mainly PoS-based tokens would be a good solution. According to the Ethereum Foundation's estimates, this could save up to 99.95% of the total power consumption to date. The problem thus far, though, is that nearly 80% of the sector's total market capitalization is based on PoW tokens. The switch would reduce energy consumption to an estimated 2,100 homes in a small town.
However, until this changeover takes place, a lot of electricity will still be consumed. Cryptocurrencies therefore pose a risk to the green transition in European countries, according to the ECB. They consume the electricity generated with carbon neutrality, which should actually be used for other purposes such as public services.
For this reason, the Swedish Financial Supervisory Authority has considered a ban against crypto miners. These could threaten the compliance with the Paris Agreement. Similarly, the European Parliament has called on the European Commission to present a legislative proposal by 2025. This would integrate mining activities into the EU taxonomy for sustainable activities. China, on the other hand, already introduced a ban on mining and crypto transactions last year. In their opinion, this promotes financial crime and harms financial stability as well as the environment in their country.
Final findings of the ECB
In its conclusion, the ECB clearly states its caution towards digital assets and wants to clearly point out the unacceptable energy consumption. They say it is up to each investor and person to decide whether they feel it is appropriate to invest in volatile assets that are not climate neutral. Nevertheless, they will introduce regulations regarding cryptocurrencies in the near future. A ban on the use of fossil fuels will be absent until 2035 and thus the crypto sector should still be able to prosper in safe havens. However, they see the acute urgency of regulating the digital finance sector, as expressed by regulatory frameworks such as MiCA.