In Europe and the United States, cryptocurrencies are often dismissed as "pure speculative tools." However, Bitcoin can open new doors for many developing countries through open and censorship-resistant value transfer, as the example of El Salvador shows.
In June, El Salvador became the first nation-state to accept Bitcoin as legal tender, setting an important milestone in terms of adoption of the cryptocurrency. The decision to integrate Bitcoin into the country's financial system drew harsh criticism from the International Monetary Fund (IMF) and the United Nations Economic Commission. They argued that Bitcoin was purely a means of speculation and not suitable as a means of payment.
Therefore, rather unexpectedly, Bank of America (BofA) is now showing the benefits of Bitcoin adoption in El Salvador. In their latest Global Research Report, they note many positive things about how Bitcoin can enable inclusion for people and businesses in the country, but also make international payments cheaper and easier.
BofA Global Research Report
The first thing the second largest bank in the Americas notes is that the government of El Salvador is not enriching itself with this measure. It is reassuring that the charter (organic law) of the Central Bank of El Salvador prohibits lending to the government. Thus, the budget deficit cannot be monetized, also reducing the risk of explosive inflationary dynamics.
BofA also suggests that cross-border remittances, which account for 24% of El Salvador's gross domestic product (GDP), can clearly benefit from the use of Bitcoins. The Bank for International Settlements (BIS) estimates that the average cost of such remittances is over 10%, which could be significantly reduced by the Bitcoin network. That's hundreds of millions of dollars per year that residents could save or spend with local businesses in their communities.
Progressive digitalization
Another positive impact, he said, is the progressive digitization and democratization of finance. More than 70% of the adult population in El Salvador does not have a bank account. Easy access to electronic payments through Bitcoin has a "progressive touch," Bank of America analysts said.
However, survey data show that half of Salvadorans are sceptical about using Bitcoin as legal tender. In fact, 83% of El Salvador residents do not want to receive their remittances in the cryptocurrency. Those who choose to use Bitcoin for transactions can use the government-backed "Chivo" wallet, among many other options. In it, they do not need to worry about Bitcoin and use dollars for electronic payment.
Greater consumer choice
In the Global Research Report, Bank of America analysts are not in favour of the compulsion that legally requires businesses to accept Bitcoin as a payment method. Basically, businesses can refuse to accept Bitcoin if they lack the technology to do so. The government wallet Chivo is designed to facilitate this by automatically converting to dollars.
In addition, BofA stated that the introduction of Bitcoin as legal tender in El Salvador will give the population, including consumers and merchants, more choices. They can make self-determined decisions about which currency standard they want to transact and save under.
Doing business with U.S. companies
The adoption of Bitcoin as a payment method is not just about giving consumers more choice. It also favours innovation and trade with international companies. The simplified transactions allow for better business with American companies. The new digital payment method also has the potential to attract foreign direct investment in clean geothermal Bitcoin mining.
"The idea is that Bitcoin could be used as an intermediary for cross-border transfers, so that dollars are converted into Bitcoin by the sender and then converted back into dollars by the recipient at home." – BofA report
The Bitcoin-friendly country is also already attracting the first companies to set up shop or invest. Athena Bitcoin, for example, is spending over $1 million to initially install dozens of Bitcoin automated teller machines (ATMs) in the country, as well as hiring staff to operate them in El Salvador.
Bitcoin in other developing countries
El Salvador is not the only country that can benefit from Bitcoin's decentralized and censorship-resistant nature. In Africa in particular, the cryptocurrency is enjoying increasing popularity. Despite strict regulations and, in some cases, outright bans, Bitcoin usage is growing rapidly in countries like Nigeria.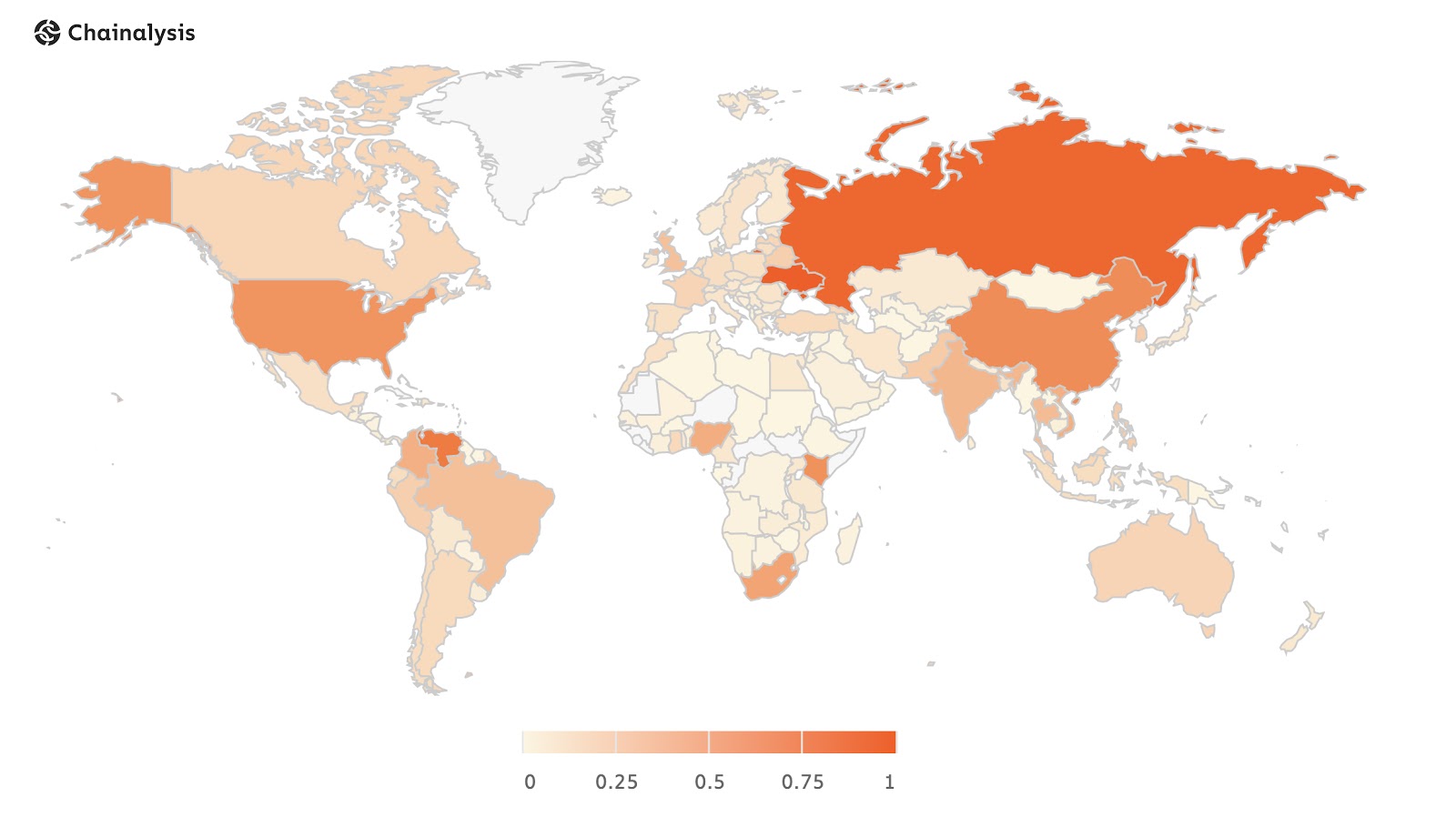 Many citizens are turning to Bitcoin in no small part due to restrictions on international trade and the loss of value of their local currency. For example, Nigeria, a country with an annual inflation rate of over 15%, was ranked 8th in the 2020 Crypto Adoption Index, with the country's young population in particular looking for alternatives.