This deep dive explores the state of centralized and decentralized metaverses as Meta come under fire for their infatuation with the virtual world. As stories of abandoned metaverses become commonplace, we zoom in on different projects and examine whether the metaverse is the next technological revolution or merely a gimmick.
Meta, formerly Facebook, made a monumental pivot last year to capitalize on the explosive growth of the metaverse. However, a year later, the era of speculative investments has come to a grinding halt as bond yields rise and companies shift their focus towards surviving a global financial slowdown. Meta is no exception, with the company's share price down over 70% in 2022 and their underperformance relative to their big tech peers has investors turning their attention to Meta's frivolous expenditure on the metaverse.
The centralized vs decentralized metaverse
The highlight of Meta's earnings call last night was the $3.7bn loss from its metaverse division in the third quarter, bringing the year to date loss from metaverse investments to $9.4bn. Meta share price fell another 20% after the earnings call and added fuel to the fire of metaverse critics.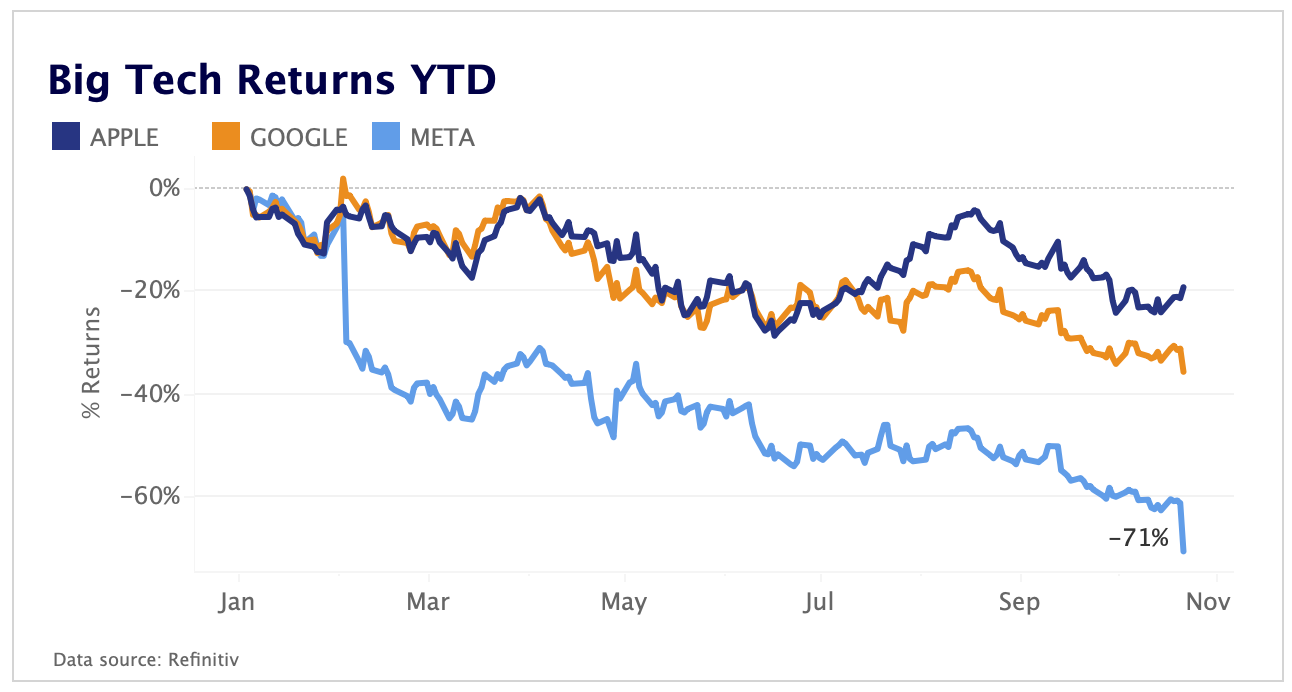 With Meta in the hot seat, it's a good time to zoom in and look at how the decentralized metaverse is faring in a crypto bear market. Decentralized metaverse and gaming platforms have struggled to retain users as lucrative in-game rewards dry up. The Sandbox, Decentraland, and Axie Infinity have each experienced a sharp drop in daily active users, and investors are taking note.
Axie Infinity, formerly one of the fastest growing decentralized games, has experienced a particularly difficult few months, and a wave of upcoming token unlocks for the game's native AXS token could point to further trouble. The metaverse is under the microscope and the question is whether this type of tech is revolutionary or merely a gimmick.
Meta(verses) in the hot seat
The hefty investment in the metaverse was always going to be a risky move for Meta, and they probably figured that the last bull market would last a little longer than it did. The crypto top came a mere 2 weeks after Facebook rebranded to Meta. Now the company is underperforming Apple by over 50%, investors are becoming more vocal about the metaverse and are demanding more clarity regarding Meta's plan going forward.
"An estimated $100bn investment in an unknown future is super-sized and terrifying, even by Silicon Valley standards…the age of excess is over – big tech companies need to lose some weight and get into shape and earn the right to win the next major wave of innovation. In addition, people are confused by what the metaverse even means. If the company were investing $1-2B per year into this project, then that confusion might not even be a problem." – Brad Gerstner, Altimeter Capital CEO and investor in Meta
So what has Meta done in the year since the announcement? Well they've chucked $10-15bn into the metaverse, and have the virtual universe, Horizon World to show for it. However, Horizon World has become a barren metaverse, according to a report from the Wall Street Journal. The report states that only 9% of worlds built by creators are ever visited by at least 50 people. Most are never visited at all. Horizon World avatars are also yet to possess legs. Users need Meta's Quest VR headsets to access the metaverse. More than half of Quest headsets – costing $400 for the basic model – aren't in use six months after they are purchased.
Meta initially set a goal of reaching 500,000 monthly active users for Horizon Worlds by the end of this year, but in recent weeks revised that figure to 280,000. The current tally is less than 200,000, according to internal documents obtained by WSJ.
Decentralized counterparts
Decentralized metaverse worlds aren't faring much better. Earlier this month, Coindesk published an article showing that the decentralized worlds The Sandbox and Decentraland had just a few hundred users a day, according to data from DappRadar, despite billion dollar valuations. The report earned instant backlash, with Decentraland rebuking the figures, claiming DappRadar only counted interactions with the Decentraland smart contract, i,e purchases, rather than actual users. They likened it to counting shopping mall visitors as those that buy something rather than actual footfall.
To put Horizon World's 200k monthly users into context, that equals the Sandbox monthly users, a blockchain based game which was considering raising at a $4bn valuation earlier this year: less than half of what Meta plans to spend on the metaverse per year. Again, HW avatars don't even have legs yet. It's worthwhile noting that active users numbers here are self-provided figures from the projects involved.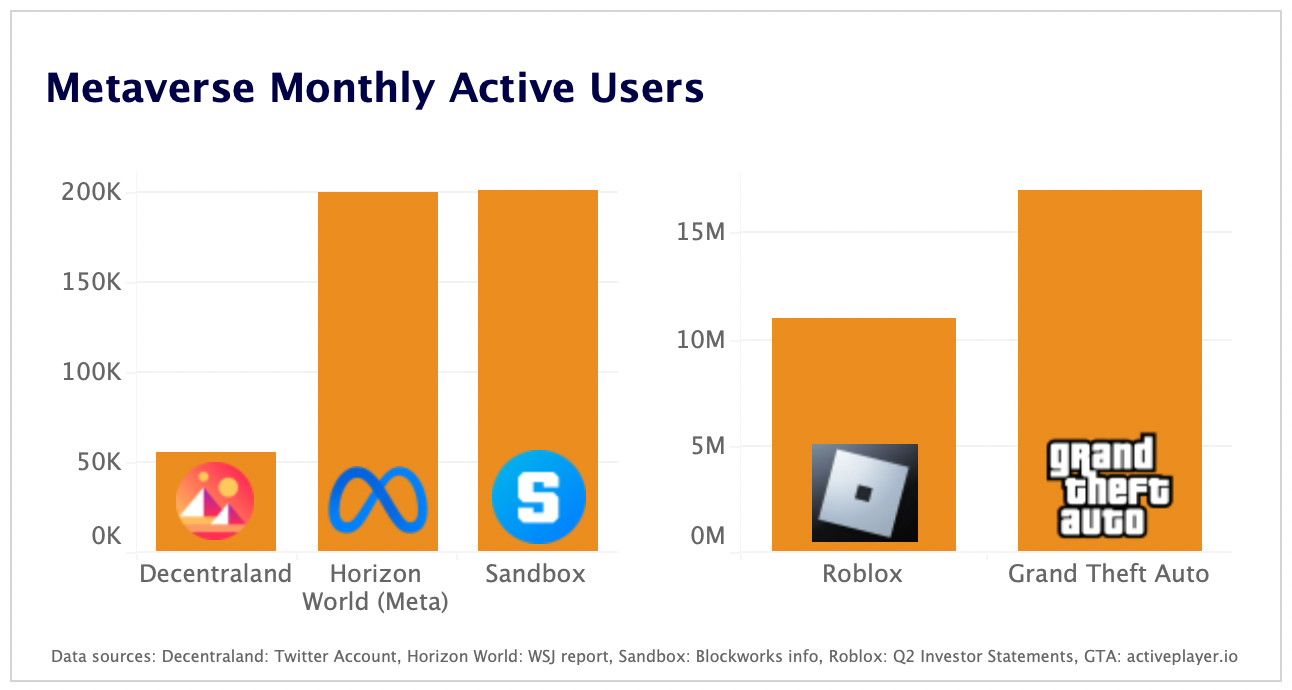 Non-blockchain based games such as Roblox or Grand Theft Auto have metaverse-like qualities and have grown remarkably loyal communities, boasting over 11m and 17m monthly active users respectively. The latest Grand Theft Auto came out 9 years ago. Meta has shown no signs of catching up with the more established gaming metaverses, despite pumping infinitely more money at the projects. The question is now how much interest not only Meta, but other metaverse projects can retain in a bear market when funding becomes tight and users disappear. The indicators are not good for some of the biggest blockchain based projects, Axie Infinity, Sandbox, Decentraland and Enjin.
Investors take note
Investors seem to have taken note of the poor usage stats. Last month marked the lowest ever trade volume on centralized exchanges for the metaverse tokens AXS, SAND, MANA, and ENJ, together measuring in at just around 1% of daily BTC volumes.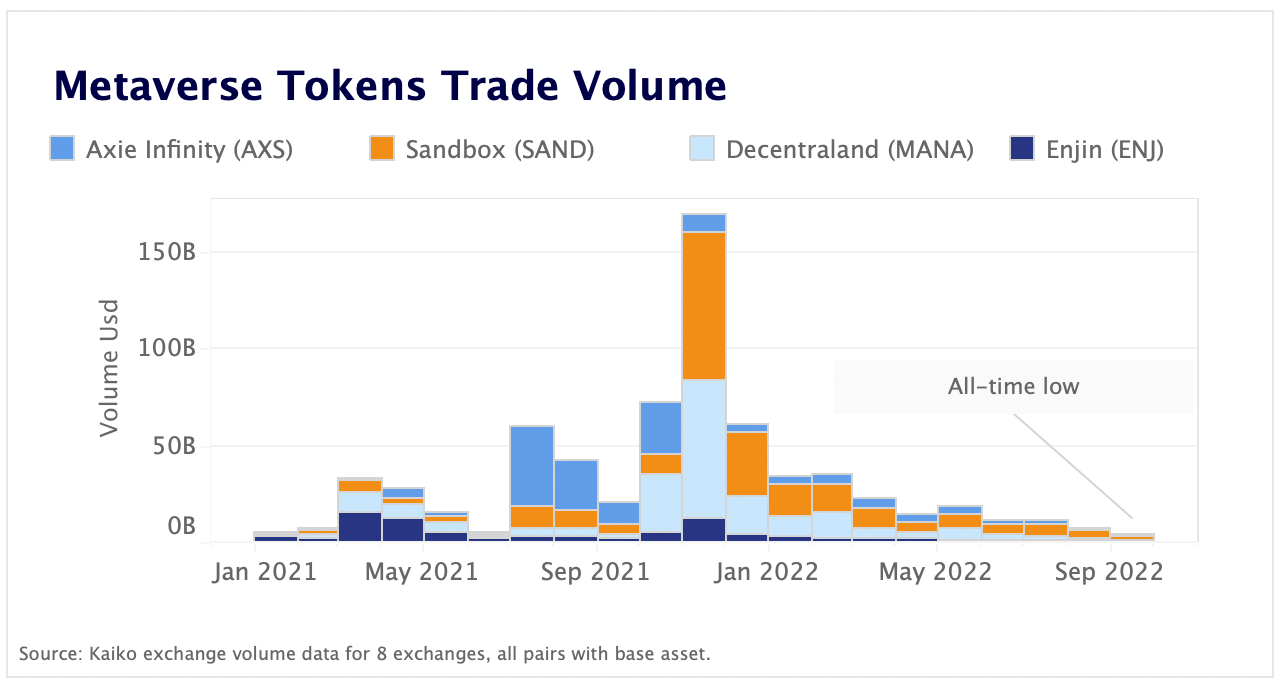 Interest in blockchain based metaverse projects, as measured by trade volume on exchanges, peaked in November 2021 during the market top when play-to-earn games dominated crypto narratives. Axie Infinity in particular saw huge success, providing a revenue stream that was more attractive than a lot of minimum wage jobs in places like the Philippines, which at one stage made up over 40% of the Axie user base.
The metaverse: an abanoned concept?
Looking at the data, the metaverse is arguably crypto's most abandoned vision in the recent bear market. So much so that normie tech investors have started to take note, thanks to Meta's infatuation with the virtual world. If we can learn anything from the deserted worlds, it's that the metaverse needs to give users real reasons to stay and play, not just because their in-game tokens are rising in price.
As Axie's AXS and its in-game tokens crashed in price, users left in droves. As Meta built flimsy avatars without legs in Horizon World, users left. Now with AXS tokens vesting, even the most forward-looking early investors are taking their cash and running. Until we see a product in the metaverse that rivals the likes of Roblox or Grand Theft Auto, investors like Brad Gerstner are well within their rights to demand justification for such heavy investment in the space.