The Cosmos network is aiming to become a blockchain for application-specific blockchains, which is powered by the ATOM token. An analysis of Cosmos' history, its use case, upcoming milestones and a deeper look into how the blockchain works.
Cosmos was co-founded by Jae Kwon and Ethan Buchman in 2014, with the support of the Interchain Foundation (ICF), a Swiss company that supports R&D for secure, scalable, open, and decentralized networks. The ICO of the cosmos' native token ATOM was released in 2017, and the network was ready to use two years later. So far, Cosmos raised a total of $17M in its seven rounds of funding led by Paradigm and followed by different Venture Capital (VC) firms.
What is Cosmos?
Cosmos is building a network of blockchains, which all have access to open-sourced tools for streamlining transactions between them. Customizability and interoperability are the two main selling points. Fueled by BFT consensus algorithms like Tendermint (also co-founded by Kwon and Buchman) and its token, Cosmos wants to be home to an ecosystem of networks that can exchange data and tokens programmatically and in a decentralized manner.
The founders behind Cosmos came to find blockchains working in silos, unable to communicate with each other and struggling to make big transactions at once. Cosmos wanted to fix these problems by proposing a system with two classes of blockchains, Hubs and Zones. Zones are regular heterogeneous blockchains that are kept connected by the Hubs. To make the vision of interoperability and customization work, Cosmos has three foundation stones in place, Tendermint, Inter-blockchain Communications Protocol (IBC) and Cosmos SDK.
Tendermint helps developers build blockchains without having to code them from scratch, powered by the Tendermint Core, which is a PoS governance mechanism that keeps blockchains, or Zones, run in sync within the Cosmos Hub, the first Hub to be launched on Cosmos. IBC is a mechanism that makes information travel freely and securely between the Zones. To keep complexity to a minimum, the Cosmos SDK provides the Zones with the most common functions like governance, tokens, and staking. If need be, developers can also add plugins for additional features or services.
Hubs and Zones in the ecosystem
A Zone is only required to create an IBC connection with a Hub, to exchange data and assets with other Zones connected to that Hub. That means Zones only need to establish a limited number of connections with a restricted set of Hubs instead of having to make a connection with each and every Zone. This system prevents double-spending among Zones because when a Zone receives a token from a Hub, it only needs to trust the origin Zone of this token and the Hub.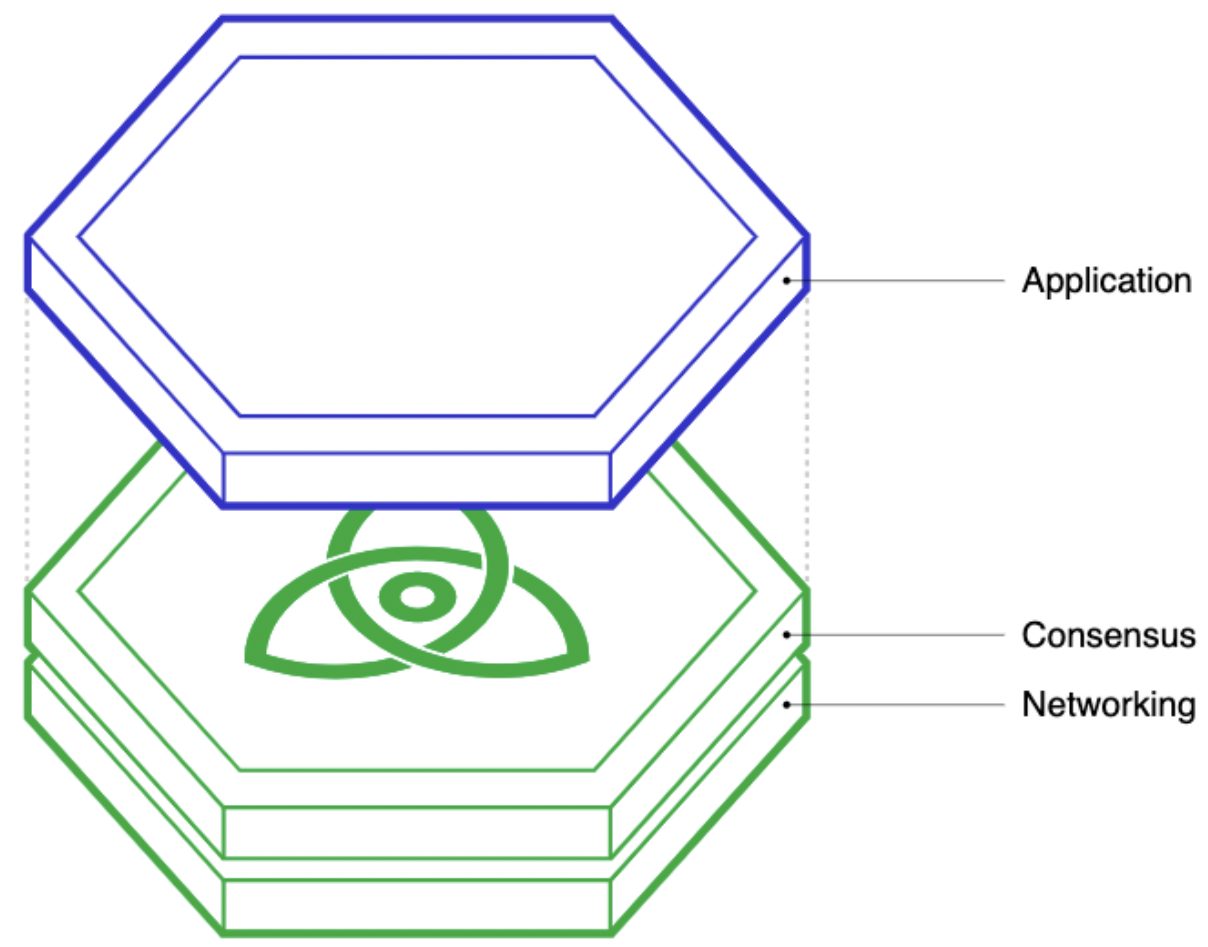 The Hub maintains and tracks the state of each Zone thanks to a steady stream of block commits from each zone that is connected to the Hub. Similarly, each Zone maintains track of the Hub's status, however, the Zones themself only keep up with each other indirectly through the Hub. Powered by the IBC protocol, information packets are then exchanged from one Zone to another by publishing Merkle-proofs as proof that the data was sent and received. Blockchains are composed of three layers, Application, Consensus, and Networking.
Application: Responsible for updating the state given a set of transactions, i.e. processing transactions.
Networking: Responsible for the propagation of transactions and consensus-related messages.
Consensus: Enables nodes to agree on the current state of the system.
Blockchains that use fast-finality chains, or in other words Proof of Stake, can connect with Cosmos using the IBC protocol. However, blockchains that use probabilistic finality chains, or Proof of Work mechanisms, would find it challenging to connect to the network such as Bitcoin and Ethereum. That is exactly why Cosmos created a special proxy-chain called the Peg-Zone that bridges non-Tendermint blockchains by tracking the state of the blockchain in question. Peg-Zones have fast-finality and are therefore compatible with the IBC protocol allowing it to establish finality for the non-Tendermint blockchain its bridges.
The Future of Cosmos
There are some exciting milestones on the Cosmos roadmap for the year 2022. Obviously, one of the most important objectives is to onboard more blockchains that will plug into the Cosmos Network and ensure seamless communication between them using IBC. However, there are also some powerful updates and features down the road, including Interchain Accounts, Interchain Security, Liquid Staking, and an expansion of its DeFi and NFT ecosystem. The first upgrade that is expected in Q1 2022 is the Theta Upgrade. This will introduce Interchain Accounts, Liquid Staking and an NFT module, which will set the base for Cosmos' NFT ecosystem. Interchain Accounts will leverage IBC and allow users to own, manage and transfer their tokens throughout the entire interoperable ecosystem and access blockchain-specific applications from one single account. One account to rule them all!
Currently, almost 60% of all ATOM in circulation is being staked, rewarding contributors with a yield up to 13% per year. With the introduction of the first version of Liquid Staking, which is planned to be released as early as February 2022, this number is most likely to increase. Liquid Staking will allow users to stake their ATOM with no lock-up period, while also receiving a derivative of their bonded assets, which they ultimately can use for liquidity mining or other DeFi activities. By staking ATOM on the Cosmos Hub, validators and delegators will be able to collect rewards on multiple chains in different tokens. ATOM stakers will therefore benefit from early access to new and innovative projects and greater token utility, while at the same time allowing new chains to get exposure of their tokens to Cosmos community members early on.
Cosmos' ambition is to connect 200 blockchains in the year 2022. This would obviously unlock an unprecedented amount of liquidity and capital flows throughout all connected blockchains, which would be a massive tailwind for Cosmos' DeFi. On paper, the future Cosmos looks bright. If the internet of blockchains potentially solves one of the biggest obstacles in crypto, the lack of interoperability, and succeeds in connecting thousands of layer 1s and applications, this could mean a massive boost not only for the Cosmos network but for the entire crypto space.